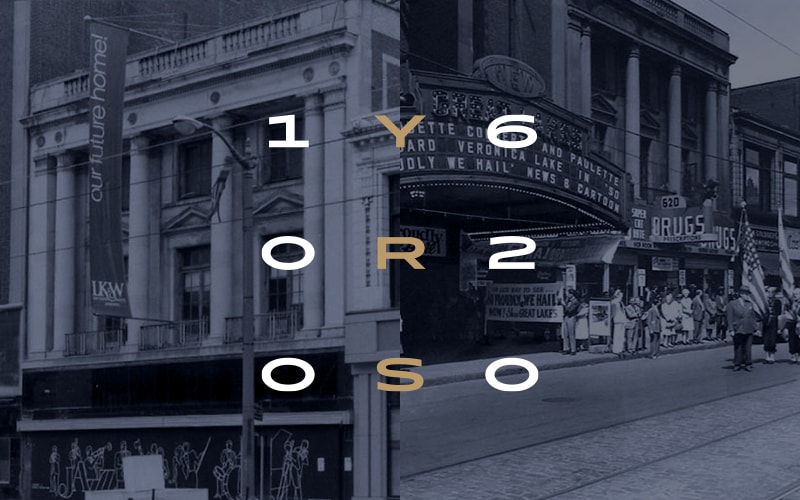 In a city with as rich architectural history as Buffalo, there are downtown blocks dotted with significant properties that have thankfully survived the passage of time—and every building has a story to tell.
Some can claim fame from its place in the Queen City's past, still-looming relics that help share the tale of the excellence and opulence of a region previously tabbed as the "Gateway to the Midwest." Others are still a portal to those previous times but reinvigorated to guide a renewed Buffalo to realize the best version of itself.
The Martin Group's home at 620 Main Street shines as the latter. Now celebrating its 100th year standing, the locale pays tribute to its past industry occupants, while impressively renovated to reflect the simmering potency of a city finally realizing its untapped potential.
Built in 1919 and designed by Esenwein & Johnson—the firm also responsible for the city's Calumet Building, Electric Tower and Museum of Science—the neoclassical Roman-style building was first constructed to house T. and E. Dickinson Jewelry, named for leading Buffalo jewelers Thomas and Elizabeth Dickinson.
Featuring details including four columns on the Main Street side of the building, paneled pilasters, ornamental iron railings and a pediment and dentils, the 18,000 square-foot structure intermixed with a dense and diversified stretch of shops, theatres and typical urban spoils of its time. In the 65 years that followed, the location enjoyed downtown popularity and unfortunate dormancy before its eventual rebirth as a significant hub of advertising creativity and long-term industry influence.
Starting with its 1984 purchase, façade restoration and interior restoration by ad agency Levi, King & White—and continued as the initial home of the still-operating Eric Mower & Associates—620 Main played host to a litany of individuals who'd become leading figures in their field for decades. Masthead names Robert Travers, Bill Collins and Joseph Crowley all manned desks in the building before opening their own shops elsewhere in the city, but even this impressive lineage couldn't keep the address thriving as an industry landmark.
Enter ad vet Tod Martin, who purchased the property in 2015 for the relocation of his growing Martin Group.
Following his purchase of the building, Martin hatched a $2.3 million renovation plan that would honor the building's life and transform it into a modern hub of innovation and ingenuity. Global architectural firm CannonDesign worked in lockstep with historic preservation consulting firm Preservation Studios on the massive project to ensure the original architectural integrity was maintained. When completed in May 2017, the work revealed a modern, sophisticated design with historical accents throughout the interior and exterior of the building. It added another striking address to its revived Theatre District neighborhood and officially ushered in the modern headquarters of The Martin Group.
The dramatic rejuvenation of 620 Main Street is impressive, although it's just part of the property's ongoing story. Yes, the work awakened echoes of the past, and preserved Levi, King & White name above the Main Street entrance to pay homage to the trailblazing industry work that once percolated within its walls—but the transformation is not just about reverence.
The refurbishment established another architectural beacon for what Buffalo can be, all while crafting an interior workspace conducive to the communication and creativity needed to accommodate a workforce keen to compete on a global level.
Its three floors and sublevel feature spacious meeting rooms and an open floor plan that influence collaboration. Employees both new and native to Buffalo toil against the backdrop of an evolving downtown landscape between calls with counterparts inside satellite Martin Group offices in Rochester and Albany. They partner across professional specialties to support local businesses like ECMC and Perry's Ice Cream; create concepts to drive interest in global brands like Asics, New Era Cap Co. and Under Armour; and help facilitate the philanthropic mission of such transformational entities as the Ralph C. Wilson Jr. Foundation.
And every day they gather to drive their brands and Buffalo forward, they add another page to the continuing tale of the century-old 620 Main. Its current iteration is an example of not just what's good enough, but a best-in-class structure that embodies a Buffalo proud of its past—and barreling toward a prominent future.
About The Martin Group
The Martin Group is a leading integrated communications firm headquartered in downtown Buffalo, and with offices in Rochester and Albany, NY. The firm works with best-in-class organizations ranging from small businesses to global enterprises and has extensive experience in several categories, including sports, health care, financial services, professional services, food and beverage, advanced technologies, and not-for-profits