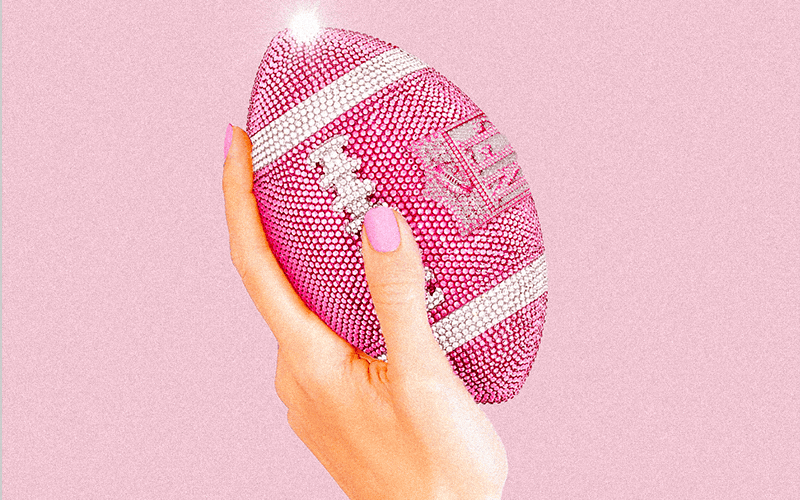 For anyone who doesn't pay attention to American pop culture or sports, please allow us to fill you in on the absolute domination of Taylor Swift and Travis Kelce right now. After Kelce famously attempted to ask Taylor Swift on a date using her token friendship bracelets made popular by her record-breaking Eras Tour, the two have since formed a romantic connection that seems to have enamored our entire nation.
So, what's the big deal?   
The big deal is that Swift is now showing up to NFL games to support her new beau, and her mere presence is sending game ratings through the roof, drawing attention to the NFL from audiences it hasn't reached previously. After Swift's first appearance in Week 4, the NFL saw a 22% increase in viewership for the Kansas City Chiefs' game, most of that increase coming from women and girls who are presumably fans of the pop icon. Following the jump from Week 4 to Week 5, the NFL saw viewership rise again in Week 6 at the Jets-Eagles game, drawing nearly 10 million more viewers than the NFL viewership average. As the NFL season continues to unfold, we can only expect these numbers will continue to remain strong and rising. 
Ratings aren't the only numbers going up since the Kelce/Swift relationship became public. Taylor Swift famously sold out venues across the country this summer, including the Chiefs' very own Arrowhead Stadium. It might make a fan wonder, what's harder to get – a ticket to a Taylor Swift concert, or a ticket to a Chiefs game? Chiefs fans pack their stadium every week the team is at home, but Swifties around the world are selling out stadiums left and right within mere minutes of sales going live. Based on how things are going right now, Chiefs' fans might start experiencing that same effect. After Swift's first appearance at the Chiefs game on Sept. 24, ticket sales on StubHub went up 175% in just three days.
All of this poses two critical questions: 
Will famous females be the key to helping the NFL unlock a new wave of audience expansion?
Will the viewership persist as long as the Kelce/Swift relationship does? 
It certainly appears that way, simply based on the well-documented "Taylor Swift Effect" and the influence that women adjacent to the league have within their communities.  
Women bringing their audiences to the NFL
Beyond Taylor Swift's ties to the Chiefs tight end, other women in popular culture are drawing significant attention to the NFL as well. Take TikTok star Alix Earle, for example. Boasting nearly 6 million followers on her account and nearly 100 times the number of likes, Earle's famous GRWM (get ready with me) videos have gained traction that is nearly unmatched.  
By allowing followers to "get ready with her" for the games of her boyfriend, Dolphins wide receiver Braxton Barrios, Earle has become an unofficial brand ambassador to the Dolphins' organization. Her chats to her loyal following about the energy of the games – all while dressing head to toe in teal and orange – have caught the attention of millions, including recognition from the Dolphins organization itself, which responded to a recent video calling Earle "Our Barbie." 
Thanks to Earle's dedicated fan base, the league is reaching audiences beyond its typical male demographic. Her viewership is nearly 60% women, most between the ages of 18-29. One simple mention can help the NFL expand their reach.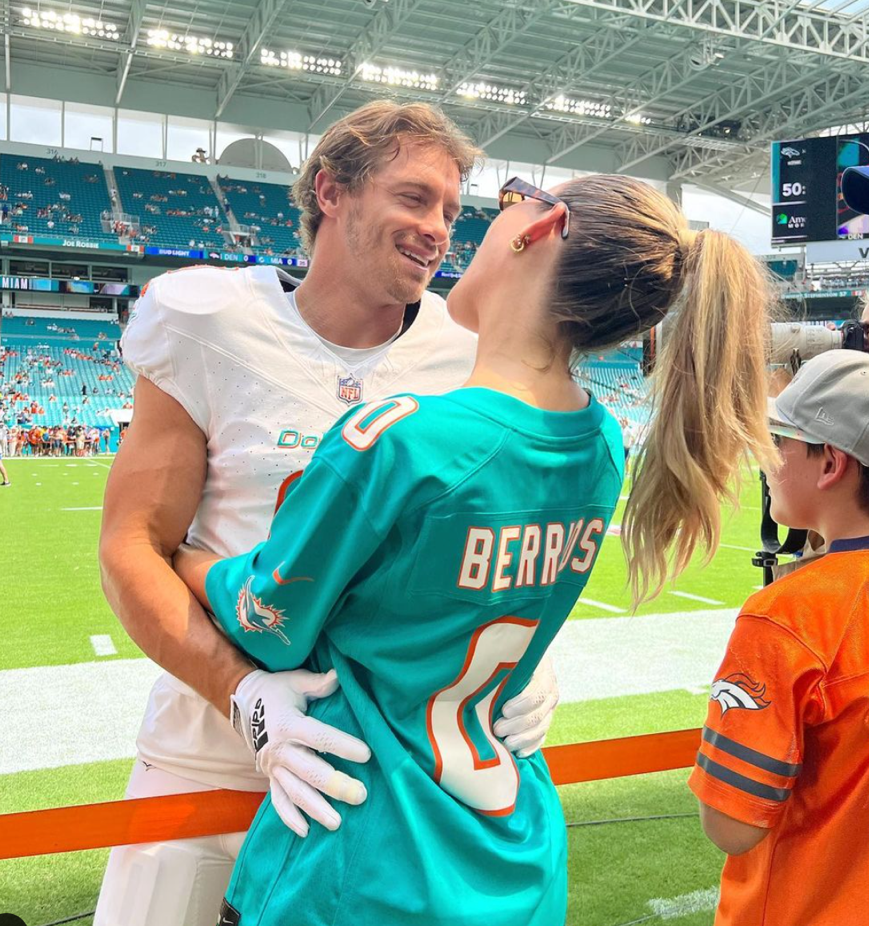 Now, we can't recognize the greatness of Taylor Swift and Alix Earle without paying homage to an NFL spouse who has been making waves for years – Allison Kuch. As the wife of NFL defensive end Isaac Rochell, Kuch represents an entire group of women living sports-adjacent lives. Rochell most recently played for the the Raiders, but throughout their relationship, the pair has lived in multiple cities while growing together through the NFL experience. From trades to free agencies and everything in between, this couple has documented the ups and downs of their NFL journey on their respective Instagram and TikTok channels. To top it all off, they are currently expecting their first baby – with the due date smack dab in the middle of football season.  
Kuch first made her social media debut on TikTok and quickly became one of the most well-known creators in the space. Her TikTok following now consists of 2.8M of her own loyal fans tuning in to see what the two are up to. Fans love her authenticity and vulnerability surrounding her atypical life. She is known for mocking the trolls while celebrating her followers who recognize that she is the real star of the show in her relationship.  
The spark — and lasting impact — of the women growing sports audiences
By simply being themselves, these three women have become a PR dream for football. Ratings, sales and followers are up across the board — and show no signs of slowing down. Case in point, Travis Kelce jersey sales alone are up 400% since Taylor's first spotting.  
The NFL has smartly hopped into these viral moments, changing its X bio to read "NFL (Taylor's Version)" and dedicating posts to her attendance at the game. Not to mention the many ways TV networks, streaming channels and other media have capitalized on the opportunity with announcers and gameday pundits celebrating — and sometimes joking about — Swift's NFL influence each week.  
Fans and followers of Swift, Earle and Kuch — as well as other women tastemakers and trend-setters — are now tuning into games more than ever before. This is expanding the league's reach beyond its traditional audience and inviting more people than ever before into this nationwide cultural phenomenon.
The power and influence they hold is truly remarkable, proving the massive impact a woman's touch can have on the pro football experience. And the timing couldn't be better with the explosive popularity of flag football. Millions of young women around the world are now playing flag, which was recently added to the 2028 Olympics and is becoming more widely available as a girls' varsity sport in the U.S.
From the perspective of two Swifties who were NFL fans long before Taylor attended her first Chiefs game, all professional leagues should look for more ways to encourage prominent women to make their mark.