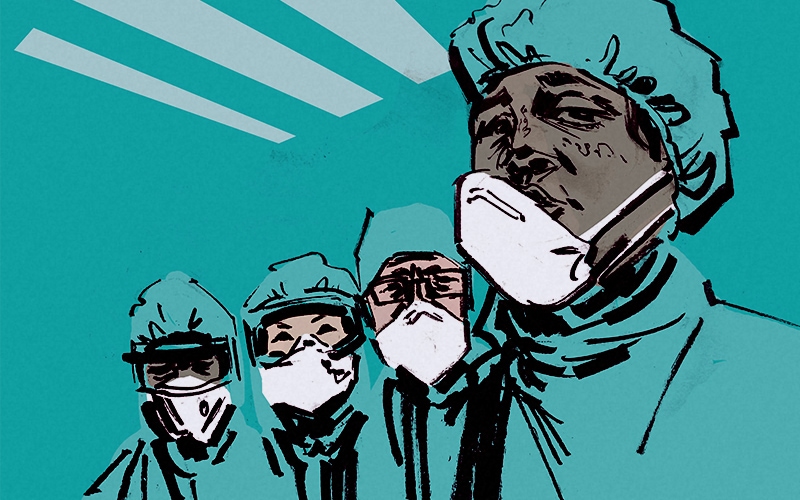 We're nearly a year into the COVID-19 pandemic, and at the time of writing this, the vaccine is being distributed to millions of Americans. The vaccine is a miracle of science, but until enough people are vaccinated, the virus will continue to spread across the nation. Amidst the economic stress, the isolation, and the general fear of the unknown that we can all relate to, healthcare leaders, in particular, are faced with incredibly difficult decisions that impact the health and safety of not only their valued employees, but the community-at-large.
COVID-19 has transformed the healthcare industry by demanding innovation across each and every patient touchpoint. In the US, healthcare organizations instituted remote working for non-essential employees, worked tirelessly to ensure that virtual clinical visits were conducted safely and securely, provided at-home patient treatment plans, and developed protocols specifically to address the new climate in which we are operating.
But just as we couldn't predict that we would spend the last year battling a global pandemic, it's impossible to predict what will happen in 2021. We can, however, anticipate that the healthcare industry will continue to be impacted for years to come.
New Competitors Recognize Patients' Changing Needs
The healthcare industry is constantly challenged by complex factors including health insurance reimbursements, governmental influences, restructuring, mergers/acquisitions, innovations in technology, and, most recently, the entrance of powerhouse players into new healthcare delivery avenues.
Mega-brands, such as CVS, Walmart, and Walgreens, are changing the way healthcare is administered by announcing that they plan to provide clinical services, such as walk-in care, mental health services, and health screenings, to patients on-site or virtually through their pharmacies. In addition, private equity groups are noting the advantage in investing in the healthcare space.
Now, these sophisticated brands and investors are entering a market that has been in need of a shakeup for some time, and they're looking at healthcare from a different point of view. With years of consumer data collection, vertical integration structures, and significant budgets under their respective belts, they will certainly have a competitive advantage. They know that consumers demand expedited service, specifically Millennials. Millennials are not the generation of the future. They're here now, and they are the target audience. They, along with Gen Zers, Gen Xers, and Baby Boomers, expect the brands they trust to deliver excellent customer service – and fast.
What does that mean for regional and local healthcare brands?
All healthcare organizations and individual practitioners have an opportunity to enhance the patient experience. Think outside the box! You're in the healthcare space, but that doesn't mean you can't leverage knowledge from mega-brands in other industries.
What do powerhouses like Uber, HBO Now, Legal Zoom, and OpenTable have in common? They ask their customers what they want regularly and pivot quickly to meet their needs. Healthcare organizations must do the same in order to compete not only with their local competition, but with services that are now available online, 24/7, to anyone with an Internet connection.
It's important to remember that the relationship you built with your audiences ahead of the pandemic is worth saving. So, you may need to rethink the customer experience to meet their changing needs.
Social Inequalities Exposed
COVID-19 has had a devastating impact on people of every color, creed, gender, and religion in the United States and across the world. That said, the spread of the virus has certainly exposed issues of inequality within the healthcare infrastructure.
According to the CDC, there is increasing evidence that certain racial and ethnic minority groups, such as Native Americans, Hispanics/Latinos, and Blacks, are being disproportionately impacted by COVID-19. Factors that contribute to this disparity include discrimination, healthcare access and utilization, occupational impacts, education, income and wealth gaps, and housing circumstances.
By responding to inequalities in the healthcare industry, organizations not only serve and save the lives of their diverse patients, they also impact their own bottom line. Each year, health disparities contribute to billions of medical costs, including approximately $35 billion in the cost of excess healthcare expenditures, $10 billion cost of illness-related productivity loss, and almost $200 billion in premature deaths.
While this issue is incredibly complex, healthcare leaders can start by publicly communicating their organization's stance on addressing the health disparity. By doing this, you're telling your patients, your staff, and your partners in the community that each of their lives is important, respected, and equal.
Rethinking the Current Model of Healthcare
In 2021, as with 2020, many organizations are going to be challenged to think outside the box and innovate to improve the lives of their patients. For almost a year, patients have been isolated at home, turning to their devices for entertainment, news, exercise, and social interaction in order to maintain some semblance of normalcy. While telehealth enabled patients to interact with their doctors virtually, the isolated patients looked to their devices for other health resources as well.
After the shock of the pandemic set in and consumers realized that they needed to make the best of the situation, many of them turned to companies like Peloton, Melissa Wood Health, and Under Armour's Map My Run to stay in shape while gyms were closed or at limited capacity. Meditation apps, like Headspace and Calm, also gained popularity over the past year as we turned inward to focus on our mental health during these stressful times.
How can healthcare providers leverage the heightened interest of individuals in their own health at this time?
Analyze the market research available to you. If you're a physician or healthcare administrator, analyze your HCAHPS scores, online review sites, or proactively send a survey to patients asking for their feedback.
Walk through your own customer experience to identify opportunities for improvement.
Ensure that telehealth visits are customized to the patient. This is a brand-new medium for patients, so there's opportunity to define high standards and top level care.
Make the customer experience personal by leveraging HIPAA-compliant messaging systems.
Encourage patients to measure their health through apps and wearables.
Marketing Post-Pandemic
The best way to reach your customers right now and in a post-COVID world is through word of mouth. What is the world's largest word of mouth tool? Digital advertising. While every healthcare organization is different, a handful of marketing tactics should be considered.
A user-friendly website is a top priority in today's digital age. It's been said that the website is the new front door to your hospital/practice – and any brand, really. Over 70% of healthcare consumers start their search for a provider by looking to the Internet, and Google received more than 1 billion health-related searches per day in 2019 (pre-pandemic)! If your patients' web searches don't lead them to your website and/or your website doesn't give them the answers they need or is difficult to navigate, they're very likely going to shop around.
3.3 billion people across the globe are now active on social media. That's nearly half of the world's population! Is your healthcare organization on social media? From a branding perspective, it's very important to have a social media presence. As you already know, it's also very important to be following HIPAA-compliant strategies. As a free tool, social media is certainly an effective way to engage with your staff, referral sources, and patient base, and to promote services, new hires, and innovations.
Videos and blogs written by content experts are an effective way to reach an audience that is looking to learn more about a specific topic. Not only that, this content can be repurposed for use on social media, e-newsletters, and website content. Additionally, longer-form blogs with frequently-searched keywords are favored by search engines, and help web users find you by leveraging Search Engine Optimization (SEO).
We're all looking forward to getting back to "normal," but as marketers, we need to be sensitive that many consumers will be hesitant at first. Once we start to transition to a post-pandemic phase, the consumer will be acutely aware of what they just endured. That said, other patients who put their health on hold are going to be anxious to reclaim it, and we should be ready.
For example, elective surgeries across the country have been limited in order to equip hospitals with the emergent resources they need during the pandemic. It's fair to anticipate that there will be an influx in elective surgeries that were postponed or canceled previously. Does that mean that marketing won't be necessary because the demand will be high? Not necessarily. It's still important to ensure that you're communicating your value proposition to patients and to referral sources in order to differentiate yourself from your competition.
Navigating healthcare decisions and healthcare environments will never be the same post-pandemic. As marketing communications professionals, our role is to help our patients adjust to this new landscape and receive the best care possible in 2021 and beyond.