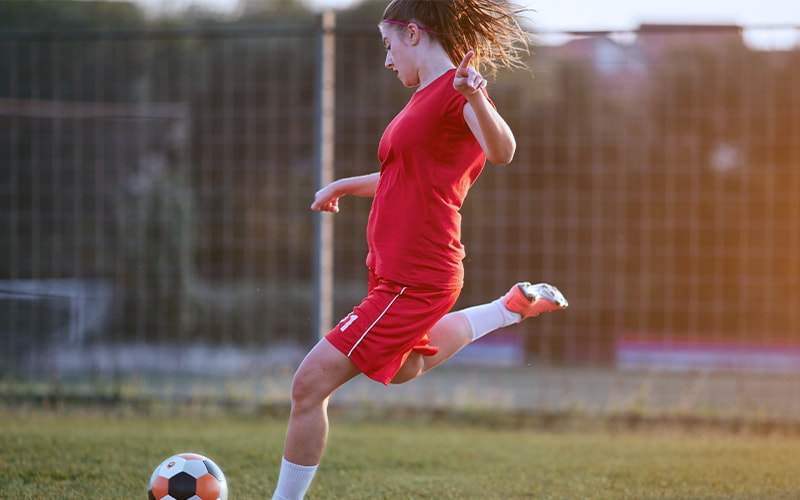 From the rise of eSports to the content battle currently being waged across TV, social, and OTT channels to the increased focus on personal branding for athletes, the sports marketing industry is always at the forefront of innovation, media attention, and often debate. This year has been no different. Athletes, teams, and brands continue to test the way that they share their message and drive deeper connections with their audiences.
At The Martin Group, we're consistently working alongside athletic brands to help them be more effective with their communications. Often, it requires us to think outside-the-box to come up with new ways for brands to stand out among the competition and offer authentic experiences that will resonate with their audiences. We always look forward to the challenges that come with marketing in sports. Some of our recent projects include:
Women in Sports
There is no denying that women's professional sports are becoming increasingly popular. This summer's headlines have been dominated by female athletes as the US Women's Soccer Team brought home the 2019 World Cup. While the women's national team has long been recognized as one of the most successful teams in sports, this year's tournament highlighted a much deeper discussion: gender equality. Although it sparked much debate, it certainly caught traction through the national media and pushed conversations further around topics such as equal pay.
Prior to the beginning of the Women's World Cup, Nike decided to leave their own mark on the rise of female athletes. The global brand shined a spotlight on some of the greatest athletes in the world with their Dream Crazier film narrated by Serena Williams, which has quickly become one of their most popular videos on YouTube after accumulating over 10M views.
Momentum continues to build as current players and organizations strive to inspire younger generations. Following the events of this summer, USA Basketball recently unveiled their new training program and plans to promote the women's national basketball team players and the WNBA in preparation for the 2020 Olympics next summer.
The untapped potential in women's professional sports is where brands can seize their opportunity to be a part of the movement. In a recent survey by Nielsen Sports, 84% of general sports fans are interested in women's sports: "For brands interested in associating with women's sports, it's worth noting that three quarters of those interested in women's sports can name at least one brand involved in women's sports, and 63% of people say they believe brands should invest in both women's and men's sports."
Social Activism & Cause Marketing
Athletes leveraging digital media to grow their own personal brands is nothing new. However, the content that athletes choose to promote has started to shift. More and more high-profile athletes and personalities are using their authority to raise awareness for important issues that they feel connected to. One of the most prominent names in sports, LeBron James, launched his new docuseries More than an Athlete at the end of 2018 on ESPN+. With the ability of social media and the growing number of online streaming services, athletes have a much easier time sharing their stories and spreading messages that they believe in.
Last year, J.J. Watt set up an online fundraiser to aid those affected by Hurricane Harvey. The Houston star's foundation announced that his relief fund raised $41.6 million, making it the largest crowd-sourced fundraiser in history.
As athletes continue to use their platform in professional sports to make an impact in their communities, there is a massive opportunity for brands and nonprofits to collaborate. Organizations can find athletes that are sharing a similar message or fighting for a similar cause and add value to their campaigns. Influencer marketing continues to be one of the most effective forms of organic promotion and growth for digital communications.
(It's crucial in influencer marketing to make sure your influencers' followers are in your target audience, and the engagement is authentic for both sides. This continues to be an increasingly important part of our integrated communications plans, so let us know if we can help add this to your marketing strategy.)
Experiential Marketing
Advancements in technology and direct-to-consumer business models have made consumers much savvier when it comes to decision making. Instead of settling for the brand that is most popular, consumers have access to thousands of options and can choose to interact with the brands that resonate most. The best way for brands to stand out is through storytelling and providing an exceptional experience. Running a Facebook or Instagram ad simply isn't enough anymore. There is a need for integrated marketing campaigns that can provide direct interaction for the end consumer and multiple touchpoints throughout their journey as a customer.
Athletic apparel brands, equipment providers, and sports technology companies are all looking for ways to stand out. Sports brands in particular can leverage experiential marketing as a way to win over consumers since there is such a focus on performance in their industry. When athletes or fans select which gear they want to wear on gameday, it comes down to how it makes them feel: anything that feels like it can give them the edge over the competition or boost their confidence.
At the 2019 InterSport Brand Engagement and Content Summit hosted by Sports Business Journal, leading sports marketing executives shared their top tactics and trends. Jonnie Cahill, Chief Marketing Officer for Heineken USA, shared his thoughts on the importance of connection: "We are in the business of joy, so the more we can connect with consumers through our marketing content, the more successful we'll be."
Cahill cited interactive experiential marketing efforts that have helped create a deeper bond with consumers in the MLS, such as the Rooftop Bar at DC United's Audi Field or letting the LAFC's supporter group help design the Heineken bar at Banc of California Stadium.
Michael McGoohan, the Chief Marketing Officer for Performance Health and the Biofreeze brand, claimed that authenticity is the most important term in marketing. On the topic of interactive activations, he noted how Biofreeze has pain-relief stations at numerous marathons. This gives Biofreeze direct access to their consumers and a live activation that displays the benefits of their products in real time. There are endless ways for companies to engage their target audiences, but providing an experience directly to the end consumer can provide the largest impact. Take risks and think of unconventional ways to activate your brand.
From global brands like New Era Cap, Under Armour, and ASICS to fitness innovator ProBar Mobility to pioneering women's sports event The Aurora Games, our Martin Sport group has vast experience in sports marketing. Contact Marketing Manager Brian Cleary to talk further.