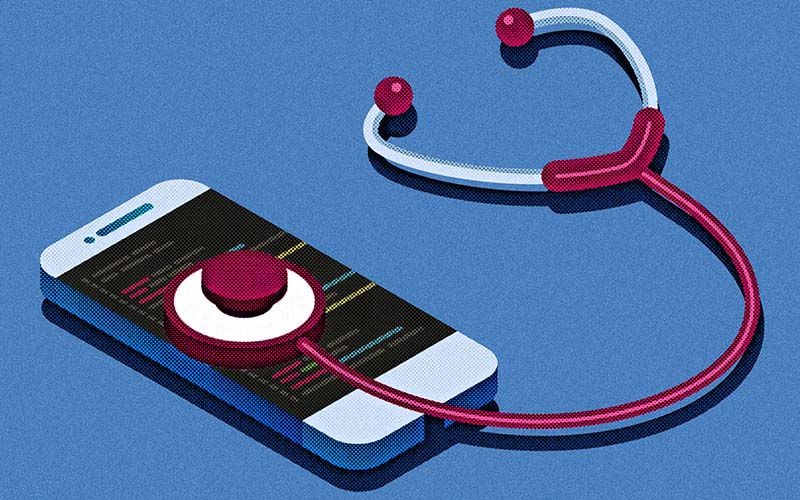 It's officially 2022… or is it 2020, too? 🤔
For nearly two years, the healthcare industry has been at the eye of the COVID-19 storm, responsible for containing the virus, caring for sick patients and keeping themselves healthy, all while working to develop an effective treatment on a global scale.
The industry has undoubtedly taken a cataclysmic hit that they'll be recovering from long after the pandemic subsides. That said, the past few years of innovation, emergency federal support, and customer flexibility in this space have created new opportunities for healthcare organizations that may not have been available without the catalyst of the pandemic.
At a recent gathering of healthcare and marketing experts from across the U.S., the key takeaway was that, if your marketing department isn't teaming up with your IT department on priorities, your organization is missing out.
Over the next five years, 80% of healthcare providers plan to increase their investments in technology (link), with advancements reaching far beyond virtual visits to include personalized medicine, genomics, wearables, artificial intelligence (AI), extended reality (XR) and the internet of things (IoT) to deliver care and enhance the patient experience. What can healthcare marketers do now? Collaborate with their respective IT departments to determine priorities and how best to align on a vision for the future.
In addition, IT departments can generate helpful reports for marketers and work closely with operations teams to make employees' work lives easier and patients' experiences better. Data + key benefits for staff and patients = gold for marketers.
Leverage Technology to Enhance the Patient Experience
According to the NRC's 2021 Healthcare Consumer Trends Report, 49% of patients reported that convenience was a primary driver in their healthcare decisions, and 52% stated that convenience was their second-most important criterion for brand preference. A Deloitte study from 2020 found that the percentage of virtual healthcare appointments increased more than 43% since the start of the pandemic. Deloitte also reported that most patients are happy and will continue to use virtual visits because of its convenience. If there was ever a time to pivot to a more convenient, customer-centric means of delivering care, this is it.
One of New York State's largest health systems fed this hunger for convenience during the pandemic with a new partnership. Because patients' families were unable to sit in waiting rooms and meet with their loved ones' doctors during the pandemic, Northwell Health of Long Island, New York, partnered with Playback Health to enable providers to record videos with instructions and patient updates. Both patients and their families had a greater healthcare experience because their families were conveniently kept up to date on the status of their loved one.
While the Northwell x Playback partnership is a prime example of operational innovation, this type of rapid response and customer-centric thinking is also a marketing tool. A new service that considers convenience for the end-user is a marketer's dream. Now, the marketer has a talking point when promoting services to the public. A differentiator in the patient experience could make the difference between a patient choosing one hospital/provider over another – and it was sparked by patient-focused innovation.
Tech Advances Can Streamline Workflow & Help with Recruitment
A McKinsey & Company survey from May 2021 found that 22% of nurses were considering leaving their current position within the year. Recruiting nurses and other frontline workers is vital, and a major focus for marketers in the current climate. The long-term solution is not to simply launch recurring recruitment campaigns, but rather, to deploy technologies and operational workflows that will alleviate stress for our frontline workers in order to retain employees.
While the marketing department typically doesn't play a major role in these operational decisions, it is that team's responsibility to help with recruitment. This includes promoting employee benefits, data regarding employee satisfaction and operational enhancements made by the organization when working on recruitment campaigns, interacting with the media or working cross-functionally with the HR department on internal communications messaging.
Befriending the CIO
Over the next several years, marketing teams are going to rely heavily on their IT departments. Online scheduling, appointment text reminders, video visits, virtual patient intake forms, EMR plug-ins and wearable technology (to name just a few) are all going to be on the marketer's radar and thus, on that of the Chief Information Officer (CIO) as well. Not only are these tools necessary to meet the demands of patients, the data collected can be invaluable to the marketing team.
For example, if data shows that 85% of female patients between the ages of 20 – 40 utilize online scheduling, a campaign for OB/GYN services should direct prospective patients to a secure online form (linked to the patient's EMR) immediately allowing them to book an appointment. This campaign will see more engagement and conversions because it acknowledged patient preferences and made the process convenient for them.
Marketers and CIOs may also need to consider outside assistance when integrating technological advancements into their patient experience. Prior to 2020, SHSMD estimated that approximately 500 new IT healthcare companies entered the market each year. In the past year alone, however, more than 3,000 new IT companies came onto the healthcare scene, so assistance is available.
Healthgrades has said that a healthcare marketer's job will soon focus 50% on new patient acquisition and 50% on patient retention. In the not-too-distant future, it's estimated that 70% of a marketer's job will be focused on retention and the customer's lifetime value.
This reinforces the importance of working across departments and all entities of the healthcare organization to retain patients. As such, it will be essential to align on patient experience priorities, leverage technology to make processes convenient and efficient for staff and patients, and use data to craft marketing messages that will resonate with your target audience.
By addressing the issues and opportunities that have resulted from the pandemic and developing smart, technology solutions, healthcare leaders are able to position themselves and their organizations for the future by providing the best experience for the patients they are working to help every day.