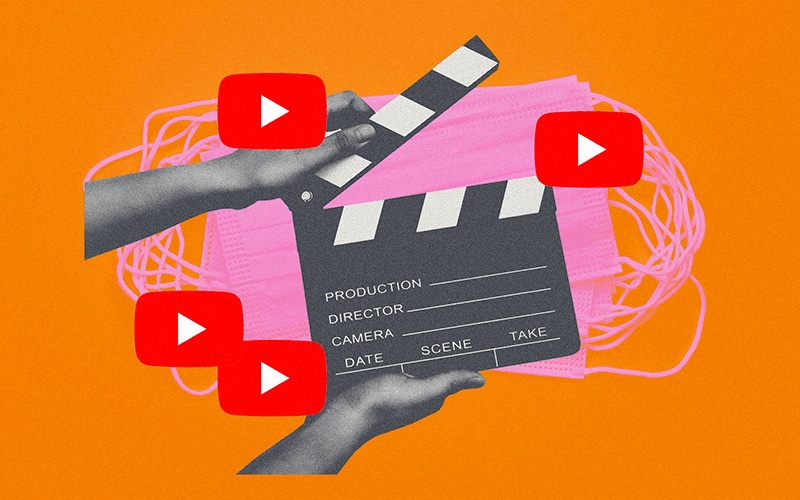 As in most industries, the pandemic not only caused a momentary shut down of video production, but also left an indelible mark on how creators, agencies, and in-house teams produce video content. From safety protocols to remote working, new limitations and challenges have forced us to get creative with more than just the work itself. As we move forward, the pandemic has clearly shaped the future of video production in many ways, and, as with anything, we've uncovered new ways to work that could potentially improve efficiency, flexibility, and reach.
Hybrid Shoots & Leaner Productions
Thankfully, agency and client expectations have shifted when it comes to shoot days. And now, there are many options for those not available to or uncomfortable with attending the shoot in person. Technology has played a big part in how we work across the board, and during any scale production, it allows team members to remotely connect with on-site crews, directors, and talent.
Not only do hybrid shoots create a safer, less congested set, but they also provide a level of convenience. With tools like Zoom or Capture One, clients or team members can avoid travel and still bring value to the on-set experience.
While most of us are surely suffering from "Zoom fatigue," we've learned just how capable we are of working remotely—and that now goes for certain crew members as well. The ability to produce and stream a live video feed to anyone anywhere allows clients or agency members to approve set-ups, lighting, and shots.
The benefits of remote work also allow for leaner productions overall—helping with budgetary restrictions while improving safety measures. With the onset of production safety measures, companies were forced to make difficult decisions regarding the size and scope of the crew. While challenging at first, this experience has allowed crew members to learn entirely new skills.
Over time, we anticipate going back to larger productions when needed, but these changes have forced us to adapt and shown us how nimble—and cost-effective—we can be.
Decentralizing Post-Production
Editors and post-production specialists can now provide their services from anywhere, giving video production companies and agencies more flexibility across the board and delivering benefits to both the agency and post-production talent sides of the fence. For agencies and production companies, it allows for financial flexibility to work with industry professionals outside of their own geographic locations. For editors, animators, and sound engineers, it delivers greater inclusion for talented individuals outside the normal production hubs of major cities.
Through newly optimized cloud-based technologies, real-time collaboration between editors and creative teams has become much less cumbersome and frustrating. Applications and services like Frame.io and Wistia allow for tracked comments attached to timecode and can help keep your revision history organized.
Moving Forward
With high-quality production becoming more accessible, software becoming more seamless, and platforms relying on it more and more, the influence of video content isn't going anywhere. Like everything in our industry, it continues to evolve. Now, more than ever, visual storytelling is the preferred form of communicating an organization's mission and message. The reliance on flexible, nimble production teams able to adapt to any circumstances has become absolutely crucial.