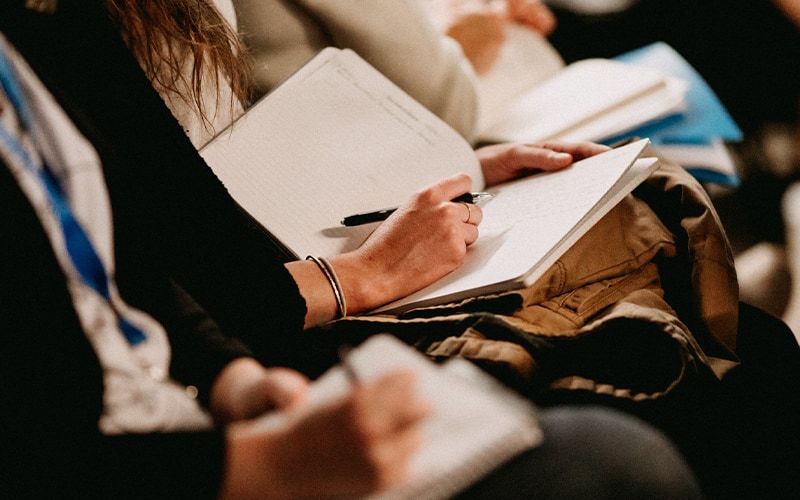 Upstate Social is a yearly social media conference in Rochester, NY curated to inspire and educate the community on the value of social media in the personal and professional realm. For the third year in a row, The Martin Group was invited to share our knowledge and expertise in content creation and data utilization to make the most of your social media campaign.
Senior Brand Manager, Pat Sandora-Nastyn, recorded a live podcast with his When's Food crew on Thursday, October 3rd, while Digital Media Supervisor, Anna Hofer, and Digital Media Manager, Dima Maddah, spoke to the importance of using data to maximize your budget and strategy on social media on Friday, October 4th.
What's When's Food?
A Tasty Podcast: four friends discuss random topics and ask the most important question of all "when's food?" It's like four friends laughing and arguing about everyday life topics, favorite foods, sharing stories, all while waiting for a pizza to be delivered.
Key Takeaways
Our live podcast was all about creating content that really fuels you, based on your strengths and passions. Each of my fellow cohosts and I discussed our personal and professional experiences on how we translate life into content. It wasn't so much as a checklist for how to create content, but more of a collection of parallel journeys in developing content that hopefully had tidbits the audiences could relate to or walk away with.
Particularly for personal content like a blog, YouTube channel, or social media account, sometimes just making the decision on what you want to create can be overwhelming. For our group, we always reflect back on our core interests, passions, and strengths when we're feeling stuck. In the same way, brand accounts should refocus on their core messaging and target audiences to avoid drifting too far away from the mission and vision of the company. Thinking you need to post about or react to every story in the news on your brand's social media account is a very easy trap to fall into. Create content calendars, buckets or "franchisable" groupings of content types or areas, and develop realistically sustainable schedules for when you need to post and stick to it.
Smart Spending on Social: Save Dollars by Making Sense of your Data
With Upstate Social being a two-day event discussing all things social, we were very excited to provide a slight twist and discuss data-driven insights on these platforms. Initially, when one thinks of social media, one thinks images, content, engagement, etc., but it wouldn't be a billion-dollar industry (and free!) without dollars behind it.
Our goal was to educate the audience on how to best use their clients' dollars to achieve their goals (increase brand awareness, drive traffic to the site, gather leads, etc.). Our hope was to provide actionable takeaways that could help any business, large or small, dip their toe into the paid social world and benefit from all this space has to offer.
Take Advantage Of Your First Party Data
First party data is data collected from your own and operated sources. This could be as simple as website visitors, social media followers and/or email lists.  Believe it or not, every company has access to some form of first party data. These are people who have already engaged with your brand and therefore have a higher propensity to take action. You'd be surprised what you may have and what story this data tells!
Take Time to Really Understand Your Audience
With copious amounts of data that is available within each given platform, take advantage of these data sets and see where your audience is. Most social media platforms provide Audience Insights tools that allow you to build your core audiences based on data sets the platform provides. Play around with them and test multiple audiences!
Go to Where Your Audience Is
While your overall brand and messaging should remain consistent across the board, each social media network caters to a different audience and should be utilized in their own unique way. Instead of spreading yourself thin across every social network, put your time and effort toward the networks you know your audience is already active on, based on the data you've gathered.
If your business specializes in e-commerce, then you'll want to spend your time engaging your audience on Facebook, Instagram, and Pinterest. Meanwhile, if you're looking to engage with industry professionals, your time is better spent nurturing potential leads on LinkedIn.
Invest Small and Learn
With any digital marketing effort, it's always ideal to test multiple data points, whether it be creative and/or messaging placements. With as little as $10/day put toward advertising goals, we are able to see how that ad performed and make decisions based on that data. All in all, digital is never a "set it and forget it" type of effort. With the ever-changing landscape, we as marketers, must pivot and adjust to best reach our goals.
All in all, it's always best practice to put the effort into understanding who your audience is and how you can best speak to them through social media. Doing the legwork up front will definitely benefit you in the long run. And most importantly, have fun with it! There is no tried and true course of action when it comes to your personal marketing efforts! You know your audiences best, capitalize on that!