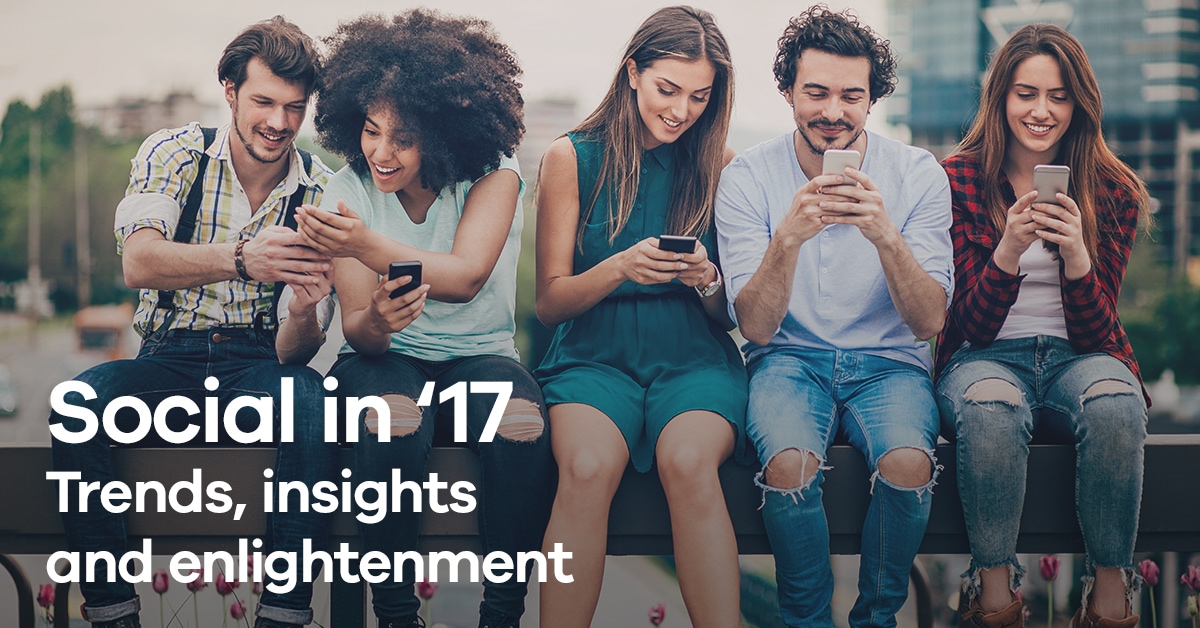 2017 could have been the year that social media grew up.
And while that statement undervalues the impact social media has had over the last decade, when it comes to mainstream appreciation and respect for what platforms like Facebook, Twitter, YouTube and Instagram can do in today's digital age, getting hauled in front of Congress and grilled for your impact on the United States presidential election proves that social networks are more than just repositories for avocado toast pictures and Stranger Things GIFs.
So, with 2018 looming, here are a few of our favorite 2017 social media trends – and what they mean for next year and beyond.
Rise of Ephemeral Content
Snapchat started the trend of disappearing content, but Instagram legitimized it with their Stories functionality, a feature admittedly modeled after Snapchat's. The concept gives people the ability to post photos and videos – customized with text, art and drawings – that disappear after up to 24 hours, providing an entirely new way to stitch together a story. Apps like Facebook Messenger, WeChat and WhatsApp have followed suit, and now also now have story capabilities.
The Generation Z group that entered the crosshairs of marketers this year has little affinity for history – chronology and historic evidence, that is. If you look at some of the Instagram feeds of the younger generations, many contain less than 10 photos. They're focused on what's most current, in the moment and authentic – which makes "stories" content so impactful.
As is common with any new feature – especially for Facebook – participation tends to get rewarded in the algorithm. So toward the second half of 2017, we've seen some really smart, creative ways to capitalize on the impact of Instagram Stories to draw attention to content and links.
The good news is that recently Snapchat and Instagram have added the ability to archive stories, adding some longevity to your hard-earned content by "saving to your gallery."
Takeaway for 2018: Do not think of "stories" content as disposable, or not worth putting dollars toward, because it will disappear in 24 hours. Stories are ripe opportunities that present unique, niche areas of each platform to communicate messages to highly engaged audiences.
Increased Usage of Messenger Apps
Apps like Facebook Messenger, WeChat and WhatsApp could be considered anti-social media, since their entire purpose is to facilitate private conversations. But that is definitely the preference of Gen Z, as traditional social media networks get noisier by the day and even Snapchat is no longer safe from parental interruption.
For context, WhatsApp and Facebook Messenger each have roughly the same number of monthly users as Instagram, Twitter and Snapchat – combined. (Facebook bought the fast-growing WhatsApp for $19 billion in 2014 and has since tripled its usage, recently announcing plans to monetize through larger business accounts.)
In 2017, these channels became infinitely more important, for customer service especially, as more and more people eschew phone calls and emails in favor of immediate responses. And, although there have been mixed reviews on the effectiveness of chatbots (automated robot responses), that method of interaction is expected to evolve and become even more prevalent in 2018.
Takeaway for 2018: If you're not equipped to handle customer service inquiries and questions through social media (using customer service professionals), then you should work that into your 2018 planning as soon as possible. These platforms do now offer marketing opportunities (paid and organic) for brands, so this should definitely be an area of focus for 2018.
"The Camera is the Keyboard"
This popular refrain inside Facebook's walls speaks to the ever-increasing role video is playing in digital and social media communication. Video content on social media catapulted forward in 2017, with LinkedIn and Pinterest adding video capabilities, Twitter, Facebook and Instagram pushing it more and more, and Snap Inc. going so far as to call itself a "camera company."
And while live video might have been a headliner this year, this is a function that brands should use strategically and not haphazardly. It's important to have an understanding of what makes for good live video content. One of the primary benefits of live video in 2017 was how much Facebook pushed it in their algorithms. But, if that priority wanes, marketers will need to be even more strategic around when they go live.
Takeaway for 2018: This is a great weapon to have – especially when considering the benefits in employee engagement for larger, multi-location corporations and broadcasting newsworthy events. But it's important to use this wisely. Wasting effort on a long, boring video of your intern's thumb is not a smart use of resources.
Influencer Marketing Steps Up
Influencer Marketing was not only much more prevalent in 2017, but it saw bigger brands wading into waters that get choppier by the month.
Whether these are truly organic "influencers" who built social media followings through real content that connected with their audience, or celebrities who are renting out space on their Instagram or Snapchat accounts, the value of influencer content has never been higher. We hear this over and over: people clearly gravitate toward unscripted, authentic, unedited content. Yet until this year, few marketers have had the confidence to loosen the reins and let that happen.
There's no question that it's a leap of faith to turn over your brand. And not every influencer campaign will turn out like Casey Neistat's infamous Nike Fuelband experiment from 2012. But that remains the prototype for influencer marketing: a brand gives an influencer budget, something to promote and then lets that influencer take over the steering wheel. Content appears authentic to the influencer's fans, it reaches a new audience for the brand and creates a finished product – one that may or may not be more editorial than advertising.
Takeaway for 2018: Influencers are continuing to build huge, engaged followings but they are also getting smarter and savvier, so partnerships need to make sense for both sides. Don't waste your time trying to finagle a forced connection. It's important to do your research and make sure the relationship is mutually beneficial and natural. Vehicles like Instagram and Snapchat takeovers became much more common and effective in 2017 – something to consider testing, if you want to more safely test the impact of influencer marketing.