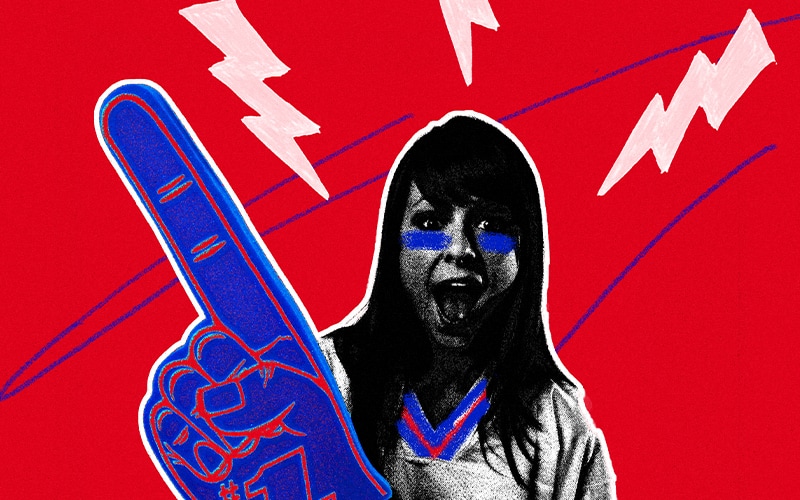 December 29, 2019.
That's the last time now-Highmark Stadium was open to its 71,870 capacity, full of delirious fans in royal blue jerseys, red caps and the occasional Elvis costume. It's also the last time that every parking lot off Abbott Road and its linked intersections were teeming with denizens down for 9 a.m. beers, breakfast Sahlen's and the desire to leap off the roof of a conversion van—and land in the middle of a six-foot folding banquet table.
On Sunday, September 12, we're back and ready for the most anticipated Buffalo Bills home opener since, well, ever. Fans across Western New York are ready to shout down the visiting Pittsburgh Steelers, but first, we're aching to get back to doing what we're exceptional at: tailgating. Whether off the hatch of a Honda or out the back of a red, white and blue school bus, devoted Bills Mafia members are professionals when it comes to pregame warm-ups; and on a day that's generally considered a Buffalo-area holiday in the realm of Thanksgiving, Christmas and St. Patrick's Day, the annual home opener is traditionally a time to pull out all the stops.
But this year? After missing out on the outdoor parties throughout what was a magical Bills season last year, this home opener should have even more flair (and Flair) than usual. With this noted, we at The Martin Group thought a special Bills tailgating playlist might aid the excitement—and extracurricular activities—outside the stadium.
With 17 songs in honor of #17 Josh Allen, this list eschews most of the usual "Jock Jams" hits, and instead replaces them with something a bit different, including Buffalo hip-hop artists (Benny the Butcher), local rock icons (Goo Goo Dolls), members of our cherished Canadian fanbase (The Glorious Sons) and one track named after QB1 himself.
Did we still include The White Stripes' "Seven Nation Army?" Of course we did. We're not ghouls over here. We're just trying to intermix some new material into your usual pregame get-pumped routine. Below is a short description of each tune—as well as a lyric to shout—so find the full playlist on Spotify here, and go Bills.
"Josh Allen" by The Kevin Bennett
Made to celebrate last year's AFC East division title, this Bennett track provides a nice review of why the Bills were so great in 2020—and how it made sheltered-at-home fans feel.
Lyric to shout with friends: "Buffalo back with a vengeance, we resurrected the team."
"Legend" by Benny the Butcher
Delivered by the Buffalo-born hip-hop artist who's recorded with The Roots' Black Thought and 2 Chainz, this single's narrative is of an underdog rising to the top. Sound familiar?
Lyric to shout with friends: "Said I'm gonna be a legend soon—but I'm a legend now."
"Future Power Sources" by Marlowe
Popularized by Gatorade's current ad campaign (featuring Seattle WR DK Metcalf), this scratching beat off 2020's "Marlowe 2" tends to motivate, even during a parking lot breakfast.
Lyric to shout with friends: "I move so quick that they think I'm moving slow."
"Freedom" by Beyoncé
Angry Beyoncé. Kendrick Lamar. Thumping percussion. If the first three songs on this list didn't wake you up from your backseat snooze, this should inject a needed shot of audible adrenaline.
Lyric to shout with friends: "I'm a keep running 'cause a winner don't quit on himself."
"Done Did It" by Blackroc
This collab between Dan Auerbach, Pat Carney (The Black Keys), Nichole Wray and Jay-Z-soundalike Noe keeps the pace from the previous, but adds Auerbach's signature garage licks.
Lyric to shout with friends: "I'm the best of my pedigree, all things considered."
"The Maestro" by Beastie Boys
Off the 1992 hip-hop classic "Check Your Head," this bouncing cut brings a little funk to your festivities, all while providing a nice backing track to prep for Bills' maestro, Josh Allen.
Lyric to shout with friends: "I see you looking at me saying, 'How can he be so skinny, but live so fat?'"
"Renegades of Funk" by Rage Against the Machine
Time to ride the hip-hop and funk into the hard-hitting rock that's been emblematic of Buffalo's traditional tailgating scene, and there's no one better to aid this journey than Rage.
Lyric to shout with friends: "No matter how hard you try you can't stop us now."
"S.O.S (Sawed Off Shotgun)" by The Glorious Sons
Is this song about OC Brian Daboll's shotgun schemes? Um, no. But it's the type of frenzied banger that elicits gleeful parking lot sing-a-longs. (Plus, TGS are huge Bills fans.)
Lyric to shout with friends: "I don't know who to trust. They need people like us."
"Dizzy" by The Goo Goo Dolls
A little Goos to rev your tailgate bash—but nothing too weepy or emotionally excavating. Just a power-pop driver from Buffalo's best-selling band, and one to keep your party on pace.
Lyric to shout with friends: "Everything you are falls from the sky like a star."
"On My Own" by Made Violent
From one Queen City act to another, here's Made Violent, with a hard charger that keeps the guitars of the previous track, but adds the guttural yowl of Buffalo-raised frontman Joe White.
Lyric to shout with friends: "Well, no one's gonna care about what I say tonight—and that's alright."
"The Boys Are Back" by Dropkick Murphys
A Boston band at a Bills tailgate? Settle down, everyone. No one seemed to care when "Shipping Up to Boston" pumped up Sabres' crowds, so cue the Celtic punk—and pump your fist.
Lyric to shout with friends: "The boys are back, and they're looking for trouble."
"The New Black" by Every Time I Die
If you're looking for the right song for your (safe) descension from the air and onto your favorite folding table, turn up this one from Buffalo's own ETID, wave to the crowd, and do your thing.
Lyric to shout with friends: "We're turned on to turn you down!"
"Seven Nation Army" by The White Stripes
For those who need to loosen their lungs before kickoff, here's the "Rock & Roll Part II" of its time, which can drive any venue into sweaty frenzy with two musicians, a few chords and a bass drum.
Lyric to shout with friends: "I'm going to Wichita!" (Just kidding; hum/yell out the chord progression.)
"The House That Heaven Built" by Japandroids
For anthemic rock from another guitar-and-drums duo, enter Vancouver's Japandroids, whose track is not only invigorating, but has a title that might describe One Bills Drive for plenty of fans.
Lyric to shout with friends: "And if they try to slow you down, tell 'em all to go to hell."
"We're All In This Together" by Sam Roberts Band
For those in need of some sing-a-long bonding, adopted-Buffalonian Sam Roberts has you covered—all while reminding everyone that, when it comes to Bills football, we're all one.
Lyric to shout with friends: "We're all in this together—so keep moving, don't stop."
"Sookie Sookie" by Mad Dukez & Fresh Kils
From group sing to sway, transition to the clapping and hand-raising hip-hop of Buffalo's Mad Dukez & Fresh Kils, ready to dance you into this playlist's obvious conclusion.
Lyric to shout with friends: "My lane strong; your game wrong. Don't play with me, because you ain't built as tough."
"Shout, Parts 1 & 2" by The Isley Brothers
Grab your drink. Dance with a stranger. Sing a little bit softer, sing a little bit louder—and don't forget to insert Buffalo and Bills-specific lyrics where necessary. Shout it loud, and enjoy the day.
Lyric to shout: "Hey-ay-aye-ay! Hey-ay-aye-ay!"