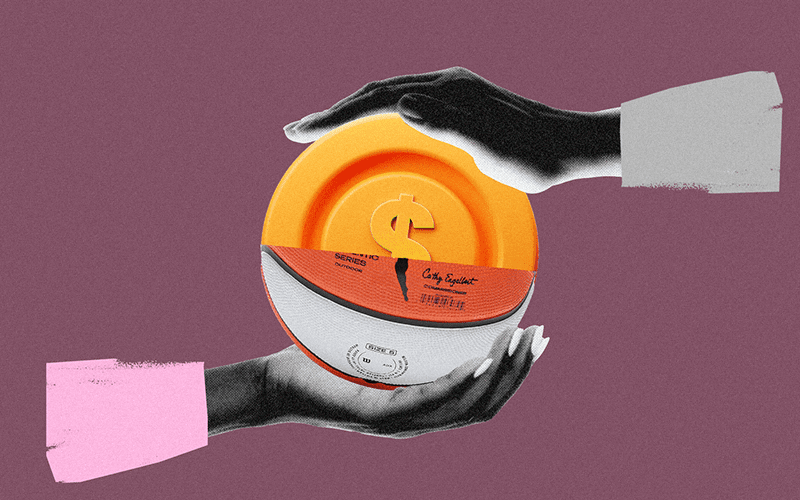 If you're wondering if your brand should be investing in women's sports, I have some bad news.
You're asking the wrong question.
Instead of asking if you should invest in women's sports, the question needs to be reframed: How should we invest in women's sports in a way that makes sense for our brand?
Compelling research coming out of The Fan Project, founded by four-time Olympic gold medalist Angela Ruggiero, suggests new ways to look at the women's sports market. The new model moves away from traditional fan demographics and towards prioritizing fan behaviors. When you look at how fans of women's sports engage with teams, leagues, athletes, and sponsors, you can unlock creative ways to reach those audiences and connect with them in meaningful ways.
The research shows that fans of women's sports are more loyal to brands who invest in women's sports – around four times more loyal than general sports fans in some cases.
Those fans also reward brands in both engagement on social media and consumer spending. For example, Budweiser saw fans of women's sports increase their brand engagement and spending by 1,075% one year after becoming the official beer sponsor of the NWSL.
Similarly in the WNBA, brand affinity toward sponsors adidas (4.2X), Beats (3.9X) and Nike (3.4X) is much higher than with general sports fans.
As you look at ways your brand and company can invest in women's sports, consider these points – the community is tech-savvy, purpose-driven, and athlete-led.
Look for ways to engage across platforms. Fans of women's sports have been early adopters to digital platforms. Even when traditional TV options are available, fans of women's sports are largely co-watchers, using a second screen to create a social experience. Brands can activate their reach across platforms by engaging fans in the digital space through companion chats, social gaming and e-commerce.
Amplify your brand's values. Over the course of the pandemic we saw the world of sports stand up for social justice issues, and women's sports – particularly the WNBA led the way. While controversial at times, these moments are catalysts for brands to showcase their own values. Fans of women's sports are action-oriented and often show that by spending to support athletes who align with their values. Genuine and authentic alignment of brand values with those of women's sports leagues and individual athletes creates new avenues of connection with fans.
Engage with athletes. The Fan Project identified a trend of fluid fans – ones who are more open to change and are more apt to be fans of athletes rather than die-hards of a particular team. With social media platforms that allow athletes to engage directly with fans, and more fans turning to social to follow their favorite athletes, there is an opportunity for brands to align themselves with athletes that complement their values and culture.
Sponsor women's sports events. Engage with women's teams, leagues, and athletes in your backyard. Even small budgets can go far in creating brand loyalty among fans of women's sports. Creative sponsorship packages can help you achieve your goals and amplify your company's values. You don't need to go national either – look regionally and locally, including college programs and amateur events.
Open up conversations. Talk with leaders in the women's sports space. Find out what they're looking for in partnerships and what challenges they are facing. Mutually beneficial creative solutions often start with a chat over a cup of coffee.
One final look at the numbers: Women's sports are acquiring new fans at more than double the general sports fan market, with a growth rate of 16% year over year for fans of women's sports, versus 7% for general sports fans in the last four years. Retention of those fans is also higher – a 25% increase in fan retention for fans of women's sports versus 14%for general sport fans.
Now is the time to consider the best ways to engage with women's sports teams, leagues and athletes in a way that can positively impact your brand.