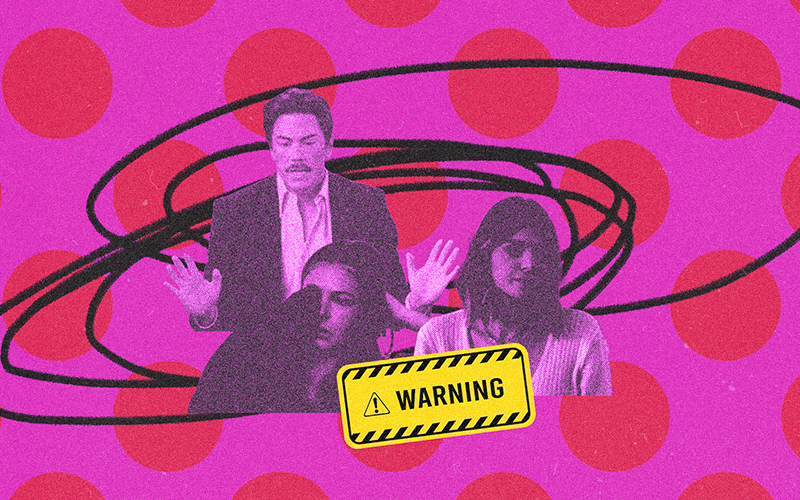 Reality television is a hotbed for public scandal, but there's one recent case of reality TV betrayal that seemed to shake this world to its core. Seemingly overnight, the Bravo universe of pop culture fanatics exploded, and news of the betrayal quickly infiltrated mainstream media. In real time, we watched how critical a strong communications strategy is to not only surviving a crisis but thriving in its wake.
So what is #Scandoval?
The Vanderpump Rules cheating fiasco centers around longtime reality personalities Ariana Madix, Tom Sandoval and Raquel Leviss, who star in the show about businesswoman and reality star Lisa Vanderpump and the staff at her restaurants and bars across West Hollywood, Calif. Ariana and Tom met while working at one of the restaurants and became life partners. Fans saw their relationship grow on the show for nine years. At the same time, viewers watched Ariana's friendship with Raquel develop over the show's first nine seasons. That's why it was so shocking to viewers when they learned in March 2023 that Tom and Raquel were in the midst of an affair, and that Ariana uncovered it when she discovered a compromising video on Tom's phone. To add salt to Ariana's wound, Tom's best friend and business partner, Tom Schwartz, was aware of the affair and kept it a secret.
For those not tuning into Bravo weekly, this scandal has been compared to the cast of Friends, as if Chandler had a secret affair with Rachel behind Monica's back and Joey knew about it all along.
A Lesson in Crisis Communications – What Not To Do
Controlling the narrative in crisis situations can be a delicate balance. But in silence or fumbling your initial response, the narrative may be written for you. Look no further than the initial fallout of #Scandoval.
Time is of the Essence
The public timeline begins in March when news of the scandal first broke. Both digital and traditional media exploded with commentary filling the void as eager listeners waited for all parties to break the silence. It took two whole days for Sandoval to release a statement. Instead of taking responsibility, he surprisingly chose at that moment to come to Schwartz's defense, seeking to clear him of involvement and defend their joint business. His silence on the hurt he caused Ariana was deafening. It took three more days until he finally issued a public apology to his former life partner.
By then, the damage had been done and Sandoval lost any control of the narrative he may have had, showing it's not only what you say, but when you say it, that matters. Had he immediately taken accountability, apologized sincerely, and condemned his own actions, he could have saved whatever was left of his reputation. Instead, he carved out the perfect space for Ariana to rise from the ashes.
Its Giving…Manipulation
Raquel didn't handle the situation any better. While she was right to hire a crisis PR team, the strategy to paint her as a victim to garner public sympathy in an attempt to salvage her reputation proved to be flawed. The public saw right through this failed attempt to swing the pendulum in her favor, and it was clear that the damage done to her reputation was irreparable.
The first step to surviving a crisis is realizing you are in one. Second is to read the room – and be ready to act. Don't get caught without a plan. The best time to prepare for a crisis is before it happens.
Don't …Watch What Happens Live
Do you ever watch a live interview and immediately cringe? It is so bad you can barely watch but can't seem to look away. We saw this happen in real time as Schwartz sat down for Bravo's live late-night talk show, "Watch What Happens Live", during the immediate fallout of #Scandoval. If there was ever a real-life example of the importance of media training for public figures, this was it.
Schwartz dropped several headline revelations throughout the interview in April 2023—none of them doing any favors to himself or his friend. During the show, host Andy Cohen called out Schwartz's "word salad" and offered to give him interview tips after the show. Tom's lack of preparation was so apparent, his ex-girlfriend and castmate Katie Maloney called him out for not hiring media trainers.

Sharing your story and answering tough questions while the cameras are rolling or, in this case, while the whole world is watching, is not a walk in the park. Even the most seasoned public speakers can get tripped up. Media training would have given Tom the confidence and education needed to answer difficult questions and will leave you feeling, as cast-member Scheana Shay would say, good as gold when you walk off set.
Seizing the Opportunity
This is not the first time a cheating scandal had been outed in the Bravo-verse, nor was it the first time on Vanderpump Rules. What was different about this scandal that sent Ariana's star soaring amid personal devastation?
There is a power vacuum that immediately follows a crisis or major announcement, and Ariana and her team took advantage of it. If you are not prepared, a key public relations opportunity will pass you by. Don't get caught without a team of seasoned public relations strategists who can help you meet the moment and strategically place you or your brand in the public eye.
Without a PR team, Ariana may have gone on as just another reality TV star. But now, she is turning her relationship devastation into dollars, sharing how good "freedom" tastes as the face UberOne, and accepting deals with major brands like Bic, Bloomingdales, Lay's and Duracell, among others. She's appeared on the Today Show, in the New York Times, and countless other media outlets who cannot resist telling her story.
#Scandoval is a case study for the importance of preparation and strategy for making sure the media and public receive and share your message the way you intended. The Martin Group's team of skilled communications professionals and public relations practitioners are here to help you through any crisis, provide comprehensive customized media training workshops and help to seize opportunities. Don't be a Sandoval in your next crisis. Be an Ariana.  
The Martin Group team is available 24/7 to help companies develop crisis response plans to mitigate the fallout.