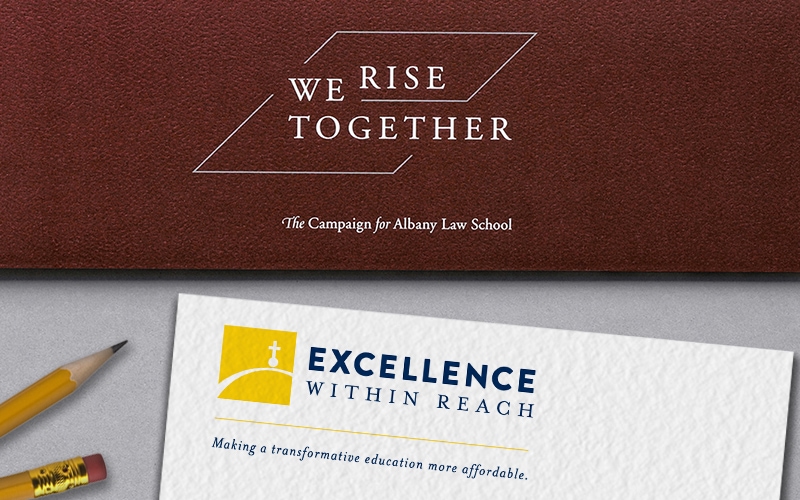 When my son was choosing the college he wanted to attend, like so many other students, he sat down and wrote the pluses and minuses for each of the schools on his short list. That memory jumped to mind as I began considering two projects that The Martin Group was fortunate enough to work on with higher education clients on opposite sides of the state.
Through our Education vertical, we've partnered with institutions ranging from a small Christian private school to preeminent universities like Syracuse and Cornell. These schools certainly have issues that are distinct from private sector and commercial organizations, but they have one that everyone shares, regardless of industry or mission.
Money. Which brings us back around to the pluses and minuses. We would love to think that the pursuit of education is immune from money, but we know that isn't the case. They are intertwined in many ways—and two recent projects illustrate a how marketing can address the universal issue of money in distinct and interesting ways.
The Plus of Working with Albany Law School
A school can be thriving on all fronts and still need the benefits of a comprehensive fundraising campaign. And it can still find huge benefits in marketing, as evidenced by our collaboration with Albany Law School. Albany Law has had positive momentum through its increasing enrollment, rising rankings, and accolades for academic innovation. But even a school on the upswing needs the funds to sustain the educational experiences they are offering that are largely responsible for that success.
With former higher ed advancement experience on our staff, we understand that it's a delicate dance when asking people for their financial support—to simultaneously demonstrate need while positioning the school as a model of achievement. This challenge was brought to The Martin Group, and our resulting strategy and creative, like We Rise Together: The Campaign for Albany Law School itself, recognized and centered around a single fact—individual stories of student perseverance and triumph collectively raise the institution to a new level and form a compelling reason for philanthropic support of Albany Law.
The campaign represented a big plus for our agency—working with a great college like Albany Law to raise money and strengthen everything from innovation in the classroom to impact outside in the world.
So what about the minuses?
The Minus of Working with Canisius College
Of course there was no downside to working with a great college like Canisius—other than tuition when our collaboration was complete.
Tuition and student debt have been increasingly in focus and on the minds of students and parents alike. In response to those issues, Canisius College decided to act by implementing a program designed to reduce tuition—there's the minus—and make the Canisius Jesuit education more affordable for all. This program reduced their tuition by 23% (returning it to what it was in 2008) and their housing costs by $2,000.
We began by branding the initiative as "Excellence Within Reach" to emphasize both the tuition reduction and the quality of a Jesuit education at Canisius. Our team proceeded to execute a wide range of tactics to get the program noticed by prospective and current students and parents, including TV, radio, and digital ads, as well as social media content. Using inspirational student stories, we created a long-form video that outlined the high-level details of the program. Since the celebrated program launch at a student rally and press conference, the video has exceeded media benchmarks with a 77.7% completion rate from parents and a 78% completion rate from students. The overall campaign garnered national attention for the initiative and the school, achieving a notable increase in undergraduate applications—and an impressive rollout of Excellence Within Reach.
With an eye toward manageable debt upon graduation, the days of students choosing their dream college without regard for the price tag are diminishing. Our solution drew significant attention to a refreshing and rare situation—lower costs to attend a premier educational institution.
In summation (see what we did there?)
If our Education vertical has taught us anything, it's that colleges and universities are bastions of diversity. From music to medicine to engineering and from students to parents to alumni, different viewpoints make higher education stimulating. At The Martin Group, we use a different brand of thinking to approach any challenge—that brand can promise the same thing to very distinct audiences, whether they are students looking to save on tuition or donors looking to add to the success of their alma mater. A well-executed brand campaign can highlight any school's distinct advantages…whether they are a plus or a minus.