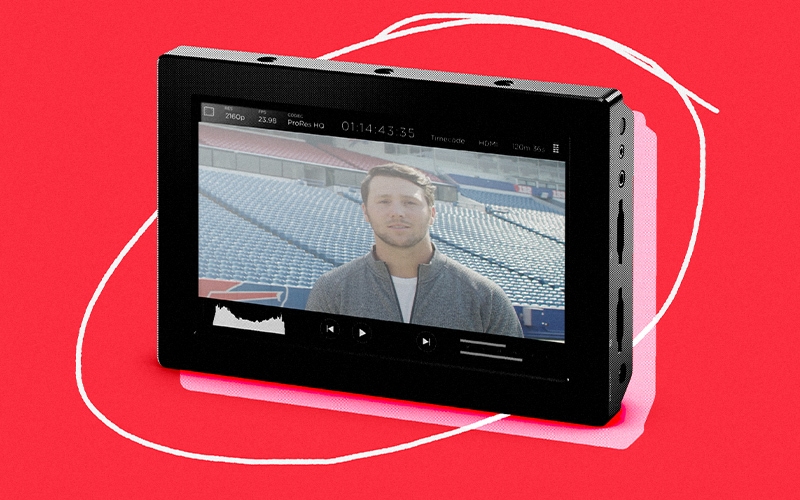 Ahh.. fall. Most think of spiced desserts, pumpkin coffee, and crunching colorful leaves. That is, if you're not a sports fan. But if you are? Fall equals football. And for marketers, fall means taking advantage of the built-in campaigns that the NFL offers, making it easy to position clients within the football space and quickly reaching thousands of viewers in the final quarter of the year.
This year, The Martin Group worked with a number of clients to launch their football-related campaigns. We checked in with our own Amanda Clark, Account Supervisor, to get her perspective on a television campaign our team supported in collaboration with Kaleida Health's Oishei Children's Hospital. Amanda sat down to discuss her insights, what we learned, and her favorite parts of shoot day.
TMG: How much planning goes into creating a TV spot? What are some things people wouldn't know unless they worked on it?
Amanda Clark: There's a lot of upfront work required to pull together a beautiful TV spot like the Children's Hospital of Buffalo Foundation spot, featuring Josh Allen and the care team at John R. Oishei Children's Hospital. We began this campaign by meeting with our client. They had a very clear idea of how they wanted this campaign to come to life, so we worked with them to develop a script and storyboard for the TV spot, and messaging for the remainder of the campaign. We also worked with a very talented producer, Rhea Anna, to plan pre-production details ahead of the shoot. This includes scouting the stadium and hospital venues and scheduling the run of show from minute-to-minute (as much as possible), among many other small but important details. Our client was involved in each step of the process, and Josh's team had a chance to review and approve everything before the day of the shoot.
Shooting at an NFL stadium and a very busy hospital comes with its challenges. We split the shoot into multiple days, and thankfully, the teams at Oishei and Highmark Stadium were remarkably professional and accommodating.
Something you may not know unless you worked on this spot… Josh Allen is not only a ridiculously talented football player, he's also very kind and funny, and a natural in front of the camera. He nailed every line!
TMG: Is working on-site for a TV spot similar to a regular photoshoot? Are there any glaring differences?
AC: Video shoots are much more dynamic than photoshoots. With video, there are many factors you have to consider. "Quiet on set!" is often said, because when we're recording audio, we need to be very careful about what the mics pick up. Also, in this particular shoot with Josh, we were in the tunnel behind the goal post, which had a fair amount of wind that needed to be managed. With a photoshoot, you're also able to make edits more easily in post-production. In video, it's more challenging to scrub out a logo, a blemish, etc.
TMG: What is a general synopsis of what you do on-site for a TV shoot like this? What role do you play?
AC: As the account supervisor on set, it's my role to ensure that the client is comfortable, happy, and empowered to express their creative thoughts. I also keep an eye on brand consistency, and if there's a decision that needs to be made on the fly, I will ensure that there's consensus with the client, the creative team, and the production team.
TMG: How was this different from shoots you've done in the past? Was there anything that stood out to you?
AC: Um… yes! Josh Allen was the talent in this shoot, so that was pretty special. We also shot during an absolutely beautiful June summer day at an NFL stadium. This was the most exciting shoot I've worked on to date. Also, given the fact that we shot this during COVID, everyone wore a mask. That was quite different from shoots in the past.
TMG: Living in Bills Country, it must've been really fun working with the players. What was it like for you?
AC: I live in Austin, TX, and came home to Buffalo for this shoot. I've been a Bills fan my whole life, so it was a pretty exciting day. Josh was very professional and kind, thanking everyone on set and chatting when we had down time.
TMG: What was your favorite part of going on-site for this shoot? What made you the most excited for it?
AC: This shoot was the first time I saw many of my colleagues since COVID became a part of our lives. We're all very close at The Martin Group, and we were all so happy to be together again after 15 months. Also, seeing our client, Kristen, was very exciting! We've developed a great relationship over the years, and it was nice to be face-to-face.
TMG: Were there any surprises/hiccups that came up day-of? How did you handle it?
AC: Thankfully, no. Both shoots, at the stadium and the hospital, ran very smoothly thanks to all partners' flexibility and planning.
TMG: Now that the project is completed, are you happy with how everything went? Or do you wish you would've done something differently?
AC: Thrilled! We love how this campaign came together.