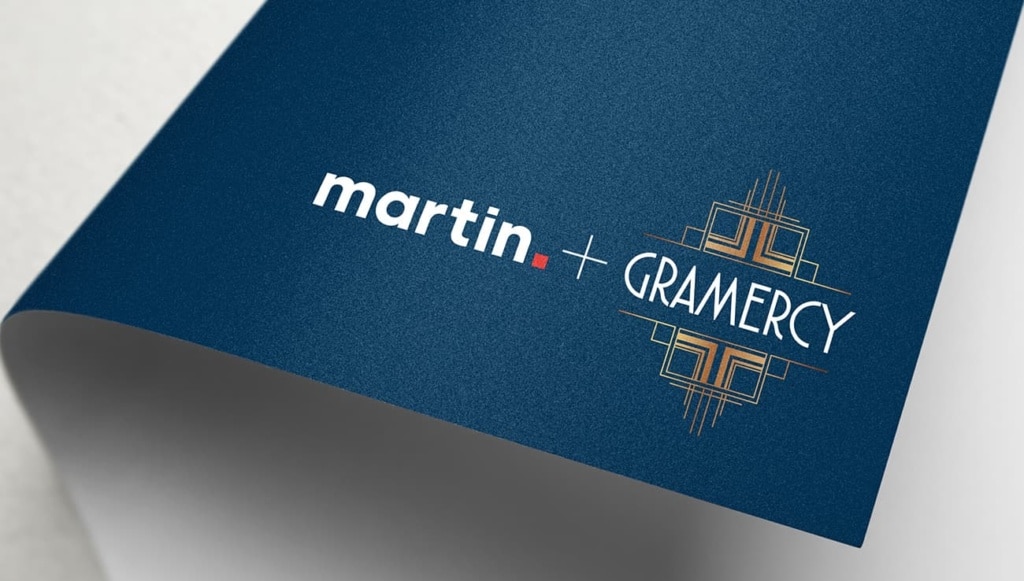 Deal expands The Martin Group's presence in Capital Region, while enhancing agency's specialty service line offerings
Tom Nardacci joins The Martin Group as senior advisor; several key Gramercy team members also make transition to lead firm's public affairs practice
ALBANY / NYC / BUFFALO / ROCHESTER (NY) – The Martin Group, an award-winning integrated marketing communications agency headquartered in Buffalo with office operations across New York State, today announced the acquisition of prominent public affairs firm Gramercy Communications. The deal comes nearly three years after The Martin Group's expansion into the Capital Region market, and one year after its announcement of a strategic equity investment from Hearst Newspapers.
As part of the agreement, The Martin Group will assume Gramercy's existing client roster, including 25+ active public affairs, public relations, and marketing accounts. The agency will also retain key Gramercy staff members Andrew Mangini, who will lead The Martin Group's public affairs practice, and Brittany Kenny. Gramercy founder and chief executive officer Tom Nardacci will join The Martin Group as a senior advisor. The transaction officially closed in late-January, with the transition effective as of February 1, 2021. Full terms of the acquisition were not publicly disclosed.
"Tom and I have talked for many years about the benefits of joining forces and fueling the growth of a preeminent public affairs operation in New York State," said Matt Davison, chief business officer of The Martin Group. "The timing of this acquisition is reflective of those conversations and the belief that through Gramercy's know-how and The Martin Group's size and strength, we can really create a potent alignment and extremely attractive industry offering."
The acquisition extends The Martin Group's focus on the Capital Region, and builds its standing as a best-in-class, full-service communications agency. The transaction also creates a valuable opportunity for The Martin Group to offer expanded public affairs services and capabilities to its many existing clients, including the execution of integrated advocacy campaigns, policy research and positioning, and the building of support through organizational coalitions. For accounts previously served by Gramercy, The Martin Group—which has 90+ employees in a variety of communications disciplines and a strategic alignment with Hearst Newspapers—will be able to offer a similar client experience along with high-level, in-house solutions for marketing, advertising, and creative needs.
"As I thought long and hard about the evolution of Gramercy, it became apparent to me that in order to ramp-up and grow even more, we needed a like-minded agency partner to help us scale and take things to the next level," said Nardacci. "The Martin Group was a natural fit to be that partner, as the agency's leadership and staff already possess a strong understanding and appreciation for the public affairs space. Not only that, but they also share a vision for the continued growth of the public affairs practice, investment in additional staff, and other key resources to keep the momentum going."
Founded in 2001, The Martin Group provides research, strategy, analytics, creative, public relations, digital marketing, paid media and advertising, and social media solutions to help brands effectively differentiate and tell their unique stories to the world. The Martin Group's Albany office, which first opened in 2018 and is led by John Mackowiak and Jennifer Hunold, shares a location within the Times Union building on Albany Shaker Road. In 2020, The Martin Group formalized its partnership with Hearst Newspapers, and accepted both a strategic equity investment and an appointment of Times Union publisher George R. Hearst III to the agency's board of directors.
Gramercy Communications has served more than 300 clients since its founding in 2005. Its current clients include Vireo Health, the New York State Restaurant Association, the Capital District Transportation Authority (CDTA), Saratoga County, the Commission on Independent Colleges and Universities, the United New York Ambulance Network, Pyramid Companies, Rosenblum Companies, United Way of the Capital Region, Beacon Communities, and various others.
Some of The Martin Group's notable clients include Under Armour, Wegmans, New Era Cap, Puma, ASICS, M&T Bank, Prescription for Progress, Mohawk Valley Health System, FuzeHub, Grow-NY, Independent Health, Student Transportation of America, Pegula Sports & Entertainment, and the Ralph C. Wilson, Jr. Foundation.
Several additional staff members and specialists are also expected to be hired by The Martin Group in order to support the agency's expanded public affairs portfolio.
About The Martin Group
The Martin Group is a leading integrated communications firm headquartered in downtown Buffalo with office operations in Albany, Rochester, and New York, NY. The firm works with best-in-class organizations ranging from small businesses to global enterprises and has extensive experience in several industry verticals, including sports, healthcare, financial services, food and beverage, education, professional services, and not-for-profit support. Continually recognized for marketing communications excellence by the American Advertising Federation, the American Marketing Association, the Public Relations Society of America, and the Academy of Interactive and Visual Arts, among others, the agency has been previously selected as a "Top Private Company" and "Fastest Growing Company" by various regional news publications. For more information on The Martin Group, visit martingroup.co, or follow the agency on Twitter @TMGBrandFuel.
About Gramercy Communications
Gramercy is one of New York State's leading public affairs firms. Working with statewide associations, interest groups, companies, and individuals that seek to advance business and policy goals through public dialogue and government action—the firm develops strategic campaigns that reach decision-makers and deliver effective client outcomes. The Gramercy team includes veterans from the highest levels of government complemented with experience in top newsrooms from New York City, Albany, and beyond. Gramercy founder and CEO Tom Nardacci is an active community leader, entrepreneur, and civic volunteer, as well as one of New York State's top-ranked political public relations practitioners according to City & State.