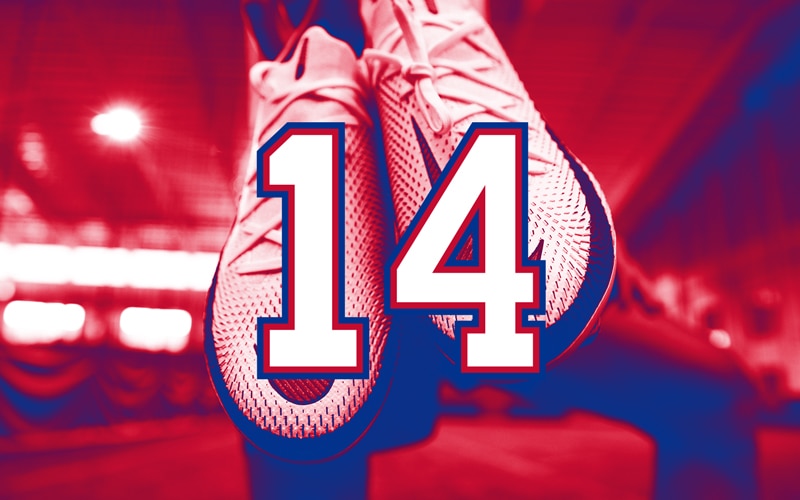 No one's going to argue that Pro Bowl wide receiver Stefon Diggs can catch a football better and run faster than around 99.9% of us. But off the field, he likes to think of himself as just a regular human being.
It's this down-to-earth approach that makes him such an effective marketer and smart partner for brands looking to amplify their messaging in the noisy sports marketing space.
First and foremost, he's a true consumer. Case in point: his Starbucks relationship. He loves their iced green tea, and before partnering with the iconic brand, he went to Seattle to visit their headquarters and learn more about the company. He walked away with not only a partnership (he played in amazing Starbucks cleats in Seattle three seasons ago) but a custom tea blend called Diggs' Delight.
One look at his Instagram feed, and it's clear he's accurate when he says he's more than an athlete. But it's not just his penchant for high fashion that makes him stand out off the field.
In between leading the NFL in receptions this season, Stefon recently presented on "Creating Brand Partnerships That Win" during AdWeek's BrandWeek Sports Marketing Summit, sharing some smart insights from the world of player endorsements. Here are some takeaways from his fireside chat:
Align on Values
Stefon says that before diving into any sort of relationship, he likes to connect with brands and know their values are aligned with his. That includes social issues and charitable work to ensure that both sides are "pushing in the right direction," he says.
As we've noted previously, the substance and purpose behind what brands stand for has never been more important to consumers and will continue to be a crucial trend in 2021. When exploring any potential marketing partnerships, discussing a community giveback component is an excellent idea.
Diggs is big on trust, as he's said a lot publicly in relation to his NFL career. But trust is vital for any relationship, so it's important that when setting up any partnership, both sides are honest and transparent, and no one's providing false expectations.
"I don't try to stand out on purpose."
Love this quote. In talking about his style, and especially his trademark custom cleats, he says that he just tries to be himself.
This leads to natural partnerships that make sense for everyone and don't force anything on either side. This is why it's so important to find some depth to both the brand and the athlete. The more substance there is to hook onto, the more opportunities there are to craft a storyline that authentically connects the brand and the athlete to the audience.
Long-Term Relationships
Stefon says he's not interested in one-off activations and that it's best to build partnerships to last. This is refreshing to hear and maybe somewhat opposite of the Cameo world we're living in – when people expect one random video from a C-list celebrity to tell your story. That might get attention once, but it's not going to build a relationship with your audience. (Even Facebook is getting in on the fun with their Cameo version called Super.)
We are finding this long-game approach to be much more effective in the influencer marketing space as well – the desire on both sides is to build deeper ambassador partnerships instead of one-and-done social media posts.
Use Social Media As Your Publishing Platform
Stefon views social media as "a way to get to know you without knowing you," so he uses Instagram especially to give his audience a glimpse into his life. (Side note for you Bills fans, according to our data, less than 1.4% of Stefon's social media audience is in Buffalo, so the Mafia has to step it up!)
It's important for all athletes to view their social media accounts as their own publishing platforms. Content should be curated around their personal brand and, ideally, where they want to be after their playing days.
Want to be an entrepreneur? Get active on LinkedIn and start to interact with trending startups and successful business leaders. Interested in fashion? Post photos of your style choices to Instagram. Future broadcaster? Film quick videos breaking down your team's performance to Twitter.
For athletes, think of your social media feeds as live resumes: before any conversation takes place, that's where brands and agencies are going to learn about your personality, interests, and goals. They're going to care less about your stats on the field and much more about what kind of content you're putting out, who your audience is, and what you stand for.
And maybe most importantly, remember that at the end of the day, you're a regular human being.