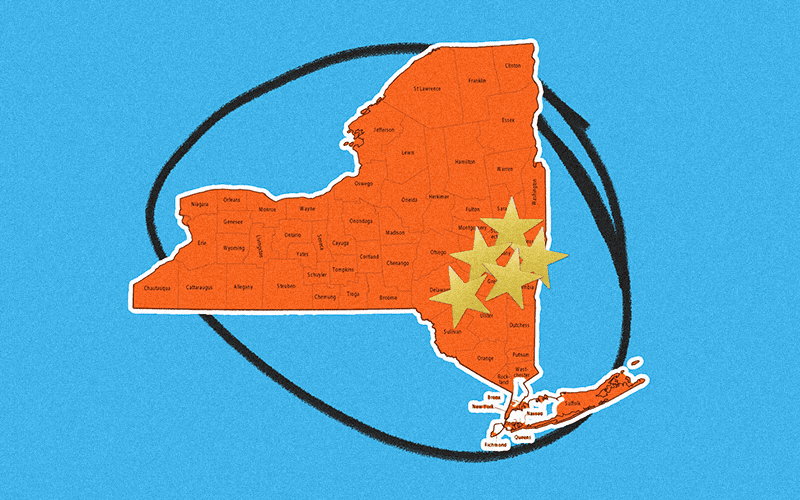 A mentor once told me to pay attention to the times when I'm feeling uneasy — anxious about the unknown, unsure if I'm up for the hard work ahead.
"It means you're growing. Embrace it."
He's been proven right several times over. And you know what? The concept doesn't just apply to professionals in the workplace. Organizations also face uncertainty when stretching into something new, no matter how well-planned or -executed.
This spring, The Martin Group celebrates the fifth anniversary of its expansion into the Albany market. Our agency's own leap of faith started with two employees, a handful of local clients, and a small, sparse office. There were zero guarantees that The Martin Group name would carry the same weight as in markets where we were already established, like Buffalo and Rochester.
Fast forward to today: The Martin Group's presence in the Capital Region has grown to 10 employees. We've collectively earned the trust of a long list of regional and national clients — some of them household names. In February 2023 – nearly five years after planting The Martin Group's flag in Albany – our local team took home the most wins and finalist nominations at the Capital Region MARCOM Awards.
What a journey. (And I've only been around for half of it.) Along the way, we've learned the importance of being purposeful, establishing culture, building authentic relationships, and homing in on the unique needs of a region.
If your organization is considering or amid an expansion, read on. While each business has its own blueprint for success, our experiences can help inform your plans to launch, and thrive, in a new market.
Here are our key takeaways:
1. Be strategic in setting up your office.
First things first: Why are you opening this new office? Define your goals and expectations. When those answers are clearly laid out, you can make decisions — on staffing, for example — with purpose and intent.
By 2018, The Martin Group already had a handful of client relationships in the Capital Region. More importantly, the agency's leadership saw an opportunity to engage more meaningfully with public-sector entities and develop a statewide footprint. They identified Albany as the ideal location to complement long-established offices in Buffalo and Rochester.
The Albany office opened with two employees: Jennifer Hunold, a senior account manager who was new to the agency but active in Albany's marketing scene; and John Mackowiak, a rising star in public relations who relocated from the agency's Rochester office and had government experience working for NY State Senator Tim Kennedy.
Their combination of local knowledge, agency experience, and sector know-how set the tone.
"When launching this office, we made a strategic decision to combine an understanding of the community with an understanding of The Martin Group's culture and the way we serve clients," said Mackowiak, who is now vice president of public relations, overseeing the agency's PR division. "It gave us the ability to open an office that was authentic to the community as well as authentic to the company. We're not just an outpost of The Martin Group. We're an entirely new office with the potential to grow."
That strong foundation led to sustainable momentum. The Albany office, led by Hunold and Mackowiak, was instrumental in securing a strategic equity investment from Hearst. After that, the agency pursued an acquisition that would supercharge its work in Albany's wheelhouse: government and public policy.
Which brings us to…
2. Ease into acquisitions.
We all know the quickest way to enter a new market: acquire another company.
It's a simple idea on paper. But this route, without carefully considering its implications, can complicate your organization's arrival. Finalizing an acquisition without first establishing your own office can lead to brand confusion. There can also be misunderstandings, communication issues, and potential clashes of culture and values as you inherit and onboard a new group of employees.
The Martin Group had been operating in Albany for nearly three years, and added some local staff members (including me), when it acquired Gramercy Communications, a leading public affairs firm headquartered in the area and well-known across the state. The deal was timed strategically. It allowed our new public affairs colleagues to integrate into the agency. The public affairs division continued providing quality work for their clients, and The Martin Group was made stronger by the smooth addition of top-notch teammates.
"The people and the culture made the transition easier," said Andrew Mangini, vice president of public affairs, who came over as a key member of the Gramercy team. "The people make all the difference. Everyone bought in and stayed committed. The support we were given from the get-go made us feel like part of The Martin Group right away."
3. View relationships as genuine, not transactional.
You've heard it over and over again — get out and network!
But networking isn't only about gaining new clients or generating sales. Its true value? Planting the seeds for genuine, long-lasting relationships. And the more authentic you are in your interactions, the more you'll move the needle — for you, your employees, the nascent office, and the overall company.
"Focus on building deep relationships with people who can become advocates, ambassadors and referral sources for your organization, even if they don't necessarily become clients," Mackowiak said. "Every contact is important."
Because the best networking isn't transactional. The person you meet at one event may be the friendly face you see at the next one. That familiarity can provide a sense of ease, particularly for those who struggle to find a comfort zone at networking events. (Let's be honest, that's a lot of us.)
Also remember that professional events aren't just to meet people. These are golden opportunities to take a pulse of the community and stay on top of what's happening at the grassroots level, allowing your regional operation to better serve its new neighbors.
"Getting connected to the community was huge in building our understanding of the Capital Region. Hearing firsthand from area leaders about regional opportunities and challenges helped us develop solutions that would meet the needs of companies best," said Hunold, who is on the advisory board at Women@Work and has been involved with several other local groups.
4. Build market share by valuing every project.
The market is primed for your arrival. Your team is up to the task. Now it's time to show what you bring to the table.
As you build relationships and start generating leads and clients, focus on delivering outstanding work every time. Don't take any project for granted — ever. When you're new to a market, an established regional organization may want to test your capabilities with a small project to start. That's OK. Take the project — and crush it. Prove your company is ready to take on more work and can serve as the reliable partner they've long been seeking.
"You're networking. You're building your brand on LinkedIn. You're building allies and partners. But it takes time to land big assignments from notable clients. It requires persistence and a positive outlook," Mackowiak said. "Recognize that you're building a business and taking steps each day. Be confident in your company's services, and generous with your expertise."
Remember that to steward the brands of the biggest organizations, you need to build your own brand and reputation.
"While our agency has more than 20 years of regional brand equity in the Western New York and Buffalo market, we were essentially starting from scratch in Albany," Hunold said. "We had to build awareness. We had to build trust. That meant starting small and focusing on individual relationships. Our leadership understood that this was a longer process that takes time."
In other words: Be patient and take the time to value each project. Your new office will earn a reputation for good work and develop genuine relationships, which, in turn, will lead to increasing momentum and growth.
5. Celebrate the wins. All the wins.
The 2023 Capital Region MARCOM Awards gave our team a chance to reflect on five years of building an office and how our individual contributions led to a greater whole.
Indeed, it was a big night for the Albany office. And for the entire agency.
But big nights are built on small wins.
Celebrate all of them.
"You have to give yourself credit for the little things," said Hunold, now general manager of the Albany office. "You must remember to pause when you complete something, look at it, and take in how cool it is. Recognize the folks that made it happen. We are part of a larger team – when we're winning, everybody's winning."
There's nothing proprietary about this. What we've learned over the past five years is repeatable and can translate to any company expanding its footprint. Enter a new market thoughtfully, with humility and integrity. Be strategic, value relationships, build your reputation, and celebrate the victories.
It goes beyond our agency's move into Albany. The Martin Group has extensive experience helping clients amplify their own expansions and new market launches.
Is your footprint growing? If so, please reach out to us today. We'd love to talk.