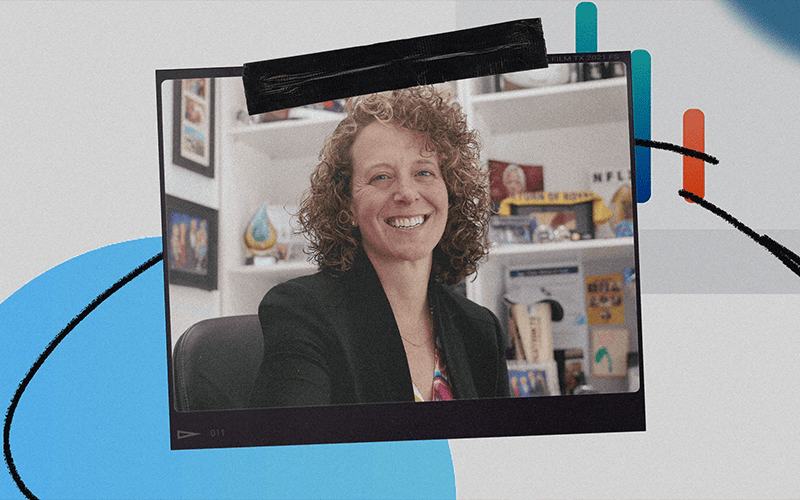 Jessica Gelman is the CEO of Kraft Analytics Group (KAGR) and co-founder and co-chair of the MIT Sloan Sports Analytics Conference. She is a minority partner in the Utah Royals of the National Women's Soccer League (NWSL), and serves as an alternate governor on the league's board. Jessica, who played Division I basketball at Harvard, previously led business operations, marketing and strategy for Kraft Sports & Entertainment.
As a woman with roles in both sports and in tech, what challenges did you face to having your voice heard and your vision taken seriously? How did you overcome those challenges?
Of course, I've faced challenges. Working in the sports industry for 21 years, a significant differentiator for having my voice heard is through data and analytics. In addition to sharing my perspective, the ideas are rooted in data and insights from the customer.
As an example, early in my career, I was part of a group of executives looking to improve the game-day experience for fans. I shared that, based on customer feedback, one of the biggest challenges was the gate entry process. The person responsible for that area came at me aggressively, asking "What do you know? You're not out there not running it." While I appreciated and accepted that, my response was that this customer feedback was steeped in data. The data overwhelmingly reinforced which challenges were the most significant pain point and allowed us to focus on what to address.
Obviously, I feel very fortunate to work with innovators like Robert and Jonathan Kraft who embrace analytics and did it long before others in the industry.  This ensured my voice (and the data) was heard which ultimately, created opportunity and significant growth of the Patriots fanbase.
What are some ways that data and analytics can be used to benefit women sports, both on the playing field and in the business office?
There are three primary ways: sponsor valuation, player data, and data to support women in leadership roles to drive better equity for women's sports.
On the business side, the focus is how we define the value of women's sports sponsorship. Historically, value was based on eyeballs – viewership and attendance. Obviously, those are important, but women's sports highlight a different and higher level of engagement – a level of fandom that has more depth. The impact of sponsoring a sports team or organization is evolving due to the one-on-one trackability of how people are responding and reacting.
The metrics for sponsorship are evolving in real-time which should support and help elevate women's sports. Importantly, women's sports have had limited coverage. As more games are broadcast via more direct-to-consumer mediums and more direct fan interaction with athletes through social media, we see a need to evolve and reset how sponsorships are measured.
The second area is player data. It was seven or eight years ago when Sue Bird first came to the MIT Sloan Analytics Conference. That first year, she was trying to understand the evolution of analytics, but didn't have her own data to learn and make adjustments. When coming back the next year, Sue wrote a piece in the Player's Tribune that highlighted the lack of player data for female athletes.
We are just starting to see movement and performance tracking, not just for women's sports but many Olympic sport. At the Sloan conference, we've seen a significant increase in the availability and use of player data in sports outside the major male professional sports (e.g. football, basketball and hockey). As more new leagues are created, there needs to be a focus on helping coaches and general managers get the best out of their athletes, to help them grow and improve.
Finally, there's unconscious bias in decision making about where to invest and spend. Historically, men have held these leadership positions and there has been an unconscious bias of investing and thinking differently to engage the female fan. With more women in leadership roles, especially when women's teams are part of larger conglomerates, female leaders can ensure the women's teams get equal footing – the same quality of facilities, the same quality of sales teams, the same attention and focus.
Recently you invested in Utah Soccer LLC, which includes the Utah Royals, set to rejoin the NWSL in 2024. What attracted you to that investment and why is it important to you?
A few reasons: women's sports are undervalued, investing helps ensure more people see women play sports, and Utah is the fastest growing state in the US.
On women's sports being undervalued – as a one-time professional athlete who has worked in the sports industry for 21 years, I have seen the growth of men's sports. Women's sports are in its infancy and there's a tremendous upward trajectory potential. Women's sports are where the NBA and NFL were in the 1970s.
Personally, bringing my experience to women's sports, hopefully, will ensure more people, especially, boys and girls, see women playing sports. Obviously, it's important for girls to be playing sports given the lessons and skills learned from playing. These have been so critical to my long-term success in business. I want those same opportunities for girls today and it's important they have role models, that they see people like themselves playing and succeeding.
As importantly, for boys, they see the inclusivity and learn to be OK with a woman leading. They learn respect. My boys are 7 and 10 and they love women's sports. They watch with me; it's part of their day-to-day life. They also watch football and men's basketball. But my one son's birthday is coming up and we're going to a Connecticut Sun's game because that's what he wants to do. And, the quality of play is outstanding too.
Lastly, our investing group (Daryl Morey, Corbin Petro, Amy Reinhard, and Jim Steger) thinks the opportunity in Utah is very strong. It's the fastest growing state from a population perspective and the previous incarnation of the Royals had success and great fan support. Plus, partnering with David Blitzer (part owner of the Philadelphia 76ers and New Jersey Devils) and Ryan Smith (owner of the Utah Jazz the lead investor in the Royals) who are doing all the right things in terms of insuring equity for our women's team within the broader Utah sports landscape is vital. Helping to create more opportunity in that community is really fun and important.
What is one way that businesses – both sports and otherwise – can help build a more inclusive culture?
Building an inclusive culture needs to be incredibly intentional. At KAGR, we do a couple of different things. First, we have strong female leadership– 75% of the executive team is women. Then, we focus on creating and ensuring people feel welcome and have the right benefits in place.
Second, we invest into the community and create opportunities for our team. As an example, we have a great program called KODING with KAGR (KODING standing for Kollaboration of Data in the Next Generation). We reach out local colleges in Boston with a focus on women in sports, women in tech, women in analytics groups to come to our offices for an evening. We share learning on the industry and the opportunities in different areas across KAGR. Students get to learn what a day in the life is like, how to apply the theoretical concepts they are learning in data science or business strategy classes to sports and entertainment organizations.
Sadly, we still have students who come and shared that they are the only woman in their data science class. That's hard to hear. But, they see so many women working in the field, they share that it gives them hope. It's one of the reasons why it's so important in this space to reach down and pull people up.
Lastly, through the Sloan Conference, we are really committed to diversity and inclusion in several ways. The students are so focused on this too which really is so key. This past year 38% of our speakers were women and nearly 50% were diverse in some way. People attending the conference need to see people who look like them. We have a mentorship program where 75 people are selected for a free ticket to the conference and are paired with a mentor (many of whom are former Sloan Conference student leads). I am so very proud of our collective focus in this space to help ensure that there's more diversity coming into the industry.
Lastly, we focus on access to knowledge shared at the conference as all of the content from conference is available online for free. The conference is a non-profit and was founded on educational concepts. At our roots, we're trying to convene people to talk and further evolve analytics in sports.
You were a standout basketball player at Harvard from 1993-97. What are some of the lessons you learned from playing basketball at Harvard that apply in business?
I was a point guard in college and my role was understanding the strengths and weaknesses of my teammates and putting them in a position to be successful. That is critical to what I do as CEO. Awareness and understanding when people are struggling and providing them with the tools to be successful or where they are succeeding and helping them lean into those strengths. That point guard mentality has always been part of my ethos.
Of course, in playing sports, the lessons are numerous: learning how to win which means work ethic and how to prepare via practice. Learning how to be on a team. How be a leader. How to overcome adversity. When you lose how do you respond to that? You're going to lose, going to fail, so what do you learn from that?
As an example, my freshman year at Harvard (1993-94 season), we were very bad. We went 7-19. Then, the next year, we went from worst to almost first, losing the last game in an embarrassing fashion.
How did we respond? How did we overcome that? Ultimately, for that time, we became the best team in the Ivy League and were nationally ranked. We were the first Harvard women's team in the NCAA tournament (junior year, 1995-96) and the first men's or women's basketball team to go undefeated in the Ivy League (14-0 in 1996-97).
That's a lesson that I rely on every single day.
Lastly, playing sports taught me time management, especially at Harvard with academics and basketball. Today, I have a lot of competing needs and priorities that extend beyond KAGR, Sloan and the Royals with the most important to my family, my wife and our kids. My time as an athlete helped me learn how to manage all of these competing needs and interests. I am forever grateful for the skills developed through sport.