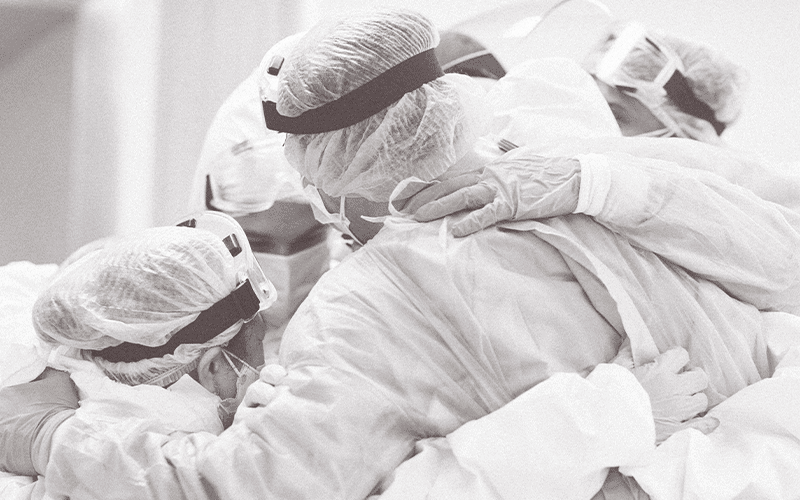 This past spring, The Martin Group heralded the efforts of some of our clients working on Western New York's front lines of the ongoing COVID-19 pandemic. Selfless, overworked, and overwhelmed, they helped the region weather the virus's initial outbreak, then stabilize critical matters throughout the summer months.
Nine months after its initial impact, the fight rages on, with these and many other healthcare-focused organizations renewing their battle against a fast-moving, once-in-a-lifetime public health crisis. Now heading into winter months that could prove more calamitous than the pandemic's most unpredictable early stages, these organizations continue to aid our community—but need our help once again.
Each has fundraising efforts underway as they continue to work tirelessly throughout this holiday season and beyond. Here's a look at what some of them are doing and, more importantly, how each of us can help support their life-saving work throughout this critical stretch.
ECMC
Since the start of the pandemic, the ECMC Foundation has been raising funds and accepting personal protective equipment (PPE) contributions to support the medical center's COVID Task Force Command Center, established last March. They're continuing to do this, but now, their work is getting a financial boost from area restauranteur and noted philanthropist, Russell J. Salvatore. At the start of December, the owner of Salvatore's Grand Hotel in Williamsville has pledged to match any monetary donation to ECMC's frontline caregivers from now until the new year. 
To take advantage of Mr. Salvatore's match and lend additional support to ECMC's ongoing work, donate here.
FeedMore WNY
For more than 90 years, FeedMore of WNY's food bank and Meals on Wheels programs have fed communities in need and continue to serve our most vulnerable communities. Now, these same neighborhoods are managing through poverty and hunger amid a health emergency, making FeedMore's work more essential than ever. This month, the independent, nonprofit 501(c)(3) organization is teaming up with Buffalo's American Advertising Federation (AAF) chapter for the AAF Buffalo Virtual Food Drive. Through December 24, those interested can either donate needed food items by shopping online; sponsor a separate virtual food drive; or simply make a monetary donation to support the efforts of FeedMore WNY.
To learn more about the drive and donate today, click here.
The GreenFields Continuing Care Community
According to a recent report by The New York Times, more than 105K COVID-19 deaths have been reported among residents and employees of nursing homes and other long-term care facilities for older adults in the United States; and as of December 4, the virus has infected more than 787,000 people at some 28,000 facilities. The pandemic has hit these communities hard, and as each braces for a tough winter—and a holiday season that's sure to limit residents' in-person contact with family—locations like The GreenFields in Lancaster are welcoming outside assistance to boost wellness and spirits for its residents and staff. This past spring and summer, items like homemade masks, food, and floral arrangements helped brighten the toughest days.  
If you're interested in doing the same this season, click here to learn how you can donate to its residents and staff.
Kaleida Health
With four different hospitals, two long-term care facilities, outpatient clinics, and its Visiting Nursing Association (VNA), Kaleida have been immersed in the COVID-19 crisis at many levels—and its staff and volunteers have continued to respond with expertise and empathy. The Kaleida Health COVID-19 Response Fund was established to support these efforts and, since its spring inception, has helped ensure its staff has the supplies needed to enhance every effort to care for their patients and families, defeat COVID-19, and emerge stronger than ever.
Now, they're adding an additional initiative to raise funds for its frontline works—and provide a much-anticipated sendoff to this difficult year. With the help of area businesses, "Kaleida Kisses 2020 Goodbye" is offering six (6) tiers of sponsorship packages—including things like takeout dinner from Oliver's and treats from Muscoreil's Fine Desserts—to help your family say "so long" to 2020 and give vital support to those guiding us through these difficult times.
To support Kaleida's life-saving efforts through its Foundation's COVID-19 response fund, click here. To purchase a sponsorship package to support its Kaleida Kisses 2020 Goodbye initiative, click here.
Samaritan Health
Watertown, NY's largest hospital (and the largest private employer) continues to be a leader in its host region's fight against COVID-19, not only treating patients, but also educating residents across Jefferson County on proper protocols to prevent infection and spread. Now, they're heading into winter with the same challenges and needs as it first encountered in the spring. PPE donations (on both a large and small scale) are appreciated, as are donations to its COVID-19 Protect the Heroes Fund, established this year to support essential healthcare workers and provide much-needed equipment, supplies, and facilities.
Click here to make a contribution to Samaritan Health and their ongoing work.