Starting in 1907, 141 Washington Avenue housed The University Club, a private, all-male association until it began allowing women members in 1983. Deshanna C. Wiggins, CEO of the Albany Black Chamber of Commerce & Social Club offers the inside scoop on the transformation of the building in the heart of downtown Albany into a community-inspired location aimed to catalyze diversity and collaboration. Learn more about the Albany Black Chamber of Commerce and Social Club's mission to empower Black and minority entrepreneurship and drive economic growth to the Capital Region community.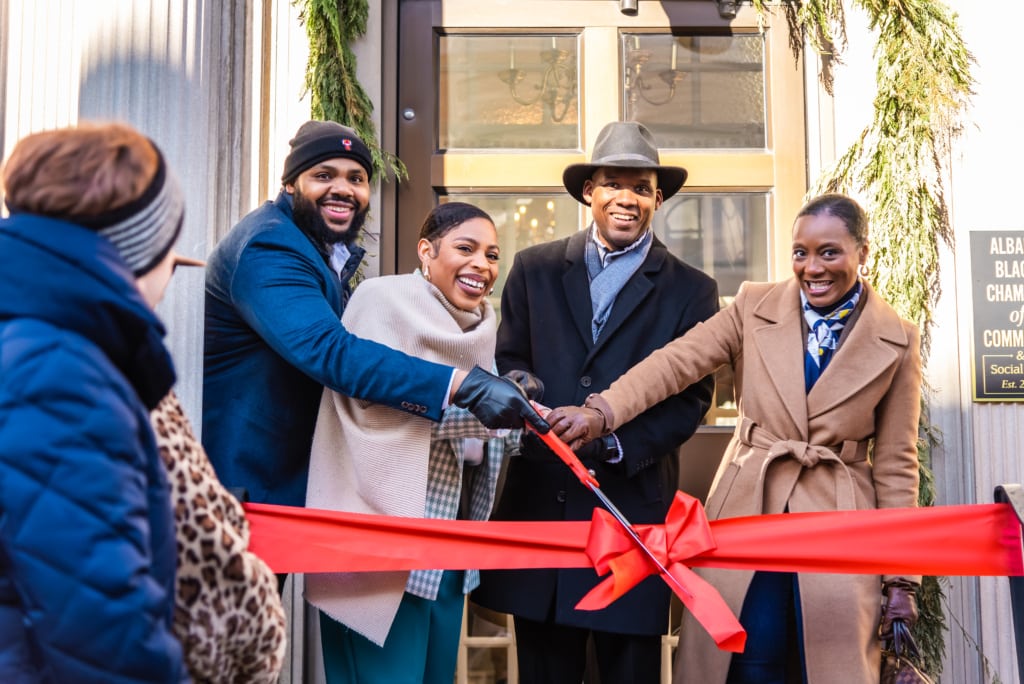 The Martin Group: What is the Albany Black Chamber of Commerce and Social Club, and what do you do?
Deshanna C. Wiggins: We are here to bring local businesses together, so they can work together, learn from one another, and get their needs met. We provide information on partnerships, resources for federal funding, and working/collaborative space to aid in any stage a business is in. Not only are we a Chamber, but we are a social club. The demographic of BIPOC people is increasing [in the Capital Region], but there is a lack of minority clubs for subgroups, cultural groups, and there's never been anything like this for Black people in this region.
TMG: Can you tell me more about the new headquarters?
DCW: We wanted to make sure that we were a full-service organization that can execute big ideas and goals for the future. The 40,000-square-foot building with four floors including the basement will be utilized for business engagement, mentorship, and leadership.
Our main level hosts a beautiful lobby with two fireplaces, lounge seating, and seminar space that can be converted into an event and dining space for community and social gatherings.
The second floor is dedicated to small businesses and entrepreneurs who are not quite ready for brick and mortar but have the desire to rent offices. These spaces are available to rent for a day, week, or a month. There are also general co-working spaces available.
The basement will be accessible for recreational use with a bowling alley, full-service bar, pool hall, conference rooms and restrooms. The estimated plan of completion is by the end of the spring, early summer 2023.
While not yet available to the public, the upstairs areas of the building are slated to be additional rentable office and residential space.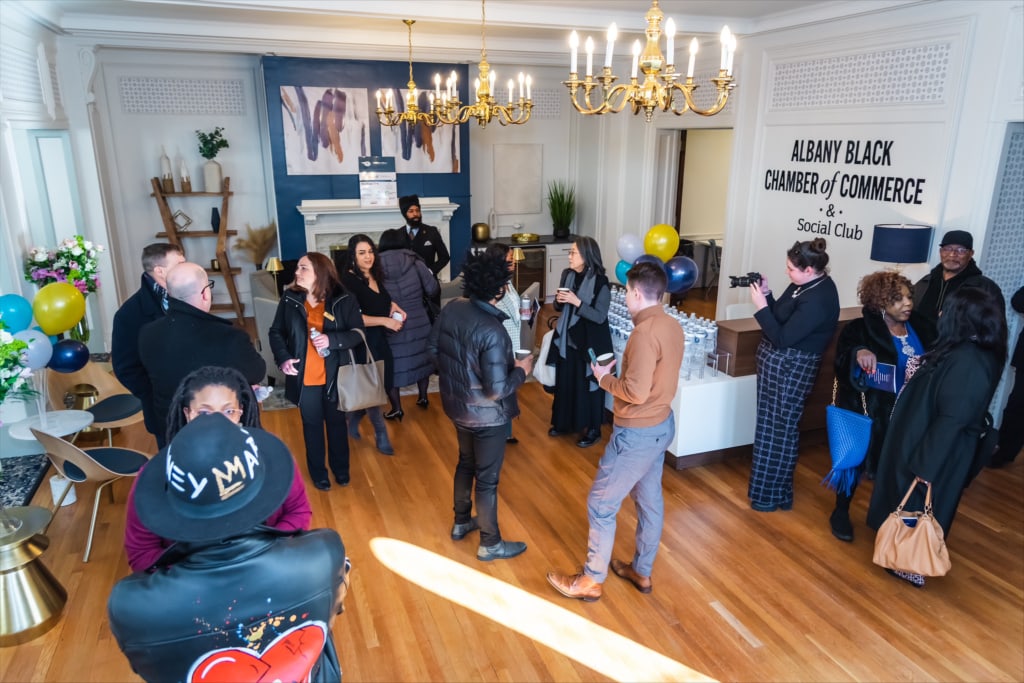 TMG: There have been several Black Chambers of Commerce before. What do you feel sets Albany Black Chamber of Commerce aside from others?
DCW: Resources. The elders' chambers in this area are about 206 years old. The demographic of small and Black businesses who belong to that chamber is probably less than 5%. Our partner, Business for Good, has supported us so much financially and with resources. They knew that investing was important to assure that we had a permanent space. So, I think the biggest thing that sets this chamber apart is that we are a fully supported resource.
TMG: In August 2020 , The Albany Business Review released a story, "Lack of Diversity at the Top. It revealed the shocking lack of diversity in Albany's executive suites. How do you feel the work the Chamber is doing will impact changing that narrative?
DCW: I think it is going to make the biggest impact! For so long, especially in this area, there was not one place for diversification, information on happenings in the minority community, etc. Now that the infrastructure is being built, it won't be hard to access that information. It gives us the opportunity to put those middle managers on display; the ones who have been in their careers and have done the work for so long but haven't been able to get to the next stage. We'll be able to highlight them and the work that they're doing so they have more access and more visibility. A lot of times, things happen simply because of access. The chamber will break down a lot of those barriers.
TMG: What is your vision to continue to change the landscape of the Capital Region community?
DCW: I've had a very particular career set on figuring out the best inroads to meet numerous needs and align with organizations who see the value and benefit of investing in a place like this. I want this space and our demographic here to be able to put BIPOC at tables and involve them in conversations that they have not been a part of before.
TMG: What is your favorite part about working at the Albany Black Chamber of Commerce?
DCW: I came into this organization not having anybody else's shoes to fill. It was very freeing for me. It gave me full autonomy to listen, and curate what needs to happen and how to develop it.
It's also very challenging when you don't have a guidepost – being the person responsible for creating everything from its inception. It is a lot, but it is setting me up to be a much stronger leader, more detail oriented and more collaborative. I'm appreciative of this experience, and the impact that the Chamber and I will have for generations to come. I get goosebumps just thinking about the ideas the team has. It's really going to catapult the Black and minority community here and really put us on full display. I am super honored and blessed to be able to do it.
TMG: How does it feel returning to your home city of Albany after living in Atlanta for 16 years?
DCW: It feels good because it was always intentional. From a very young age, I have been very focused on the type of life that I've wanted to live, and more importantly, what I want it to feel like. I always had a desire to come back home to do this type of work. I needed to do something that's going to add impact for my community. So, understanding that this area for me, despite what you see in the news, despite the naysayers, is a beautiful place to live, work, and raise a family.
TMG: What is the most important piece of advice that you would give to someone who's looking to break the glass ceilings of executive roles?
DCW: The biggest thing that has helped me is showing up. The quickest way to learn is when you're in someone's corner, and they can rely on you, because they will continue to give you more responsibility and more access. Always leave your ego at home. You're not above anything. So just do the work!
TMG: The Albany Black Chamber of Commerce offers various mentoring and educational programs. Can you speak on those?
DCW: In our social sector, we are planning to have annual conferences and galas. We want people to come and know that this is a safe space that will highlight and elevate them.
We will also have quarterly seminars with experts who can speak to our pillars and in areas such as HR, accounting, and taxes. We will be highlighting locals involved in various subject matters, industries, and themes. The goal is to really galvanize the spirit of togetherness, as well as big business.
TMG: How can interested individuals get involved in the Albany Black Chamber of Commerce and Social Club?
DCW: We have had tons of individuals excited to get involved. Our membership is forthcoming. To stay up to date, go to www.albanyblackchamber.org and provide your contact information for alerts on membership information and all upcoming events.
You can also keep in contact via our socials: Instagram, Facebook, LinkedIn.