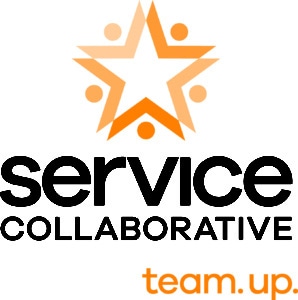 Community volunteer organization serves 25,000 Western New Yorkers annually
BUFFALO, NY – The Service Collaborative of Western New York (TSC), the regional agency improving the lives of those in need, and also those with the desire to make a difference through volunteerism, today unveiled a new brand to reflect a strategic evolution of the organization. TSC provides national service programs to Western New York, overseeing, on average, five programs annually. In 2017, TSC served 25,000 individuals and families in the region as a result of its numerous community programs.
"Positive change is underway every single day in our community, and much of that momentum can be credited to volunteerism," said Kate Sarata, Executive Director of TSC. "Our organization is proud to offer opportunities to people who are dedicated to serving and helping others. We work through our many partners to not only connect volunteers to those in need of mentorship, education, and guidance, but also enrich the lives of the volunteers themselves, by providing professional skills training, practical experience, and education."
As an independent non-profit organization, TSC is recognized as a community leader with the capacity to identify and address community needs through volunteerism. Founded in 2000, TSC operates numerous programs involved in transformational service–and community impact–with a focus on four areas: Education, Economic Opportunity, Youth Development, and Volunteerism.
Alumni of TSC service programs have advanced to successful careers in a variety of fields, including non-profit management, consulting, education, government, and the arts, with area employers citing TSC alumni as motivated, flexible, and outcome-oriented leaders with valuable skills and training. TSC's current program roster is as follows:
ABLE: AmeriCorps Builds Lives through Education – Members implement social-emotional and/or math interventions for fourth through tenth graders to increase attendance, class participation, and math scores, and decrease disciplinary referrals and suspensions.
EDC: Economic Development Corps – An AmeriCorps program committed to fighting poverty and helping individuals achieve economic self-sufficiency through financial education and training.
Serve New York VISTA: Volunteers in Service to America – Members serve in non-profit organizations across New York State, working closely with administrative staff to build organizational capacity.
WNY YouthBuild: Leaders Under Construction & Project LEAD–Alternative education programs that offer individuals ages 16-24 training and practical experience for "in-demand" industry careers through community revitalization projects, while working to achieve a high school equivalency diploma.
VolunteerWNY: – The region's premier volunteer platform and a one-stop-shop for anything and everything related to volunteerism in Western New York.
Beds For Buffalo – Started in 2017, TCS built 100 twin beds for children in need by engaging students, corporate teams and community volunteers.
"The Service Collaborative is committed to improving the lives of people in need in Western New York, and through our education programs, particularly ABLE and WNY YouthBuild, we continue to build a network of children and young adults that will shape our community's future," continued Sarata. "In 2017, YouthBuild provided 64 individuals with the chance to gain their high school equivalency diplomas and industry-recognized work credentials. The program continues to excel in workforce development for a population that needs it more than ever before."
TSC is a responsible steward of annual grant funding provided by the Corporation for National & Community Service, New York State Commission on National and Community Service, United States of America Department of Labor, and other local and state funders. In 2018, TSC received grant funding from the Ralph C. Wilson, Jr. Foundation, a grantmaking organization dedicated primarily to sustained investment in the quality of life of the people of Southeast Michigan and Western New York, which made this new brand possible.
ABOUT THE SERVICE COLLABORATIVE OF WESTERN NEW YORK (TSC)
Every day, individuals go out into our communities to serve. The Service Collaborative is proud to give opportunities to people who choose to dedicate this time in their lives to service. We believe that service truly is the rent we pay for our time here on earth. The programs of The Service Collaborative focus on four very straight-forward areas that make an impact everyday: Education, Economic Opportunity, Youth Development and Volunteerism. Learn more by visiting tscwny.org, or by following TSC on Facebook, Twitter, or Instagram.