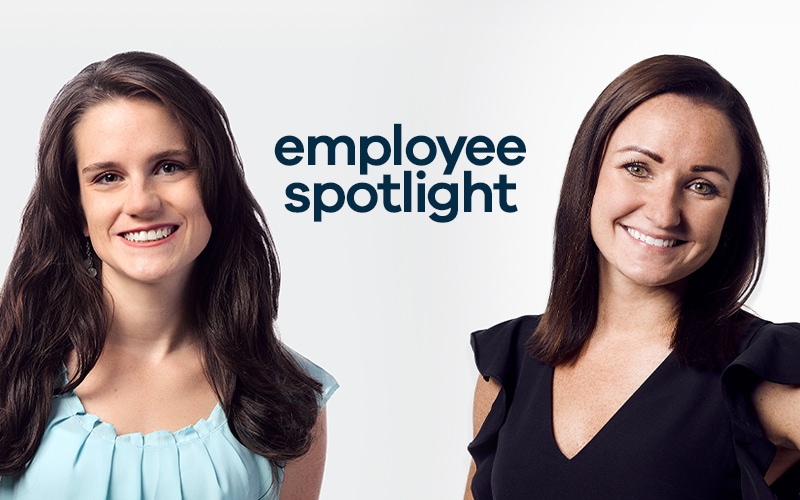 What music is playing in heavy rotation right now?
Melissa Manley: Either the latest country tunes or my all-time favorite – Billy Joel! <3
Shannon Specht: Lots of Pearl Jam, Red Hot Chili Peppers, Goo Goo Dolls, Foo Fighters, and The Eagles. Also love jamming to one- or two-hit wonders like Natalie Imbruglia, Jewel, and Carly Simon.
How did you get started in your profession/the industry?
Melissa: I knew I wanted (and my dad wanted me) to go to school for Business. After a treacherous semester of Accounting, Economics, and Finance, not to mention the very regular cram study sessions and subsequent stress-induced breakdowns, I thankfully discovered Marketing. I love that I could apply business knowledge to real-life situations without getting too caught up in the numbers and could still express my creative side.
How I knew I wanted to pursue a career in Marketing and Advertising, was after studying abroad in London and working in an agency style curriculum, coupled with meeting with Tod Martin for an informational interview later that year. While I did not work directly for The Martin Group or an agency until more recently, I was always intrigued to one day do so and am so glad I now do!   
Shannon: I graduated with a degree in journalism and political science from St. Bonaventure University (go Bonas!) and after deciding to drop out of UB law school before classes began, I started looking for public relations-related jobs. I had the good fortune to meet my current supervisor, Dick Shaner, and joined Travers Collins as a PR coordinator, and was thrilled to come back and join Dick at The Martin Group after taking some time off to raise my kids.
How did you come to be so involved with healthcare clients and what do you think is the next trend to watch in the healthcare industry for 2020?
Melissa: I worked in the healthcare industry prior to working at The Martin Group, so I had some background in the industry and marketing within it. I now work with ECMC and Samaritan Medical Center (located in Watertown, NY) on a daily basis, as they are two very large fully integrated marketing clients. With many industries, but especially in healthcare, I think the digital side of things is only going to continue to grow and evolve. Healthcare companies, in general, are focusing more and more of their efforts on social media, both organically and in the paid sector. Personally, I am very interested in and practice holistic health and natural path of healing (when possible) and am interested to see how the health insurance companies and traditional medical providers begin to evolve their practices to mirror more of a whole being, functional medicine model.
Shannon: I've worked with Independent Health for several years and had previous experience with other healthcare clients at Travers Collins. Since joining The Martin Group, I've continued to work with Independent Health, along with Mental Health Advocates of Western New York, the Kaleida Health Foundation, TCD Medical, Samaritan Medical Center, Buffalo Medical Group, and others, building on the experiences of each client. It's an exciting time to work with the healthcare field. Our clients are committed to making strides on the local level to help fix the problems of our broken healthcare system. It's great to be a part of that. The biggest thing to watch in 2020 will be the politics of health care and efforts aimed toward greater price transparency, lower drug costs, and overall affordability.
If you never had to sleep again, what would you do with all your newfound time?
Melissa: TRAVEL! To anywhere and everywhere!
Shannon: Same! And also maybe write a book for fun.
What do you like most about The Martin Group?
Melissa: I love the people! I have never worked somewhere, where everyone is so awesome on both a professional and personal level. I have built so many great friendships during my time here and continue to do so! #TMGGroupies I also love the diversity of clients and work we get to work on, on a daily basis!
Shannon: I love working on a variety of projects with a variety of clients – it keeps things interesting and keeps you on your toes. I also enjoy the culture here. Everyone is incredibly talented and truly good at their jobs, and they're also fun-loving and just enjoyable to be around.
What was your first-ever job?
Melissa: Abercrombie in high school. What I thought was my dream job to organize and merchandise my favorite apparel, quickly became my worst nightmare. I spent an hour-plus of my first shift folding an entire table of men's polos perfectly stacked by size and color. When I proudly told my manager I was done, she came over, looked at it, knocked all the piles over and told me to look busy and do it again! Needless to say, that was my first and last shift. Sorry, I never ended up getting that discount, after all, Mom!
Shannon: I was a lifeguard at a waterpark, and a water aerobics and swim instructor.
Describe your ideal pizza.
Melissa: All the white cheeses, just the right amount of spices and either loaded with veggies and/or meat with ranch dressing on the side! Oh, and on a gluten-free crust, of course. [Insert eye roll here, I knowww]
Shannon: LOTS of olives, especially kalamata, with not too much cheese, red sauce, pepperoni, and a thick, doughy crust.
Favorite color?
Melissa: Green
Shannon: Purple
Would you be a pirate?
Melissa: Eh, I guess I've never really thought about it before… but sure. why not?!
Shannon: Depends. A pirate before they realized citrus could cure scurvy or after?
Favorite animal?
Melissa: Monkey
Shannon: Koala
Do you like blue cheese?
Melissa: NO WAY – RANCH all the way! Forever and always!
Shannon: Sorry, Buffalo. I'm a ranch girl.
How do you like your hotdog?
Melissa: With ketchup and dill relish.
Shannon: Basic – ketchup and mustard.
Can you do a push-up?
Melissa: Of course!
Shannon: Maybe one …
Favorite cartoon character?
Melissa: Tommy Pickles.
Shannon: Dot from Animaniacs (quality show).
Favorite place to go?
Melissa: Long weekend escape to Florida in the dead of winter when you just can't fathom another month (or three) of the Buffalo weather!
Shannon: Ireland.
Biggest pet peeve?
Melissa: Loud open-mouth chewers and people who do not know the difference between your-you're, there-their-they're.
Shannon: The Oxford comma.