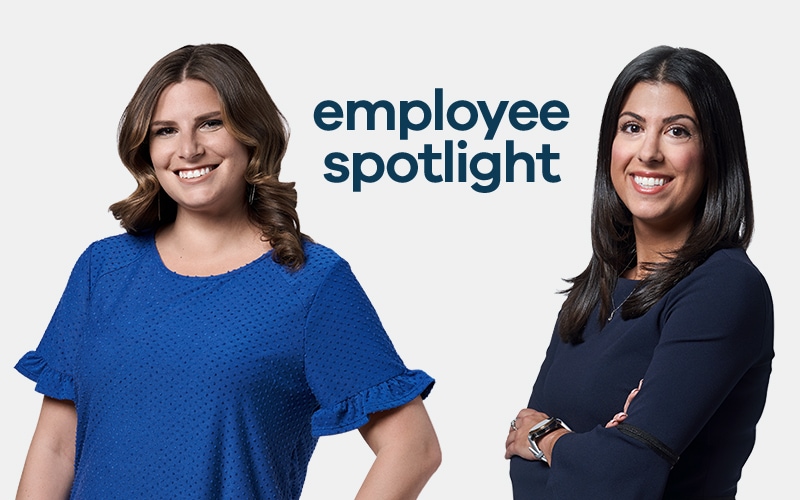 What was your path to what you're doing now?
Traci: Originally, I thought I wanted to work in public relations in New York City in the fashion, beauty, and lifestyle industry. But after interning there for a summer at a boutique PR firm, I realized Rochester was home, so I had to get creative. I started interning after I graduated to build my network and connections. I worked my way up from my internship, eventually to the account service department.
I loved the fast pace of an advertising agency, but wanted to put my degree in public relations to work. So I left and found myself at a local PR agency, and then made the move to corporate PR in the financial industry. But I missed the fast pace of agency life and working with a variety of clients to tell their different and unique stories. A number of people helped bring me to The Martin Group – an old co-worker and a friend/co-chair of a nonprofit I volunteer with.
Sam: Certainly not what I expected. I started my career in radio promotions and I thought I would do something along those lines forever – I loved working with artists and running meet-and-greets. However, once I realized that I had probably worked my way up as far as I could, I looked into different avenues. I held a few different positions in different industries afterward, but thanks to Gail Sklair, a longtime family friend, I found my way to The Martin Group!
What single most important piece of advice would you give to students and young designers trying to establish themselves in the industry?
Sam: I'd give them the best advice I ever I received – When you are first starting out, get in early. Get your coffee, put your lunch away, catch up on the news, so that you are ready to go when everyone is just getting in. It won't go unnoticed!
Traci: Fake it 'til you make it. Just kidding, but I think that motto did help me feel more confident in myself and my work, which is something I think a lot of people just starting out struggle to have. So essentially, work hard and find that self-confidence.
What are you passionate about?
Sam: People! I don't think anyone sits awake at night as a child thinking, "I want to be a project manager when I grow up!" but my passion for people has been prevalent since I can remember. I love the challenge of getting to know a person and how to work best with them. I love exploring my coworker's talents so that I can give them work that excites them. It sounds corny, but I love the teamwork in this line of work. The challenges that we overcome is what keeps me coming in every morning.
Traci: Storytelling. I think that's one of the main reasons I wanted to work in marketing and public relations – to be able to creatively tell a client's story. There are so many different ways you can tell a story, which is a challenge, but also exciting! I'm also passionate about philanthropy, fashion, and football.
How many Taylor Swift songs do you actually listen to every single day?
Sam: Voluntarily? Zero.
Traci: Every single day? Zero, but her songs do sometimes float through the rotation.
What music is playing in heavy rotation right now?
Traci: Maren Morris, Hozier, Luke Combs – I know it's mainly country and I'm not even a huge country fan, but their albums are amazing.
Sam: Being a Harry Styles fanatic, it's obviously Fine Line. I'm also having an Elton John resurgence thanks to Rocketman.
Who's the closest sitcom character to your real life?
Traci: Sophia Petrillo from the Golden Girls. I am an 80-year old, old-school Italian woman at heart. "Picture it. Sicily, 1962…"
Sam: No matter how old I get, I still feel like Sam Weir of Freaks and Geeks on the inside.
Favorite artist of all time?
Sam: Just one? All right, I won't bring up One Direction for the sake of sparing myself some eye-rolls, but they truly are the best boy band of all time. Anyway…growing up, my mother had basically nightly screenings of Purple Rain, so Prince comes to mind first. He had talent and originality that is unmatched.
Traci: Picking just one is tough. Foo Fighters are one of my all-time favorite bands. It's hard to name a song I don't like and Dave Grohl is a musical genius and can do no wrong.
If you weren't doing what you're doing now, what would your dream job be?
Traci: Makeup artist or stylist for the Today Show.
Sam: A stylist, but exclusively for boy bands.
If you never had to sleep again, what would you do with all your newfound time?
Sam: I'd read ALL the books.
Traci: Well, one of my New Year's resolutions was to read more books… I would also try to learn new skills – teach myself how to play an instrument or learn how to sew!
What do you like most about The Martin Group?
Sam: My team – they're so talented. When I first started, I'd see a project or a deadline and I'd think, "Oh no! How will we pull this off?" and then somehow, they always pull through with exceptional work. They make me look good!
Traci: The people. Not only is our team extremely talented, they genuinely care about our clients and the work we do. We really are like a family and I love that we all care about one another.
Would you be a pirate?
Traci: Probably not – stripes and eye patches aren't really my aesthetic.
Sam: Yeah, probably, but only if I can be the captain.