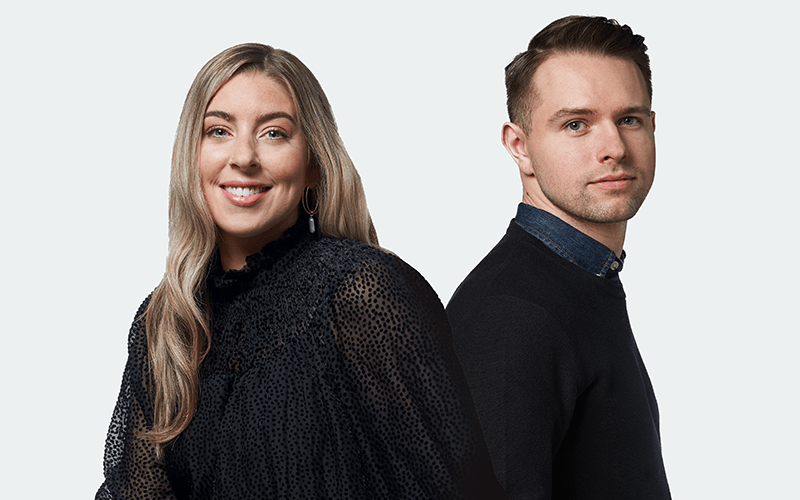 How did you get started in your profession/the industry?
Paul Schmidt: I always knew I wanted to work in this industry. Graduating from Northeastern University with a Communication Studies degree and working on the ecommerce team at Reebok was how I got my foot in the door. From there, I continued my education and attended art school in Atlanta, working in restaurants and as a photography assistant part-time. I had never project managed in an official capacity prior to working at The Martin Group, but I can honestly say all of my experiences have prepared me for a different part of this role.
Pauline Wegman: After graduating college with a fine arts degree, I took an unpaid internship with a local startup. Luckily, they hired me as a full-time graphic designer after two weeks and I spent the next year designing footwear and apparel for FIFA and NASCAR. I then switched over to a different company where I worked in graphic and web design for a couple years, then was promoted to manage a digital media team for nearly four years thereafter. When the opportunity arose to work on the digital team at The Martin Group, I accepted wholeheartedly.
What kinds of projects are you working on right now?
Paul: I help manage digital projects on the Wegmans team—that includes anything as small as gifs and social posts, to large campaign sites and emails.
Pauline: On the Wegmans website, I'm currently revising and adding pages to the Feel Your Best campaign, as well as developing wireframes for a large salmon campaign. I'm also designing and coding emails geared toward staying in and their curbside pickup and delivery options.
What's your favorite part about working on the Wegmans team?
Paul: Wegmans operates at an incredibly fast pace, so there's no time to sit around. Some people wait months or years to see their projects come to life; whereas at Wegmans, it doesn't take too long to see the work The Martin Group contributes to pop up in an inbox or in the stores themselves.
Pauline: My coworkers are amazing. The food photography never lets me down–though it does make me hungry most days. I also like knowing that I contribute to designs that reach a large audience.
What's the best career advice you've received?
Paul: Any passage from the book, ​Feck Perfuction ​by James Victore.
Pauline: Stay focused and work hard; hard work beats talent when talent doesn't work hard.
What are you passionate about?
Paul: I'm passionate about creative projects, design, pop culture, politics, and food.
Pauline: Art/design, dogs, home renovation, traveling.
If you weren't doing what you're doing now, what would your dream job be?
Paul: Working as an editorial illustrator for a magazine or news site.
Pauline: Either an interior designer or a full-time painter/stay-at-home dog mom.
How do you spend your time outside of work?
Paul: I like to get out and enjoy the warm weather in the summertime, attend festivals, try new bars and restaurants, draw and paint.
Pauline: Pretty much doing anything I'm passionate about. I can usually be found painting in my home studio, playing with my dogs, working on house projects, or researching and planning a trip. Oh, and if I'm truly being honest, I binge-watch a decent amount of trash TV.
Who's the closest sitcom character to your real life?
Paul: Maybe a mix between Max and Penny from ​Happy Endings.
Pauline: 50/50 split between Monica from Friends and Jess from New Girl.
Describe your perfect weekend.
Paul: At this stage of quarantine, I'd settle for spending time anywhere in public, surrounded by people. But…some of my most enjoyable weekends have been spent on summer getaways along the New England coast, enjoying the beaches, seafood, and nightlife.
Pauline: Ideally in summer–lots of fresh air, kayaking, hiking, and hanging out with my friends and family.
What's your favorite restaurant in Rochester?
Paul: Restaurant Good Luck for cocktails and their burger or Mr. Dominic's at the Lake if I'm craving Italian.
Pauline: Fiorella! It's super quaint and authentic and the food is to die for. They also have the cutest plates and napkins (these little details really feed my soul).
Describe your ideal pizza.
Paul: A Wegmans Meals 2 Go, Large 2 Topping Pizza— Free Delivery; No-Contact Delivery with DoorDash.
Pauline: Bee sting pizza – pepperoni and honey. ? It's. ?So. ?Good.
What music is playing in heavy rotation right now?
Paul Schmidt: According to Spotify: Tame Impala, Frank Ocean, Kacey Musgraves, and the playlist "Pollen."
Pauline Wegman: I have to admit that I have a pretty bad habit of listening to songs on repeat until I get sick of them. I'd say my top three songs right now are: "PDLIF" – Bon Iver; "Crazy" – James TW; and "Neon Fools" – Adam Doleac.
What song do you know all of the lyrics to?
Paul: "Money Maker" – Ludacris ft. Pharrell
Pauline: Probably every song on the Maroon 5 "Songs About Jane" album. It's really stuck with me throughout the years…
What is the top travel destination on your bucket list?
Paul: I'd like to explore Germany and Lebanon and trace some of my family's roots.
Pauline: Australia and New Zealand.
OK, two truths and a lie.
Paul:
I'm vegan. My great grandmother was kicked off the Titanic. I drew my own tattoo.
Pauline:
I've traveled to Italy. I had chickens growing up. I own a motorcycle.