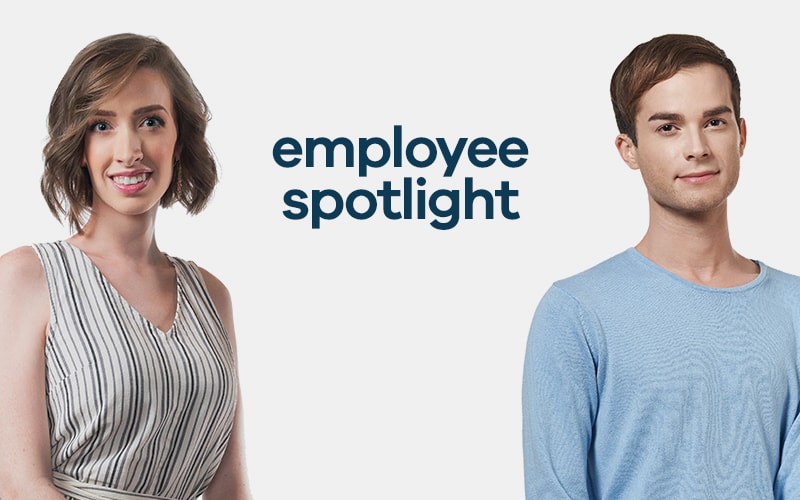 What are you passionate about?
Melissa: This will sound cliché, but I am passionate about anything creative. I love to challenge myself to try different mediums to express my creative side, whether it is hand-lettering on my iPad, completing a DIY project for the home, or diving back into painting every once in a while.
Colin: Becoming a better, wiser, kinder, cuter person.
What projects are you working on now?
Melissa: Wegmans Chickpea Snacks! Mainly translating a design that was originally done on a bag to a box. It has been a fun challenge to tackle.
Colin: I'm always working on content ideas and researching (stalking) pages.
What's the biggest difference and biggest similarity between your current job at The Martin Group and previous job at your past employer?
Melissa: The obvious similarity here would be that I worked on Wegmans packaging at my last job, which made me discover my love for package design, and now I am lucky to be able to continue working on the Wegmans Packaging Team here at The Martin Group. The biggest difference would have to that the work is spread among a larger team here, so I have experienced a whole new realm of teamwork – and it's fantastic. When I first started, I was told to SLOW DOWN because I was so used to flying solo with a lot of my responsibilities, which would cause me to have to work super-fast. Because of this difference, I have had the opportunity to refine my work more.
Colin: At my last agency, I was responsible for a lot of the creative needs for my clients in addition to social media. At TMG, I still work with brands on social media, but we have an amazing creative team that supports me.
What do you like most about The Martin Group?
Melissa: The people. I work among a team of loving, boisterous, creative individuals who became an instant second family when I started at The Martin Group. I love that anyone is willing to help anyone else out, whether it is work-related or not. It really gives me the warm fuzzies to work with this group of people.
Colin: The culture. Okay, yes, it's really amazing being surrounded by talented and devoted professionals, but they're also REALLY fun to be around. It's like a big, eccentric family.
What's the best career advice you've ever received?
Melissa: There was a moment at my last job where I was getting discouraged about my abilities as a designer because I was not growing as fast as I wanted to. Then I thought back to when I participated in a Dale Carnegie Course, where we discussed how growth happens when you step outside of your comfort zone. My comfort zone then was the company that I had spent almost 15 years with. I realized that if I wanted to continue growing in the career path that I wanted to go on, that I would have to branch out and take on opportunities outside of that company. If I didn't have that realization, I wouldn't be with The Martin Group today.
Colin: If you're 100 percent confident about a solution or idea that no one else sees, go for it. Ask for forgiveness, not permission. That may be horrible advice…hopefully you have good intuition if you listen to it. It's worked for me!
If you were a fictional TV/movie character, who would you be?
Melissa: Arya Stark from Game of Thrones – I would become a badass to avenge the death of my entire family too! (Including my work family!)
Colin: Wednesday Addams.
Who are your three favorite music artists right now?
Melissa: Sara Bareilles will always be my number 1. I recently have discovered the duo Johnnyswim and I love them. Really feelin' Miley lately.
Colin: Grimes. Kali Uchis. Summer Walker.
What's your favorite animal?
Melissa: Hands down – giraffe.
Colin: Um, a raven or a panther. I can't pick!
What's your favorite guilty pleasure TV or movie?
Melissa: Movie: Now & Then. TV Show: Forensic Files
Colin: I don't know if it's a guilty pleasure or just good taste, but definitely Romy and Michele's High School Reunion. And for a TV show—True Blood.
Describe your perfect weekend.
Melissa: I think it depends on the weather but to further justify my laziness, we'll say it's cold and rainy out: Friday night – a nice dinner out with my husband because…I love food and a good excuse to do fun eye makeup. Saturday & Sunday: on my couch, with no laundry or cleaning to do, snuggled up with a blanket, binge-watching the latest Netflix hit, and NOT throwing the ball for my dog 10,000 times in a row.
Colin: Toronto in the summer…dancing around in the street and meeting strangers at Kensington Market as the sun sets and people are playing drums on every corner.
Biggest pet peeve?
Melissa: Breadcrumbs in the butter…
Colin: Jerks! Who hurt you?
If you had to pack three things for a quick trip, what would they be?
Melissa: My husband. Mascara. Dry shampoo.
Colin: Phone. Headphones. SPF.
The last thing that made you laugh.
Melissa: I mean, I laugh on a regular basis, but last time I was really laughing pretty hard was when my dog ran into wall. He's okay.
Colin: A meme on Instagram. I only follow spam pages, animals, and artists. It's a form of self-care.
What would you say to yourself in 2010?
Melissa: I would say to stop putting black eyeliner in my waterline, and that I will meet "the One" in due time, so stop throwing yourself a pity party. Finally, don't be a wuss when it comes to job-hunting after college.
Colin: Calm down! To be fair, I still say that to myself.
Where do you see yourself in 2030?
Melissa: I see myself STILL throwing the ball for my now very-old dog. I see myself with my husband and two kids, 8 and 5. I predict that I will have some sort of fun-colored hair since I am forced to dye it to hide the grays. I will also have an established freelance "side gig" on top of having become an accomplished agency creative director.
Colin: Hopefully not in Buffalo. That's a whole decade away. I'm going to manifest TMG expanding somewhere warm, like the West Coast. Just don't tell anyone or it won't come true!