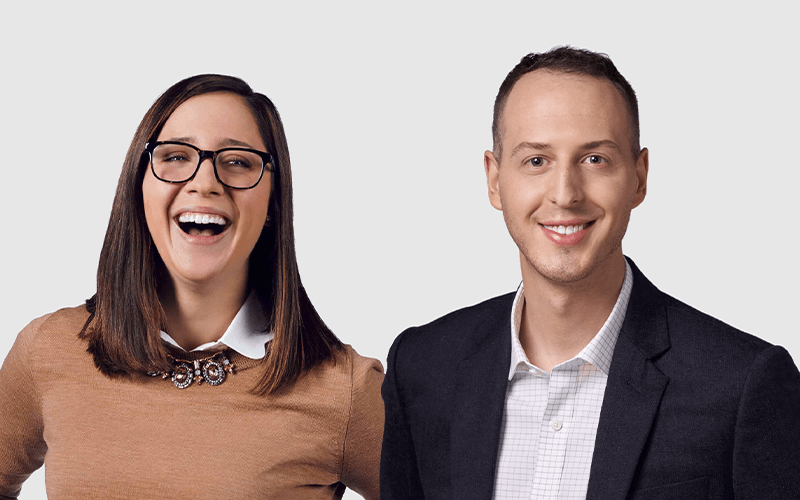 As a designer, what types of projects are you most passionate about? What attracts you to that type of work?
Mary Bonomo: I always gravitate towards work that's typography-driven, so when opportunities arise to be able to flex that muscle, I am excited to do so. Also, anything that is greater-good focused. It always feels good to create with the intention of making a difference.
Cody Andres: That's a tough question. I really dig print media and the possibilities they can hold. There are so many options and possibilities which make it exciting when creating. In a world heavy in digital marketing, it's refreshing seeing a physical marketing piece. I always keep print examples that I think are successful or have some type of creative element for future inspiration.
What single most important piece of advice would you give to students and young designers trying to establish themselves in the industry?
Mary: Take the internship. I got my first job and foot in the door by doing an internship after I graduated college. I really wanted to work full time when I graduated, but the internship became full time. Also, send your handwritten thank you notes! It's such an easy way to make a good impression and stand out among all of the emailed thank yous!
Cody: Always be learning and eager to grow. As a designer, you should really push your creativity and try new things. Even if those things seem daunting or intimidating. Also, get connected with the community. You can get involved with the industry even before graduating, as Buffalo hosts a lot of great outlets. For example, AAF Buffalo is a great organization that offers a variety of events and initiatives year-round, including national speakers, member-only Skillshops, networking events, student scholarship programs, and much more. This could be a potential foot in the door.
What was your first-ever job?
Mary: I worked at my family's ice cream shop (Bonomo's Dari Creme) in Kirkland, NY for roughly 10 years. I swirled cones, scooped, took food orders, and hung out with my family all day. Best job ever.
Cody: I worked as a cashier at Tops and possibly heard every cheesy saying there is from customers. Oh, the item didn't scan? Please tell me again how you think it should be free.
How do you spend your time outside of work?
Mary: I love to read, eat, and run races. I also serve as an adjunct professor at Nazareth College teaching Photoshop and Illustrator to first-year design students. It's the best because I went through the same program that I'm now teaching, and I love being on campus again.
Cody: This year, I bought a house, so I spent a lot of my time doing renovations and adding things to make it my own. From demo work, to painting, and buying more furniture than I thought I really needed. I guess you could say, adulting at its finest?
What's your favorite hobby?
Mary: I've gotten really into sewing throughout quarantine. My mom taught me when I was really young and when the pandemic started, I started making masks and selling them on Instagram. 2020 has undoubtedly been one of the most divisive and eventful years we've seen politically, and I wanted to figure out a long-term way to practice allyship, so I decided to donate 50% of the net proceeds from each mask sold to The Loveland Foundation, a charity dedicated to providing funding to black women and girls to offset the cost of mental health therapy. To date, we've donated almost $1,000 to Loveland. Keep an eye out for the next mask drop by following @thatssewmary on Instagram!
Cody: Anything to do with the outdoors. I really enjoy backpacking, cycling, and snowboarding, but most of all, I would say my favorite hobby is fishing. I've been fishing since I was a little kid, but once I started fly fishing about seven years ago, it opened up a bunch more possibilities for me. I love the complexity of the sport and the community around it. Every time I'm on the river, it's an opportunity to work on my casting, spend time outside, and most of all, catch some fish!
What is the top travel destination on your bucket list?
Mary: Literally anywhere beyond the four walls of my apartment at this point. In a non-COVID universe, I'd love to go to Italy with my mom and three sisters.
Cody: I always wanted to travel to British Columbia, Canada and fly fish at the Skeena River. It's possibly one of the most famous anadromous waterways in the world.
What song do you know all of the lyrics to?
Mary: The entire Hamilton soundtrack.
Cody: Anything City and Colour.
What music is playing in heavy rotation right now?
Mary: The Spotify playlist "70s Road Trip;" it makes me feel like I'm listening to my dad's jukebox. Also, probably the new Shawn Mendes album; can't get enough of him.
Cody: I enjoy listening to a wide range of genres, but lately, I've been jamming out to 80s new wave for an energy boost. Artists like DEVO, Men Without Hats, Duran Duran…the list going on.
What do you drink in the morning?
Mary: Black, hot Utica Coffee Roasters coffee.
Cody: Most people would say coffee, but not me. Orange juice is where it's at.
Describe your ideal pizza.
Mary: Brooklyn Beesting Pizza from Fiorella (the best restaurant in Rochester)–marinara, fresh mozz, extra 'roni cups, banana peppers, hot honey drizzle.
Cody: It has to have a thin crust for me. I like keeping it simple with good ol' cheese and pep.
What's your favorite movie of all time and why?
Mary: This one's hard. I'd say Inglorious Basterds is definitely up there for me. I love Quentin Tarantino's ridiculous drama and the cinematography is insane. Close second is a very recent movie, Just Mercy. I probably cried the hardest I ever have in the movie theater (tbt) when i saw this, and not just because of my love for Michael B. Jordan. It was such a powerful and important film about race in our country.
Cody: My favorite movie is definitely Guardians of the Galaxy. In my opinion, the misfit heroes and the clever humor really make it a one-of-a-kind film out of the Marvel series. I am Groot!
What is one thing that people may not know about you, but that you're proud of? Why?
Mary: I have run every single day in 2020 thus far. I'm not sure what 2021 holds for my run streak, but I'm excited to count up all of my miles for 2020 in a few weeks!
Cody: I actually like woodworking a lot. With the help of my cousin, I designed and created a pergola for my back patio this year. I'm proud of this because it was one of the most complex woodworking projects I've ever made. The time and effort were well worth it as I'll be able to enjoy it with friends and family for years to come.