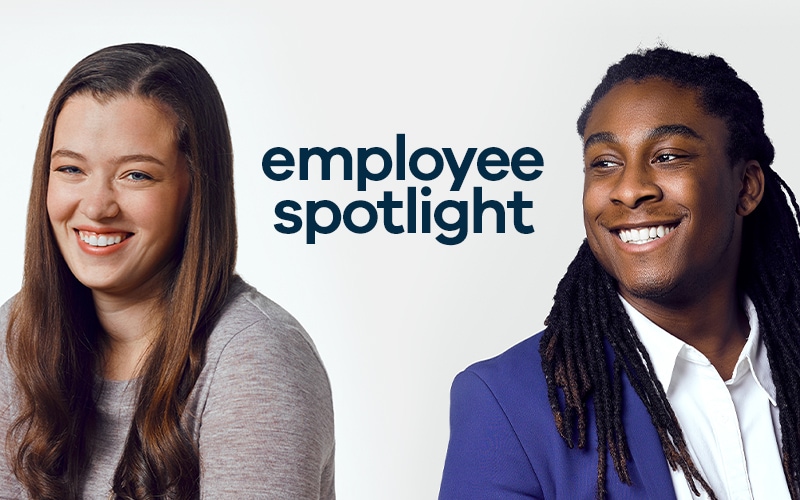 What was your path to your current role?
Caitlin Higman: My path to my current role is long and pretty complicated! I started out at The Martin Group as an intern during the spring of my senior year working on the account team. I spent the semester understanding how to manage a variety of accounts and provide excellent account service. As graduation approached, I moved over to the New Era Cap account team taking on a part-time Brand Coordinator role. After only a few weeks, I moved over to help with the Oishei Children's Hospital move in November 2017. As the need for additional resources grew, I signed on as a full-time Brand Coordinator working on Kaleida Health. Since that time, my role has expanded to Brand Manager and most recently, I moved over to project management on our Creative Operations team.
Cameron Bailey: I started in fashion public relations in New York City. I worked for a few boutique agencies where I helped out with Betsey Johnson, Ralph Lauren Jewelry, and ASOS. My experience with influencers came when I took an internship with the beauty brand philosophy. The brand was popular with older women as it was big on QVC, but through new products and influencers, they were becoming a go-to brand for young women as well. After I moved back to Buffalo, I was the marketing coordinator for ACV Auctions, a digital platform that connects car dealerships with wholesalers to buy and sell vehicles. It was completely different than anything I'd done, but definitely pushed me out of my comfort zone and gave me experience working in a startup environment. It was a wild ride getting to The Martin Group, but one I'm thankful for.
What are you passionate about?
CH: So many things! If I had to pick one thing…I'm a super organized person, so anything with to-do lists, scheduling, and organization gets me so excited! I have a dual degree in Marketing and Operation Supply Chain Management, so whether it's work-life or personal-life, I love being efficient and orderly. I'm constantly making lists, highlighting and color-coding, so I can't stand if things are out of order—it gets me very fired up!
CB: I'm just passionate about culture in general, specifically streetwear, art, and music. In the beginning, I was very anti-streetwear because the fashion industry tends to take credit for styles created by marginalized communities and subcultures. But with streetwear, brands still pay homage and credit the Black community and hip-hop, surf, and skate culture as well as the Japanese roots in Harajuku. It's this cool and unusual mix of cultures that makes it so interesting.
When it comes to art, I prefer late modern and contemporary paintings and mixed media. I know it's unoriginal, but I really do love all of Basquiat's work. I also highly recommend Kehinde Wiley and Devan Shimoyama. One of my favorite pieces to see in person was the Electronic Superhighway: Continental U.S., Alaska, and Hawaii by Nam June Paik. It's this massive sculpture showing a map of the U.S. made out of neon lights and televisions. It's unreal!
What kinds of projects are you working on right now?
CH: As a project manager, I work on a variety of projects across verticals. Right now, I'm working with clients like YMCA, Under Armour, and Kaleida Health, among others. Currently, we're working on wrapping up 2019 campaigns and initiatives, in addition to more seeding boxes and print production work.
CB: As a public relations and content coordinator, I work closely with the PR and social media teams. On the PR side, I help with local initiatives for New Era Cap and national PR support for 43North winners Forsake and SparkCharge. On the social media side, I handle all of our influencer marketing. Currently, I am working on influencer campaigns for Under Armour Women, Cornell's Grow-NY, and ProBar Mobility as well as a product launch for Galbani Cheese.
Did you have any mentors along the way? What's the best career advice you've received?
CH: I've been very lucky to have several mentors in my career that have all come from within The Martin Group. We have so many strong female leaders in our organization that have really invested in my career and provided crucial advice even when it was tough to hear. The best career advice I've received from them would have to be 1) advocate for yourself, and 2) pay it forward. To me, these two pieces of advice go hand-in-hand and apply to both my career and personal life. As a woman in the workplace, it's essential that I continue to advocate for the things I want and need to make sure that I'm leaving the workplace in a place for that next generation of women. I can never thank Kelsey Shea, Jillian Gallagher, Lianne Coogan, Amy Strzelec, Kate Chokshi, and Anna Hofer enough for their continued mentorship and example.
CB: Demi: There's nothing wrong with being confident. Beyonce: I'm a survivor and should never give up. Arianna: If it ain't broke, don't fix it.
What's your favorite part about working in the sports vertical?
CH: I love the diversity and difference between sports and how those differences play into the marketing! I played so many sports when I was little and so did my friends; so now to take that understanding and learn how it plays into the way different clients approach marketing that sport is so interesting. No two sports are really the same in that sense, especially if you take into consideration the men's game versus the women's. The political and social justice landscape is also adding another layer to this vertical, so working in this vertical is challenging and complicated, yet so straightforward at the same time!
CB: I've gotten to speak with and build relationships with some amazing influencers thanks to our sports vertical! I even got to meet U.S.A Volleyball Olympic silver medalist Kim Glass in person!
What sports do you enjoy watching?
CH: Futbol and Football- I love watching the NFL and NWSL/USWNT. Growing up in WNY, watching Bills games every Sunday has always been a tradition; and now my understanding and passion for the game has grown beyond just Bills games to other teams in the league—but the Bills will always be my #1!
More recently, I've rediscovered my love for women's futbol! I grew up in Rochester—hometown of the great Abby Wambach—and graduated from the same high school as she did. Growing up in Rochester, every little girl my age looked up to Mia Hamm and Abby. I always enjoyed playing soccer and watching the women's game, but ultimately lost sight of the game during high school and college. Over the past few years, because of the success and voice of the USWNT on the world-stage, I started watching the USWNT and NWSL games again and I'm addicted! Not only are these women extremely talented, they are taking a stand for girls and women everywhere, which has been amazing to watch and support!
CB: I watch mostly esports on Twitch and YouTube. I prefer to watch fighting style video games like Super Smash Bros, Dragon Ball Fighter Z, and competitive Pokemon. RPGs like Hearthstone and World of Warcraft are cool, too. I think it's so easy to write off professional gaming as "not a real sport," but what they do requires its own form of training, strategy, and learning that not everyone can do.
Also, does RuPaul's Drag Race count?
What is your favorite guilty pleasure song?
CH: Probably any old-school Taylor Swift or a good pop remix!
CB: So hard to choose! Top 3: "Countdown" by Beyonce, "Good as Hell" by Lizzo, "I Wanna Dance With Somebody" by Whitney Houston.
What music artists are on your heavy rotation?
CH: It definitely depends on the season, but some consistent favorites have to be Zac Brown Band, Luke Bryan, Dave Matthews, Ben Rector, Lizzo, and Beyonce. Quite a diverse group!
CB: There's so much good music right now! Post Malone and Missy Elliot both have amazing new albums out. I've been listening to a lot of emo rap (trust me, I'm fine) like Blackbear, Lil Peep, and Lil Uzi Vert. Also, plugging my other favorite rappers: Dreezy, Angel Haze, BROCKHAMPTON, and Frank Ocean. Willow Smith, who is way past her "Whip My Hair" days, actually does some really great alternative R&B and soul music. And then I always return to the obvious artists like Beyonce, Ariana Grande, Whitney Houston, SZA, and Lizzo. Honorable mentions to Janelle Monae and Billie Eilish.
What TV show represents your life? What character are you?
CH: It may be obvious or cliché, but I'll go with Peggy Olson in Mad Men. I just finished watching the entire series, so it is top of mind, but so many of the elements and day-to-day tasks of agency life still hold true. Certainly, the time period elements have changed and we have far more female leadership than Sterling Cooper Draper Pryce, but I started out as the low man on the totem pole, so I relate to Peggy's constant battle to shake that perception.
CB: I'm going to say Parks & Rec. I identify most with Donna's cool demeanor, low tolerance for B.S., and high levels of sass.
What is your sign? Do you believe in astrology?
CH: From what I understand, I'm an Aquarius, but I was born on the Capricorn-Aquarius cusp. I don't necessarily believe in astrology, but I do think it's fun and interesting! It's one of those things that I think people see and hear what aligns with their personality, but ignore the traits in their sign that don't align with them. It's certainly something you have to take with a grain of salt!
CB: I'm a Gemini Sun, Libra Moon. It's nice because typically, Gemini's twins are often in conflict with one another, but Libra's scales help bring a bit of balance and harmony to them. In college, I used to do readings of star charts, palms, and tarot cards. From my experience, a belief in astrology and spirituality is enough to actualize it. But even if you don't believe, it still provides a unique perspective on how to view life, shaping destiny, and your sense of self.
What's a hobby you have that people wouldn't expect?
CH: Baking! My first job in high school was at a cupcakery, baking and decorating wedding cakes and cupcakes. When I was younger, it was all about decorating and making detailed fondant cakes for various celebrations like weddings, baby showers, and birthdays. I loved watching shows like Cupcake Wars and Cake Boss. Since that time, I've worked in several bakeries, ice cream, and chocolate shops, expanding my knowledge and expertise in different desserts. Now it's more about the science, especially with baking. Now I love watching The Great British Bake Off since it focuses more on technique and the science of everything from bread to cakes to crackers. It's so interesting to me and something that I find very relaxing—a great escape!
CB: Gaming. I play mostly Nintendo titles like Legend of Zelda and Super Smash Bros. But my favorite video games are the Pokemon series. I've played every major Pokemon title and remake since Pokemon Yellow on Gameboy Color. I used to be a part of a local Pokemon league and did pretty well, and I might try out competitive battling when the new games drop this year. My favorite Pokemon are Rapidash, Absol, and Mega Mawile.
What made you interested in pop culture?
CH: So many things! It's funny how history repeats itself…sometimes!
CB: The earliest I can remember are TV shows like Kenan & Kel and Sister, Sister as well as Missy Elliot's "Work It" music video. The 90s/early 2000s were so lit: what a time to be alive.
What is the top travel destination on your bucket list?
CH: Tough one! In the U.S., probably Hawaii or Utah. Outside the U.S., probably Australia or a little European tour. London is my favorite city in the world, but I didn't get a chance to see most of Europe when I was living in London!
CB: I'd love to spend a couple of weeks traveling across Alaska. Seattle and London are also on my list, I'm a fan of cold, dreary cities, I guess.
Do you have a favorite meme?
CH: It wasn't a meme, but I saw the most accurate tweet the other day that said, "Britney Spears was 25 when she shaved her entire head…I get it now." I don't know why I find that so funny, but I remember when it happened I couldn't understand what she was thinking, but as someone on the verge of being 25, I get it!
CB: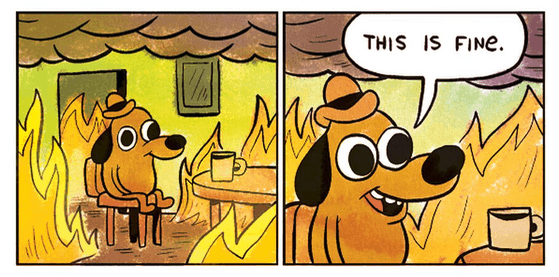 If there's a quote that sums up the way you view and live your life, what would it be?
CH: "For what it's worth, it's never too late, or in my case too early, to be whatever you want to be. There's no time limit. Start whenever you want. You can change or stay the same. There are no rules to this thing. We can make the best or the worst of it. I hope you see things that startle you. I hope you feel things you never felt before. I hope you meet people who have a different point of view. I hope you live a life you're proud of, and if you're not, I hope you have the courage to start all over again. -F. Scott Fitzgerald.
CB: "The only thing fake about me is this…*slams her plastic leg on the table*" – Aviva Drescher
OK, two truths and a lie.
CH:
1. When I was little, I was cut by a hand saw.
2. Growing up I had two dogs—Bailey and Finn.
3. I once met rap artist, Waka Flocka, while visiting the Eiffel Tower in Paris.
CB:
1. I'm related to one of the Real Housewives of Atlanta.
2. My family knows Whitney Houston's family.
3. I was on Slime Time Live as a kid.