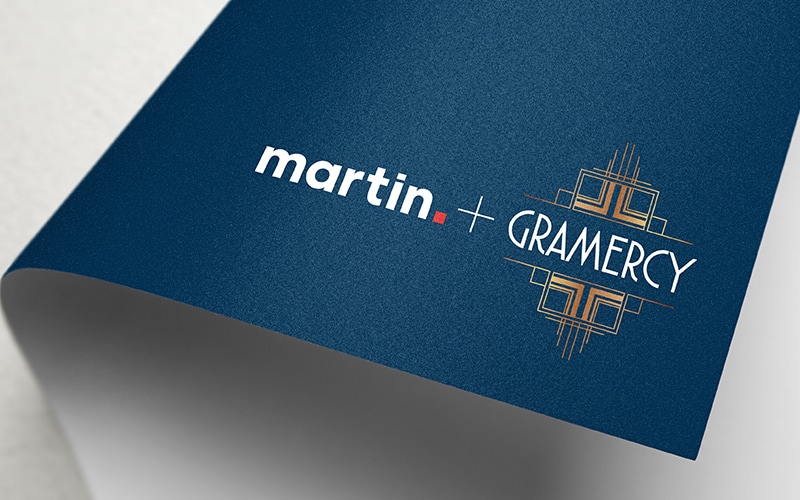 On February 9, 2021, The Martin Group announced the exciting acquisition of Gramercy Communications, a prominent Albany-based public affairs firm. The deal greatly expands our growing presence in the Capital Region, and also brings aboard a talented group of associates and an impressive roster of clients. Here's a quick introduction to our new public affairs group:
Tell us about how you came to build one of the most notable public affairs practices in New York State.
Andrew Mangini, Senior Director | Public Affairs Practice Leader: At Gramercy, we all had a "whatever it takes" mindset to achieve success for our clients. We took pride in the fact that we always had a seat at the table, crafting and implementing comprehensive strategic communications plans that won. We also understand that the public affairs space is relationship driven, and that means having unparalleled relationships with our clients, our colleagues, and the media. We weren't a vendor. We were indispensable extensions of our clients' teams, fully invested in the issues at hand.
What were your career backgrounds that positioned you for a successful career in the public affairs space?
Brittany Kenny, Public Affairs Manager: I have experience both in the private sector and working directly for the state legislature. Having gained a good perspective on both sides I understand the different moving parts in Albany, how things get done internally, and what efforts can be made externally to move the needle on issues.
AM: I've worked in the New York State Senate and Assembly, on political campaigns across the state, and have more than 10 years of agency experience. I've provided strategic counsel to CEOs of Fortune 500 companies, managed successful statewide advocacy campaigns, led crisis communications trainings for multi-national corporations, and directly had a role in billions of dollars' worth of economic development projects in the Northeast. I have extensive communications experience in health care, financial services, economic development, defense, transportation, cannabis, gaming, labor relations, and hospitality.
Tom, can you tell us about why you founded Gramercy and how you've seen it evolve over the years? Where do you think the practice can go from here as part of The Martin Group?
Tom Nardacci, Senior Advisor: When I moved back Upstate after working in Washington, DC and New York City, I saw a need for a new agency that could infuse the experiences I had working in those markets. We quickly became an important player in the Capital Region business community and in the political economy around the State Capitol. One thing I always set out to do – but was not able to alone – is expand the public affairs reach across the state and attract more national clients that need a presence in Albany. The Martin Group gives us the dynamic capabilities, reach, and relationships we could never build on our own. Public affairs has evolved, and successful efforts are the ones that include sophisticated integrated communications.
What excites you most about joining the agency?
BK: I am looking forward to joining a dynamic, best in-class, communications team that will expand our reach in the public affairs space. The Martin Group's culture and forward-thinking mentality are exciting and I look forward to being a part of the team.
AM: I'm excited about TMG's commitment to growing the Public Affairs practice. With a talented team of communications professionals behind us, we can run every single facet of a complex and comprehensive strategic communications and advocacy campaign. Having all of these resources under one roof allows us to ensure full integration and provides the client with assurance that all strategies and tactics will work in tandem.
What's your favorite non-work thing to do around the Capital Region?
BK: Exploring the growing restaurant and food scene across the different communities, as well as taking day trips to go antiquing in Hudson, NY.
AM: There is nothing as great as a warm summer day at Saratoga Race Course.
TN: A Saturday at the Troy Farmers' Market and visiting the shops of a lot of good friends and committed small entrepreneurs.
What should we be keeping our eyes out for in the public affairs space in 2021?
BK: Everything in our lives has changed over the past year; communications and public affairs are no different. I would be on the lookout for creative ways organizations and groups are communicating their message and for fierce advocacy during a difficult state budget year.
AM: This year will still be dominated by the COVID-19 pandemic. From the budget crunch to reopening the economy to the massive strain on our state's health care system, everyone has something to gain or lose this year. All companies or organizations need to have a firm grasp on how federal, state, and local governments affect them and what they can do to influence those outcomes.
TN: The Upstate economy. Our Upstate cities had finally been on a decade-long comeback, and COVID put a lot of efforts on pause. We're going to need to work together – business and government – to double down on reclaiming the road we were on. Yet with all the challenges, new industries like video games and other software and the broader creative sectors are still growing. Related to this, people moved Upstate from the city because of the pandemic and they might not have to, or want to, return to NYC. They'll bring new ideas and contributions. Lastly, climate change will have a variety of impacts on life and business. For example, there is finally a universal belief that we need to move to a renewable energy future, and the federal and state governments are pushing forward aggressively. It's a growing industry that will need public affairs front and center.