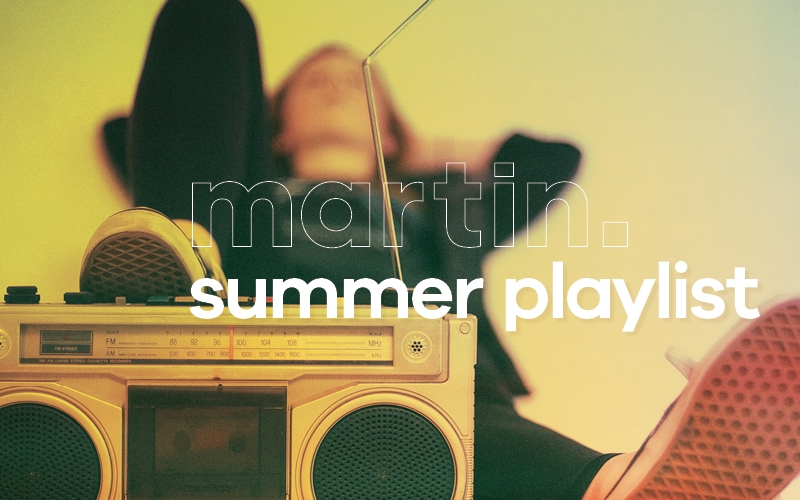 Music can be many things for legions of people.
It's the rhythm and blues through days, nights and weekends. It's a time portal, evoking long-forgotten memories with a single spin. And, as noted in a May 2020 story published by University of Michigan Medicine, it can be a powerful healer. Music therapy—the clinical and evidence-based use of music interventions—can be used to accomplish individualized goals within a therapeutic relationship. According to the report, "songs allow you, and those around you, to help to calm your nervous system, relax and heal your soul."
The Martin Group agrees, and over the last four months, we've been devising Spotify-hosted playlists (16 and counting) for our staff spread inside bedrooms, finished basements and back decks in Albany, Buffalo and Rochester. Every week, we're sharing some of our favorite music across various genres and themes to help coax these perilous days.
Has it provided a breakthrough cure for everything ailing our workdays? Of course not. But whether a track to ease the mind or shake the soul, these playlists have helped provide some instrumental therapy, one song at a time.
Now, we're sharing some of the best tracks from these playlists with you, along with a little reasoning behind the selection of each cut, and the Spotify link for this full list.
Ready to hit "play"? Here you go:
"Release" by Pearl Jam
Originally released as the last track on the band's debut 1991 release, "Ten," the song has become an anthem of healing—and is best embraced during singalongs like this one from Chicago's Wrigley Field in 2016.
"Spirit Moves" by Langhorne Slim
After the exhale of "Release," transitioning to the gleeful, runaway stomp of the title track from Pennsylvania native Langhorne Slim's 2015 album is great to get a day moving in the right (and spirited) direction.
"The Obvious Child" by Paul Simon
Speaking of spirited direction, the tribal percussion of this Paul Simon track (off 1990's Afro-Brazilian-inspired "The Rhythm of the Saints") is meant to keep you moving—all while serving as a multi-instrumental mood enhancer.
"Revolution Girls" by Mariachi El Bronx
If the swooning end of the previous track doesn't chill your spine, try the lyrical sincerity and brass onslaught of the sometimes-mariachi, sometimes-punk sound of this Los Angeles-born nonet. (Note: "Nonet" means nine band members.)
"Harmony Hall" by Vampire Weekend
Is there an underlying theme with these early tracks? Yes—but it's not really that underlying. It's about bringing you up to a positive place; and although the lyrics of this recent song by VW may elicit conflicting spiritual imagery, its piano-and-guitar combo should get you dancing.
"Van Dyke Brown" by River Whyless
The jaunty theme continues with the Asheville, North Carolina folk of River Whyless. With tin-can percussion—and the jovial bounce reminiscent of playlist brethren Paul Simon and Vampire Weekend—this tune fits the vibe just fine.
"Everyone Hides" by Wilco
If we're going to go with any Wilco song, why the first single off last year's "Ode to Joy"? Maybe because we've all been hiding inside for four months. Or maybe because Glenn Kotche's clap-along snare hits put us in a smiling mood. ??‍♂️
"Holding On" by The War on Drugs
Every good pandemic playlist needs a spiritually uplifting song that can carry you through the toughest of times with A. emotive lyrics about enduring struggle; B. the dueling echo of spacey guitar chords; and C. plenty of glockenspiel. This WOD track has it all. (You're welcome.)
"Inner Cry" by Rubblebucket
Yes, you may have already started dancing to this playlist, but here is the entrance into the giddy valley where dancing is actually required. First up: Somerville, Massachusetts' Rubblebucket, with lead vocalist/saxophonist Annakalmia Traver setting the mood.
"Countdown" by Beyoncé
Still seated? Hope you enjoyed the rest—but that ends now. Unless asleep or supremely dedicated to your task list, it's impossible not to push away from your workstation and bop to this Bey song off 2011's "4," so take a break and bask in the joy.
"We Trying to Stay Alive" by Wyclef Jean
It's entirely possible that you forgot about this late-90s favorite featuring Fugees vets Wyclef Jean and Pras. Thankfully, with its timeless groove and a Bee Gees-sampled bassline that still slaps, it's ready to be rediscovered and enjoyed.
"How Can You Really" by Foxygen
And this is when we start to cool things down, beginning with the jangling piano keys and plaintive vocals of the beautifully eccentric Foxygen. Can you sway to it? Yes, but it's best absorbed easing back into your seat—and maybe a summer breeze from an open window.
"The Night" by Liz Cooper & the Stampede
Familiar for some from last year's Borderland Music Festival at East Aurora's Knox Farm, Tennessee's Cooper has plenty of rockers, but this track serves as the kind of therapeutic prescription perfect for settling the frayed nerves from a four-month-long interruption.
"With You" by Valerie June
And after settling the nerves, it might be time for a cathartic cry to this gorgeous love song off June's exquisite "The Order of Time" (2017). Direct and concise, it's a simple declaration of togetherness—which is something we could use right now.
"Farewell Transmission" by Kevin Morby and Waxahatchee
Finally, we end with this appropriate message from alt-rock couple Morby and Katie Crutchfield. A poignant cover of the late Jason Molina's track with his Songs: Ohia project, it's lyrically dark, but still sonically soothing. Hopefully, it takes you to the same place.