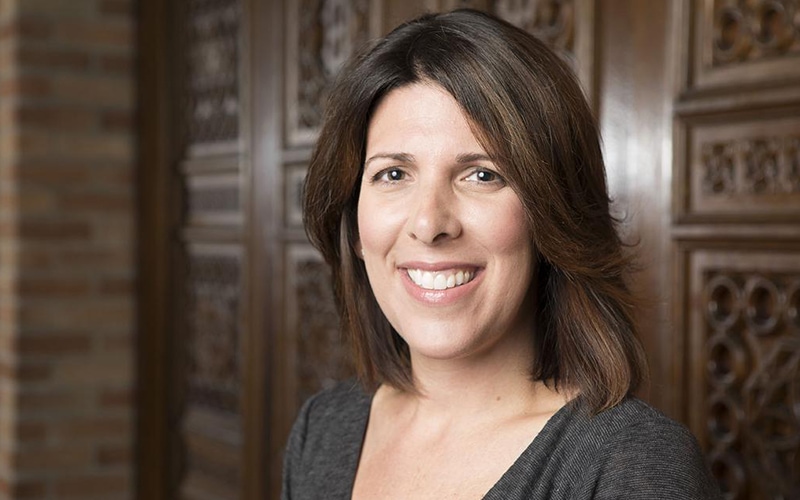 Lisa Strock has been with The Martin Group for almost 14 years, and through that time, her role has evolved as dramatically as our number of employees and offices. Starting out as an account executive and now our Senior Vice President and Managing Director of our Buffalo office, Lisa was recognized last year as a Woman of Influence by Buffalo Business First.
With the 2019 Women of Influence class being recently honored in September, we wanted to go deep with Lisa on her leadership style, career evolution, and thoughts on the keys to building and maintaining the right company culture.
What do you think defines good leadership?
I don't think there's any one thing, but there are a lot of commonalities for what I find to be good leadership. The common threads are things like empathy and caring about culture. You have to be able to appreciate what everyone does in their role and what's important to them. Culture is a direct correlation to people feeling satisfied in their role.
You have to be open to collaboration. I don't know any leaders who can do it all themselves. The more open you are to collaboration and other opinions and perspectives, the more positive an impact you'll have on the organization.
At the end of the day, you can never take your eye off the culture. As a leader, you're making business decisions every day, but you have to always reflect back on the culture. If not, you'll start to see things deteriorate.
What would you say has been your evolution as a leader during your 19-year career in advertising?
I started as an account exec 19 years ago and I've really been able to learn the business from the bottom up and inside out. Being in account service, you work a lot with clients and different disciplines within the agency, and that has very much been a big part of my evolution as a leader in the agency. I've been able to develop empathy and respect for other roles and client expectations and what the agency can do to make their lives easier.
Early in my career, I thought I had to have all the answers to everything, and I was quick to jump to conclusions and put something out there. Now, I've been able to be more patient and really appreciate the people around me who are subject matter experts, and allow them to share their ideas to help frame a lot of my thought process. I felt like when I was younger, if I didn't have an answer, I wasn't doing my job.
A lot of times when I'm talking to people, I'm jotting down notes or typing, capturing thoughts that someone is saying. I draw on a lot of that all day long, whether with our executive team or the people I'm interacting with on certain client teams. The people around me help me evolve as a leader – everyone coming at something from different perspectives.
Any telling anecdotes that provided important lessons for you along the way?
There are clients with challenging situations that really took me outside of my comfort zone. I had to really work on the art and science of being in that position. There is always that tension of finding a solution that works for everyone, and I've learned that when you come at it with the client at the forefront, you're able to get to the solution much quicker.
Early in my career, I had an interaction with someone who couldn't be any different from a personality standpoint. We were just two different people. We had an interaction with a client and we completely disagreed. This individual, who was more experienced and established than me, called me on the phone screaming at me. I just remember thinking, "I don't want to ever make someone feel like that."
There will always be differences, but you always have to find the common ground. I was once told that working at an agency is like playing the piano – everyone is a different key. If that means changing how you act then that's okay. To me, that goes back to culture. If your culture is well-defined, and there's some common ground to work off of, that's the starting point for me. You may not understand how they're responding and what's triggering their reaction, but you can have a productive conversation and still be helpful to them.
Is there anyone you looked up to as a leader when you were coming up, or maybe a mentor who helped mold you into the leader you are today?
At the root of it all, my parents have molded me the most. My mom and dad are both blue-collar, salt of the earth, get up early and work hard and get the job done – and that's always been ingrained in me. Then, as I've gotten into my professional career, I think it's also about developing your own style. You start to find different things in different people that are respectful and inspiring, and then over time you develop your own style.
I'm not trying to replicate any one person because I want to keep what's true to me. I'm very much inspired by people who I work with and different organizations I've been involved with. With TMG Founder and CEO Tod Martin, it's that concept of taking the high road – he's always instituted that in many different ways. Early in my career, it was learning the craft of advertising, and learning from my creative mentors. I've had the fortune to work with some of Buffalo's greatest advertising leaders: Joe Crowley and John Webb. They really set the tone for the advertising landscape in Buffalo.
What is your advice to young associates who are looking to advance into management and become better leaders?
If it's really something you want to do, you have to first communicate with your manager so they understand and can help you get there. Beyond that, do good work, do what you say, and be a good person. I think if you contribute to culture in a positive way, that says a lot. Perhaps you're still learning the facets of the agency, but if you're contributing in a positive way and influencing the culture, that supersedes some of the actual understanding and nuances of a specific job or discipline. You might be a really good craftsman in your job, but if you aren't somebody willing to engage with the company at large, step up and speak up, then you're not progressing as a leader.
Any books, podcasts, or other resources you'd recommend?
In addition to daily Smartbrief emails, there are two other things for someone looking to develop their own leadership style. First is finding a leadership program that's a good fit for where you are in your career. I went through Leadership Niagara and really took a lot of value from that program and still apply learnings from that in my daily work. Second is, when you need those influxes of inspiration to get you going again, go watch a speaker of interest; even if you don't think of them in a leadership role, you can take something from that. For me, it was recently Ruth Bader Ginsburg. She provided sparks of inspiration that I find really refreshing.
As a busy mother of two, what is the key to being a good manager of time and multi-tasker in balancing work and family?
To me, it's 24/7 and I never turn off my role at the agency, even when I'm home. The key for me is you have to work for a company that values family. I'm fortunate that I do. The key for balance is that I like to get out ahead of things. If I have a project due in three months, I'm already thinking about it. It makes me feel more prepared and able to handle the work-life balance.
It's also having people around you who share a common interest in wanting to have that same balance. At home, I have my husband Dave who is a huge part of that. At work, I have our executive team and department heads who want to help one another. I feel like I can go on a break and my team will help me. Hopefully, it's the same for everyone because they want the same thing.
Some people are good at compartmentalizing, but for me it's one thing. If I'm as vested in both, it's not about separating; it's about balancing all of it. But I do have to take cues from the people I'm spending my time with.
What are the most important components to putting together a good team and encouraging collaboration and integration?
The most important components have to be some common ground that everyone's bought into. When we talk about the agency's values, we talk about connecting and connectivity being important to us. We offer our clients an integrated approach, and we have to be connected to do that. We might be coming at that from multiple disciplines, but if we all agree on a common ground, that's a good starting point to move forward with.
You also have to start building trust with one another. That's something that's sort of on each individual to do, and you have to be able to have conversations that are constructive and be able to have vulnerabilities along the way and build up that respect for one another.
I want to encourage people to feel comfortable talking to each other even if it's uncomfortable. Sometimes expectations are just very different, but when you talk, you realize you're trying to accomplish the same thing and you just misinterpreted something. Sometimes the longer you let it linger, it just fans the flame and makes it worse.
The benefit is really to our clients: they get a partner who adds more value; the outcome is better the more collaborative the teams are working together. We're at our best when the client has a relationship with the integrated team and benefits from a handful of different people.
I also think it's important for people to celebrate other people's wins and victories. Even if you didn't have a direct role in a client win or successful project, it's important to recognize your peers by encouraging each other and still feeling part of it.
What did it mean to you last year to be named a Woman of Influence in Buffalo by Business First?
It was definitely a highlight for me in my career and I think I probably am a little too humble about it. It was nice to hear others around me saying it's a big deal and that I should enjoy the moment and I've earned it. I just do my job and don't look for those accolades. I'm a little shy and embarrassed with that stuff anyway. But I felt very proud to have that recognition and to celebrate it with my colleagues and family. It was really great that my mom came to that event and for my family to get a glimpse into my world and what I've been able to accomplish.
I often share with my daughter and son the importance of having females in their lives who set good examples. So it's good for them to see their mom making a difference and setting a positive example.
The advertising industry isn't known for being very diverse. What do you think needs to happen to change that?
Asking the question is a good starting point, but it's not enough. It can't be treated as an afterthought. Diversity and inclusion have to be a focal point for the industry-at-large — and individual organizations — if we really want change.
We need to think about it holistically. Diversity can be an individual's background, where they've worked, the communities they've lived in; it can be education. Certainly, there is cultural diversity and diversity of ethnic background, gender, and age, but it can't just be a box you check.
One way agencies can help make a difference is opening their doors through internships, mentoring, etc., to a diversity of students and young professionals who are interested in the business.
I am proud that our agency has made great progress in that. We've worked hard to create a diverse agency with individuals that come from all different types of backgrounds, but there is always more we can do.
Do you have any job application/interviewing advice for people looking to break into an advertising agency?
I would encourage you to do your homework on the company and its culture. It's just as important that the company finds you to be a good fit as you find their culture a good fit for you. Check out their social media, read bios of people who work there; if you feel you can flourish in that culture, you'll feel much more confident going into that interview. Just be yourself. You don't have to convince them that you're who they want you to be. Just be who you are. You can tell a lot about a company's culture from social media, and if that gets you excited, you're already coming in with enthusiasm and that will show.
Advertising is so personality-driven. If you are someone who flourishes in a lot of different experiences and the idea of the same schedule every day is boring to you, advertising is something you should look into. You should let the people you're interviewing know that's the type of role you're interested in.
Also, if there is something you want to share and the question wasn't asked, feel free to share it anyway. The more it can feel like a conversation the better.
I also think some people have a missed perception that you have to be a creative person to work in advertising. Now, there are so many roles that might make someone do well at an agency. Now more than ever, we consider people without agency experience because that different background adds value. It's not a must-have any more.
The Martin Group has changed a lot going back to its origins in 2001. What's been the key to your continued success at the agency?
Our agency has changed so much in the last 14 years, but through acquisitions, new offices, and different clients, I think I've been successful evolving with that. There has never been a playbook for my role. If a person can carve it out for themselves and figure it out along the way, you can be successful.
Realize you have weaknesses and surround yourself with people who do know how to fill those gaps. There's never been a script and my job description is constantly evolving. Our organization has always grown and evolved. Some of it we've planned for and some we haven't. But a good leader has to figure out how to ebb and flow with that. Some days I spend more time on one aspect of my job, some days it's another aspect, and some it's in the middle. That comes with having a leadership role in an organization. It's what's called a "healthy tension": trying to manage that and not getting pulled too much in one direction. You have to use your judgment.