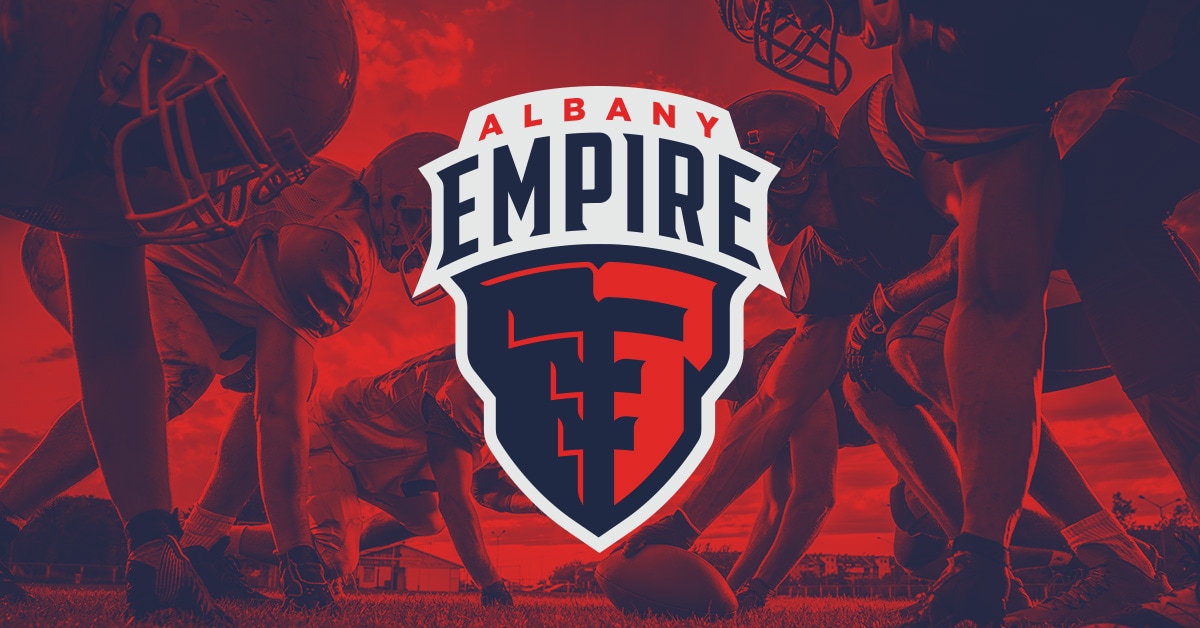 Back in January, Albany AFL announced the "Albany Empire" as the new name for the new Arena Football League (AFL) team. Albany Empire represents the home team for the Capital of New York and the Empire State, along with the power needed to be successful in the tough, fast-paced sport of Arena Football. The team's inaugural season motto "Building An Empire" symbolizes the organization's plans to create a product featuring a tough, hard-nosed football team alongside a world-class entertainment experience, which aims to be the ultimate entertainment option for Capital Region residents and visitors.
The name Albany Empire was voted on by the Capital Region community on TimesUnion.com and won by a landslide, with over 43% of the 10,000 total votes. "Phoenix" and "Fire" came in at approximately 21% of the votes each and "Machine" about 15%.
The Martin Group created a bold, yet attractive design for the new AFL team, which conveys the inherent power of both the team and city it now represents. The unique Empire logo features the team's official colors, while paying homage to the former popular Albany Firebirds of the AFL (1990-1999). With powerful dark orange, dark navy blue and black accents, the logo encapsulates strength, versatility and boldness, with an attractive display of the Empire battle mask and shield.
Team Name Manifesto: Power gets more intense as it is confined. A wide river wedged through a tight canyon. Wind forced through a tunnel. Politicians squeezed into a small state capital. Power is why New York is the Empire State. George Washington once called New York the "Seat of the Empire" and if New York State is that, then Albany is the center of gravity. There may be more prominent capitals and bigger cities, but there is no better place for Arena Football. If Albany knows anything, it's the X's and O's of a good strategy, and the bloody knuckles of a good fight. We know that a committee of eight is more than enough to get things done and any more than that is just slowing things down. And we know power – where it comes from, how it's used, and that it is the ultimate aphrodisiac. The AFL is coming home to Albany. But we aren't just fielding a team. We are BUILDING AN EMPIRE!
Season memberships for the inaugural 2018 season are on sale now. For tickets, contact the Albany Empire sales department at (518) 533-2200 or by going to TheAlbanyEmpire.com. Follow the team on Facebook at facebook.com/Albany_Empire and Twitter at twitter.com/Albany_Empire.