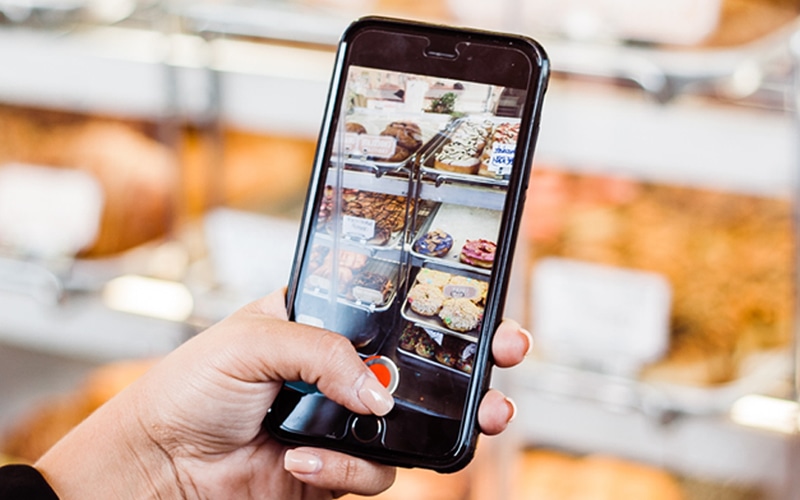 It isn't news that Instagram is becoming the preferred social channel above all others, but what about the growth of features and opportunities on the platform? One billion people use Instagram every month; this means marketers and brands alike have a lot of power to harness with the mobile app. Instagram is no longer only for teens and millennials following their favorite celebrities. In fact, 37 percent of American adults now use Instagram, and that number is on the increase.
There is a massive, engaged audience to reach on Instagram. Brands, influencers, and marketers are all taking advantage of new trends and updates on the channel, but the question is: are you?
Instagram trends to consider
Bye-bye likes
While Instagram is testing hiding likes on its platform, many accounts have already seen the update go into effect. Business pages will be able to review back-end analytics for their posts, but users will no longer be able to see the number of likes or views a post has. Is this the end of marketers and influencers on Instagram? Not quite.
Instagram reports hiding likes is for the mental health of its users, which is surely true, but it also will contribute to the likelihood of more feed posts. With the risk of poor engagement, many brands and influencers have limited their post frequency on the platform.
Quality over quantity is a sound strategy, but when 500 million people use Instagram Stories every day, this change seems like more of a balancing act between stories and feed posts. Should you sacrifice quality for more reach now that users can't see the performance of your posts? Probably not, but it makes things a lot less intimidating when posting to your feed.
Influencers + e-commerce
Rolling out to only a handful of brands in 2019, Instagram Checkout and Shopping from Creators will likely be available to everyone in 2020. Both features allow users to make purchases from their favorite pages directly in the mobile app.
While offering an e-commerce feature with Instagram Checkout, celebrities and influencers can add product tags to their photos with Shopping from Creators to sell products. Will in-app shopping make it more enticing for users to complete purchases while browsing their feed? We think so.
TikTok won't stop
You can't really get through browsing on Instagram without seeing content from TikTok; the video-sharing app has surged its way to being one of the most downloaded apps in 2019, making it a vital platform to consider in conjunction with Instagram.
While you may not have the capacity or interest in reaching teens and millennials with short-form video on TikTok, you are probably aiming to create viable content for Instagram Stories, which is in a very similar format.
TikTok videos are incredibly real and unfiltered, which is leading other platforms, specifically Instagram, to produce more authentic content. Even if TikTok doesn't make sense for your target audience, it's beginning to greatly influence the type of content functionality we see on Instagram.
IGTV
With a shift in users seeking more authentic content, starting an IGTV series for your brand is as easy as pressing record. We recommend a well-planned strategy and creative concept behind your videos, even if they're short. IGTV series will be a huge trend on Instagram in 2020 and with the right strategy, brands of any size can succeed.
Augmented reality (AR) in stories
Augmented filters, or "features," have taken off in 2019 to practically take over story content on the platform. It's hard to swipe through Instagram stories and not see at least one celebrity or influencer using an AR filter of their own.
Story filters on Instagram range from colors, style effects, and quizzes that can be customized with branded content. Viral quizzes like "Which Spice Girl Are You?" catapulted to the most popular form of filters that insist the feature isn't going anywhere; this trend is bound to grow in 2020 and your brand can easily join in on the fun.
Platform updates to utilize
Social platforms change almost weekly with updates. It can seem overwhelming to master each new feature, but with Instagram users producing more authentic content, that makes things a little less intimidating.
GIF reacts to stories are a new feature to test when communicating with other pages. If you want Instagram to show your stories to other users, make sure to interact with them yourself! In addition to responding to stories with the six original emoji options, you can now search GIFs to react with. Personalized content always makes a difference!
A list of story mentions now helps brands manage accounts that have mentioned their page, lasting 24 hours (as long as the story); this new feature is housed at the top of the Activity tab and is helpful for listening to your audience and keeping them engaged.
Age limits for accounts is a helpful new feature for Instagram pages that sell products like alcohol or vape products. Since it's new, it's hard to say if Instagram will still have certain content restrictions even if a page has age limited, but it's going to be fun to find out!
New inbox organization helps organize inbox messages by "Primary" or "General" distinguishers to sort user messages by importance or priority. When your page gets a lot of messages, this can be a useful tool to stay on track and respond in a timely fashion.
Optimizing paid ads and boosted posts
Whether you're just starting to tinker on Instagram or a seasoned content curator, having a paid strategy is essential to your content being seen by your target audience and to growing your following. Since Instagram's purchase by Facebook in 2012, Instagram adopted Facebook's newsfeed style switching from chronological order to rewarding posts that get the most engagement, regardless of when they were posted.
So with the immense competition for space in user's newsfeeds, how can we guarantee that our content will be seen? The answer: a paid social media strategy and budget.
Statistics show that 83 percent of Instagram users discover new products and services on the platform, so it's important to make sure your content is being shown to (and seen by) your audience.
Not only has Instagram adopted Facebook's newsfeed approach, but they also use Facebook's sophisticated advertising platform and first-party data to guarantee your content will reach your exact audience.
Targeting capabilities include, but are not limited to: location, age, gender, language, interest, demographic, financial, industry, behavior, retargeting, CRM lists, and more.
Having the ability to boost your organic content on your profile to your audience will help grow your engagement and following, and additionally reach users and potential customers where they're already consuming media on a daily basis.
Social media marketing on any platform can be a lot to digest. If you're looking for a comprehensive social strategy to elevate your Instagram marketing, contact us today to figure out what's going to work best for you.