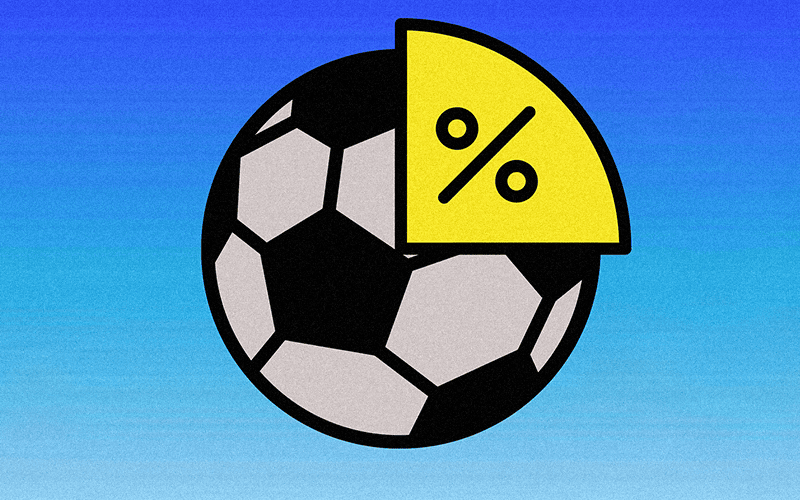 Soccer has had a pretty momentous summer. Between the Women's World Cup drawing record attendance and superstar Lionel Messi lighting up American soccer in his first month with MLS's Inter Miami, the game has been a frequent topic in the news cycle, reaching beyond traditional fans and earning more exposure in mainstream media.
Clearly, we as Americans would have loved to see the U.S. Women's National Team win an unprecedented fourth straight World Cup title instead of missing the event's semifinals for the first time ever. And clearly, the early exit meant the team missed some key marketing opportunities.
But with the Summer Olympics happening in Paris next year, the FIFA World Cup coming to the U.S., Canada, and Mexico in 2026, and Messi saying he thinks MLS can compete with top European leagues soon, soccer is clearly on the rise in America.
So we tapped our partners at FC Buffalo (owner Nick Mendola, who also follows soccer as a writer for NBC) and United Soccer League CMO (and longtime soccer journalist and content creator) Greg Lalas to get their take on the sport and its value as a marketing opportunity. Please click here to view the entire conversation, which covered a wide range of soccer topics, including great info on USL's Super League, the top-division women's pro league set to launch in August 2024. Below is an edited, marketing-focused version of the discussion:
With Lionel Messi recently joining Major League Soccer's Inter Miami CF, how would you describe the state of soccer today in the U.S.?
Nick Mendola: I've often referred to American soccer as the Green Day of sports. They blew up and some people thought they sold out, but now with what USL and MLS have done in the last 25 years, it's absolutely insane how quickly soccer has grown in this country. It's full credit to the teams, fans, and people behind the scenes in our country. Where we are is amazing.
Greg Lalas: That music analogy is really, really good. Ten-fifteen years ago, I used to say we are alternative rock in the late '80s. Nirvana's Nevermind hasn't dropped yet. "Smells Like Teen Spirit" hasn't hit MTV. Now it's 2023 and Messi just came to MLS, so it feels like "Smells Like Teen Spirit" just dropped.
For a long time and because of the digital space that has existed – people could build communities on digital platforms for many, many years – now it has started to grow. A kid growing up in the suburbs of Detroit had no idea who Soundgarden was in 1988, but they were selling out shows for people in the know. But then in '91, [Nirvana's] "Smells like Teen Spirit" hits and the rest is history. That's kind of where we are right now.
What is your take on this summer's Women's World Cup?
NM: (Twenty-three-year-old) Sophia Smith was widely featured, but this was supposed to be a changing of the guard for marketing the U.S. Team. Alex Morgan is 34 and Megan Rapinoe is 38, so this was supposed to be the breakout year for younger stars, so it does feel like a massively missed opportunity.
We have an Olympics next summer so USSF will have another chance to reframe how they market the team. This is an interesting question: what do you do when you don't really know the identity of your team?
GL: We saw more marketing about this team and about this tournament than we've ever seen. The time [difference] hurt from a TV standpoint, but we still saw big ratings, which was really cool.
The United States has been the vanguard of women's soccer globally – whether that is from winning four World cups to the college system being so far ahead of everywhere else in the world in terms of development – but now we've lost that leading edge point. So how do we get that back? We have to make sure the momentum everywhere else doesn't pass us by.
How important is star power in sports marketing?
GL: Obviously, star power is important. At the USL, our clubs don't have players who are going to resonate. We need to think about it in two ways: first, the club is the star. If you can get someone to believe in the club, enjoy the experience at the stadium, and believe that their club represents who they are all about or that they appreciate what the club is all about, that's the first star at our level.
[Second], how do you build a star who is going to resonate with that local community? Do [the players] believe what San Antonio or Detroit City is all about and will they buy into it and want to grow it? Then, the fan community that has built an incredible culture around it recognizes in that player someone who is one of them and who will fight for them. Once that happens, you can bill them as a star. Then they understand he's not just a good player on the field but a good person in the community.
How do you pitch sponsors on the value of the sport?
GL: To steal a line from Men in Blazers, it's the sport of the future since 1972. But we're seeing that the future is now reality. We have built a soccer nation. We have millions of fans who are soccer fans in this country. They're the type of fans that marketers love: they're young, they're digitally savvy, they're about community, they're inclusive and multicultural. There was a report from For Soccer that came out recently that said 77% of Gen Z fans said soccer was in their top three sports and 42% said soccer was their top sport.
The USL provides a really interesting platform to be in soccer. It's about connecting with local communities that are incredibly passionate about what that community is, what it stands for, and how the club represents them.
NM: What I've noticed is these clubs are the biggest teams in their market. They are incredibly powerful in their market. I can go to a sponsor and tell you we've got this many rabid fans, and because we're the upstart club in town, they are going to support you because you're supporting us. They are going to think about, "Do I need plumbing, because Jimmy's Plumbing sponsors this team and I want to show them I support them." You're part of this growth, this very organic thing.
GL: That idea is that this club is the centerpiece of soccer in their community and really represents who they are. The culture that Americans have watched around the world is that "This is ours," and they're proud to be representing our city.
What is the best way for a brand to get involved with soccer?
NM: Get on a shirt. You're a walking billboard around town. The visibility of what soccer gives you is something the NHL, NBA are trying to get into. They're fighting tradition, but soccer is right there for you.
GL: If you want to get involved, understand what the supporters want. Understand the market of who they are and what their needs are. Do the research to understand what the soccer fan is all about.
Content is another thing. The storytelling around our game is really, really relevant. Not everyone has a Ryan Reynolds to tap into, but there are really great stories out there. In terms of soccer specifically, the data will tell you many, many soccer fans are players. How do you get into that realm of it? Are you supporting a youth club that has 15,000 kids in it? Are you supporting a pickup soccer series all summer long because we know fans like to play? That's what makes soccer different from baseball or football.
NM: Supporting the supporter is such a big thing. Taking into account knowing what's going to come with the territory, because this means so much to me; are you going to set up a tent for activation or focus on the social/content side to say, "We care about this, and here's why?" I want our sponsors to be the star after our players. I want them to feel like they're a part of what we're building. It can be difficult to do but if you have the cooperation of the marketer, they can become a star.
What is your advice for brands considering getting involved in soccer ahead of the 2026 FIFA World Cup?
GL: Start planning now. What Ally Bank is doing for women's soccer across the board has transformed Ally in the eyes of so many women's sports fans. Get into the ecosystem now so you can build that brand equity with the fans who will sing your praises. Like Nick said, if you're helping the culture and growing the game as opposed to just writing a check, the community will love you and they will buy your products. And then they will tell others to buy your products, which is where the World Cup comes in because others come into the tent around the World Cup.
Also, have a plan for what comes after the World Cup. How are you going to take this rocket fuel and really pump it into the cylinder to take your brand to the next level with these people who have just come on board the soccer train?
NM: Can you take ads out during local broadcasts of MLS and Champion's League games? Also, look at the opportunities at the youth level. If I can tell you that I'm going to put you on our jersey but we're also going to run a camp, you can affect an entire region for minimal money. There's great value in the lower level. Can your roots go down into the community? This sponsor makes computers and I need a computer, but I see that they're giving computers to people who can't afford them. That means a lot. It shows your soul. Soccer is one of those sports that allows you as a business to put your soul out there.
GL: It almost demands it. American soccer culture demands that you bring some soul to the party.
What is soccer's biggest investment need?
NM: USL and MLS have made their top teams very affordable, if not free to be a part of. So, invest in the community so it's a little cheaper. If you have a club with 500 kids in it and you put your logo all over them, you're also subsidizing costs and you're telling the community, "Hey, we wanted to make this more affordable." If I want to have the best coaches in the area, I need the money to pay coaches. Right now, if I don't have a good corporate structure and fans coming to the games, that money is coming from families and you're not necessarily getting the most talented families into the organization. We need to make the entryway to our sport at the highest level easier to find, and I don't know if that's being found on a regular basis.
GL: We need more people tuning in on TV for domestic club soccer. The more people watch, the bigger the TV contracts and the bigger the sponsorships that come after that, and that will allow for more money to be put down into the player development side that will improve the amount of talent that gets pushed through.
We clearly have a passion for soccer here at The Martin Group. Check out more of our sports experience here, and feel free to reach out below 👇