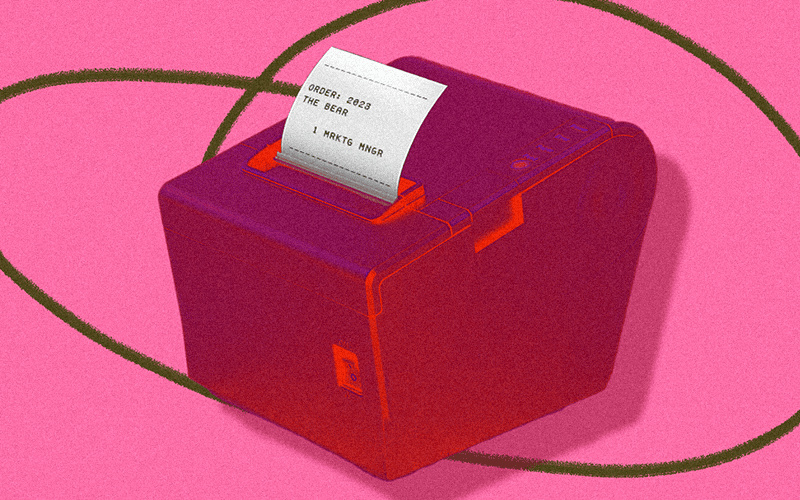 Disclaimer: This article contains spoilers.  
This year, America's new favorite actor—Jeremy Allen White, who rose to fame with a lead role in Shameless—returned to the screen for the second season of FX's The Bear as Carmy Berzatto, a Chicago native who took his Windy City grit worldwide to become a classically trained chef in the international foodie bastions of Paris and New York. Newly returned to his hometown, Carmy works to take over his family's failing restaurant, all while honoring the legacy of his charming yet troubled late brother.
In post-pandemic Chicago, Carmy endures the effects that so many in the Food & Beverage industry have come to know: not enough workers and a lack of patrons, many of whom opt to stay home thanks to the negative financial impact that the pandemic had on most – if not all of us.
While The Bear ultimately ends with a (SPOILER ALERT) successful restaurant opening, the hit show unintentionally posed a very important question: Is the industry doing enough to speak to its audiences beyond just serving great food or drinks?
At The Martin Group, we think Carmy's restaurant would have benefitted from at least one marketing manager who could create a strategy to reach the masses at little cost. After much consternation from our digital team – as well as a few daydreams of someone delivering us creative servings of a deep-dish pizza from Pequod's – here are a few ways Carmy and his crew could successfully serve up a digital marketing effort alongside his aspiring Michelin star cuisine.
Influencers
The modern influencer has replaced what used to be a brand's official spokesperson. The Bear could have engaged with a few and given them a dream foodie experience for trade. The trade being, Carmy will serve a high-caliber meal with tableside service and drinks for free, in exchange for social content touting the food, restaurant, and the overall vibes of the space. While the cost may require a bit of planning and the overhead of a night's menu, the return would be reaching at least a few thousand followers who are loyal to the influencer, and willing to take their word at face value.
With more than 64 million influencer accounts on Instagram, Carmy easily could have found a Chicago personality with a decent following, and who would be more than willing to check out his new digs without requiring any monetary exchange – especially if this person is just getting off the ground in the micro-influencer sphere with less than 10,000 followers. Let's say Carmy's pick has 7,500 followers and half of those followers share the post to each of their followers. Right off the bat, Carmy just reached exponential audience numbers, all while doing what he would have been doing anyway – preparing dishes and testing them out.
Consistent Content
As we saw in the show, Carmy had his hands full completely transforming the restaurant space, hiring staff, and preparing a Michelin-worthy menu – all in 12 weeks. Among the chaos, some of his stress could have been marginally alleviated had he taken a moment to hire someone (or beg someone on his team) to start creating buzz around the restaurant for him. A consistent social strategy could have done him some good. With so much low-hanging fruit as far as content ideas go, anyone with a moderate understanding of social media could have taken the reins.
Here at The Martin Group, we like to follow some basic structures for easy content for our own Food & Beverage clients. By rotating just these three topics, Carmy may have been able to create additional buzz that he never anticipated:
Introductions – It's not a secret that video content outperforms static content by tenfold. Take videos of your team members introducing themselves, saying hello to the audience, and naming one fun fact about their life. While it may seem simple, and maybe even silly, it helps to create a relationship with customers that will keep them coming back. Additionally, posting simple facts about the restaurant can keep your social presence grounded and keep audiences informed. Posting basic stories with your hours that day, a video of your team prepping your product or meal, or even a daily joke from Cousin Richie could keep followers engaged and keep the restaurant top of mind.  
Recipe Videos – This may seem obvious. Food & Beverage entities showing off their product isn't groundbreaking. But, while it may be simple, showing how specific dishes are made or how various products can be used in creative ways can make something unattainable seem slightly more approachable for the average consumer. In Carmy's case, showing how he or Sydney makes a dish might create an I-need-to-have-that-now attitude for his following. For larger food corporations, these recipe videos plant a reason for why a customer would buy the product, and then encourage them to go pick it up. This how-to video making guide is a great place to start for your next delectable creation.  
VIBES – In the new age of social media, good vibes are critical. In other words, is your ambience bringing people in? If you're not highlighting your space, now is the time to start. Social audiences care about how they're going to feel when they show up to your restaurant, grocery store, or bar. Make them feel like your spot is the place they want to be by showing off the space. Video content of the empty space for décor highlights, or a shot of a crowded room might create the feeling that your place has an attractive atmosphere. Had Carmy's team spent some time outside of the kitchen to ensure the energy of the space was right – and being properly highlighted as such on social – we'd be willing to bet that he would have had his books filled for months by curious foodies looking for a good experience.  
But even with these simple suggestions, our team understands that the most mundane of digital strategies still take time and resources many don't have. The Bear highlighted these frustrations through Carmy's meltdowns, staff explosions, and high-stress energy only those who have worked in the Food & Beverage industry could understand.
However, by deputizing any member of his team (Natalie? Marcus?) to implement any one of these suggestions, Carmy may have been able to save himself at least one headache associated with his restaurant's ongoing viability – and earn himself a rare and well-earned smile.
Curious about expanding your digital marketing presence? Contact us here, and see how The Martin Group can help your business or organization.