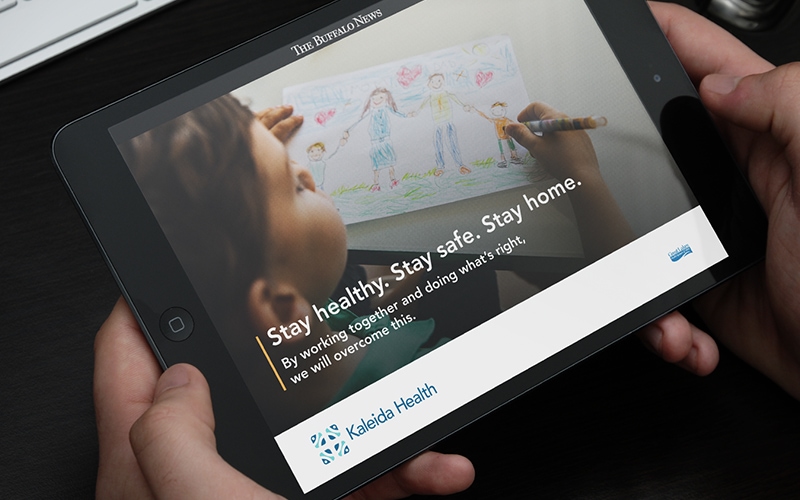 As we all know, the ongoing COVID-19 situation is fundamentally disrupting virtually every facet of our lives – and brand communications is no exception. And for organizations of all sizes, across virtually all sectors, the lynchpin of navigating this unprecedented situation has been effective internal and external communications.
At The Martin Group, we've been busy helping clients recalibrate their communications activities in response to the situation. Our crisis communications team has been working around the clock to help craft and disseminate key messaging to help clients communicate critical updates and notifications pertaining to their operations, from site closures and staff reductions to incidences of possible coronavirus exposure to, in some cases, the full halting of operations. But even for clients experiencing lower levels of operational disruption, the need to adjust marketing communications is no less urgent. In these cases, our social media team has been proactively guiding clients on the dos and don'ts for communicating on social during the pandemic, urging brands to more tightly regulate their tone of voice, while adjusting their content strategies to the reality that consumers and other audience segments are spending more time at home than ever before.
Here are some specific examples of how we've been helping clients communicate during this ongoing situation.
Critical communications from organizations on the front lines
For many clients within our healthcare vertical, communicating vital information in a timely manner can be lifesaving. In many cases, these institutions are also the leading voices in our community advocating for safe and healthy behavioral changes at an individual level.
We helped Kaleida Health, for example, rapidly revamp the creative and messaging of their existing media buys to amplify a critical "stay home" message to the community, urging Western New Yorkers to help flatten the curve by practicing social distancing. Within 24 hours of deciding to adjust the messaging, our creative and media teams hustled to produce new assets across a variety of different media, including outdoor, print, digital display, bus wraps, and more.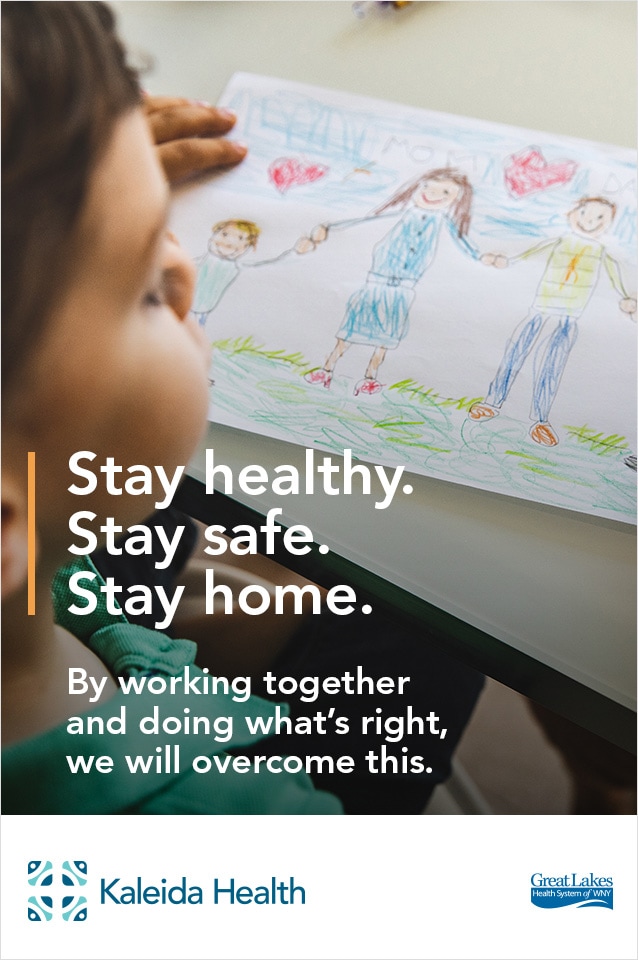 We worked with Samaritan Health to communicate similar messaging to the Watertown, NY community, developing two sets of creative – the first being strictly information about COVID-19 resources, and then a second, softer message urging residents to stay home and stay safe, all while linking back to the informational content via a landing page the client created and The Martin Group helped optimize.
Website updates were also the focus of our work to support Buffalo Medical Group, which created a landing page to update patients on new protocols designed to keep everyone safe, including information on virtual care options and clear instructions on what to do if one is experiencing COVID-19 symptoms. We also helped create and publish similar website updates for ECMC, creating a new page on their website for all COVID-related resources while keeping the site's News section up to date with press releases and other critical updates from the organization.
But for other health care and human services organizations, the COVID-19 pandemic is altering communications in less obvious ways, too. For example, April is National Child Abuse Prevention Month, and this year's observance takes on new, heightened significance, as we will likely see an unfortunate spike in child abuse cases as a consequence of the increased time spent indoors. This is a major concern of BestSelf Behavioral Health, whose Child Advocacy Center offers safety, support, and a healing place for children and families affected by trauma and abuse in Erie County. Our Public Relations team worked with BestSelf to create awareness of this issue throughout the community via earned media, securing both an editorial and Another Voice column in the April 3 edition of The Buffalo News.
For "nonessential" brands, pivoting and staying relevant
The impact coronavirus has on brand communications extends far beyond just the health care sector. Brands across virtually all industries are switching gears in the way they communicate with audiences, whether to educate stakeholders on important operational changes, or even just to maintain relevance and mindshare.
For MassMutual's The Establishment, a first-of-its-kind initiative designed to help young professionals think about long-term wealth management by engaging them through educational classes, the inability to host physical, in-person classes has forced the organization to fundamentally alter its primary method for engaging audiences and attracting new clients. Responding and adjusting quickly to the new norms of social distancing, the organization has temporarily converted its in-person classes to a virtual format. In turn, The Martin Group updated their websites to allow for Zoom conference calls in place of in-person classes, and also created content for social media to help promote the new approach to classes.
Another initiative that's been disrupted by social distancing is Project Play Western New York and Project Play Southeast Michigan – a collaboration between the Ralph C. Wilson, Jr. Foundation, Aspen Institute, Community Foundation for Greater Buffalo and Community Foundation for Southeast Michigan – which promotes children living healthy and active lifestyles through youth sports. Because of both federal and state mandates surrounding social distancing in response to COVID-19, Project Play recognizes our youth are going to be staying at home more often and for a significant amount of time. We've helped both regions share fun and free "home play" activity cards, encouraging youth to stay active while at home across their digital channels: social media, web, and email marketing. These activities can be found at www.projectplaywny.org and www.projectplaysemi.org.
Other brands have been spared similar disruption, but have nevertheless needed to pivot their messaging and communications to adapt to these extraordinary times. We've helped Galbani, Italy's #1 cheese brand, make the most of the situation by shifting their social media content strategy to focus on cheese-related crafts for families, as well as unique recipe twists (using nimble at-home photoshoots) to help people mix up their meals at home.
LiDestri Food and Drink's Recipe 21 line of spirits is another brand whose social media tone and content strategy we've helped to pivot, focusing on at-home, funny content with bottles featuring "21 days of drinking at home"; "Virtual" dates and happy hours; trending topics like Tiger King; and educating social distancers on liquor store delivery options.
We also helped Orville's Home Appliances execute a short-term media buy, utilizing broadcast and streaming audio, to promote their online sales and delivery in anticipation of increased appliance usage leading to breakdowns and the need for new purchases. Our recommendation was to use broadcast stations that also stream their content through online platforms, as well as streaming audio since listenership to terrestrial radio is no doubt diminished with far fewer cars on the road.