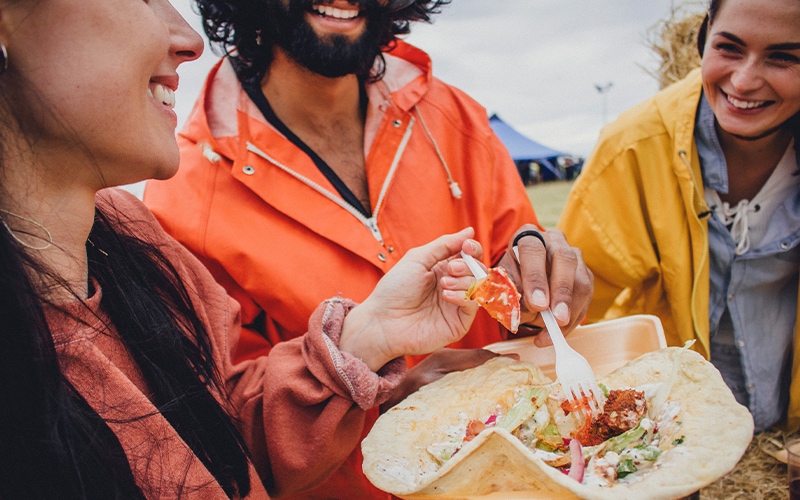 On Thursday, May 2, The Martin Group had the pleasure of attending Niagara University's Food Marketing Center Of Excellence (FMCOE) 2019 Innovation Summit, a half-day conference in which heavy hitters from the food industry offered their unique insights around this year's topic: "Loyalty That Lasts: Creating Personalized Customer Experiences for Loyalty in the Digital Age."
Before recapping the key takeaways from the summit, a bit about the FMCOE: from NU's College of Business Marketing, the program is a unique collaboration between the university, its students, and local food and consumer packaged goods (CPG) industry leaders that provides students with tremendous educational and career opportunities, and industry executives with access to the next generation of food and CPG marketing leaders. The program is supported in many ways by some of the world's leading industry companies—many headquartered in Western New York and Southern Ontario, and in close proximity to NU—including Perry's Ice Cream, Wegmans, Tops, Rich Products, Rosina, and others.
The makeup and approach of the program is mutually beneficial to NU students and industry leaders alike. Students are empowered to thrive in a variety of food marketing roles through education and internship opportunities, while the industry benefits from an expanding pool of graduates who enter the labor force with a unique set of skills and knowledge in areas such as brand management, social media, category management, marketing research, marketing agencies, and sales.
The Innovation Summit represents an annual culmination of this unique collaboration, and this year's event did not disappoint.
The first presentation was from Jack Li, a Haiku Master (is that not the coolest title ever?) with DATASSENTIAL, a leading food & beverage insights agency where Jack has pioneered the use of menu data to predict flavor trends. Jack's presentation, entitled "Let's Get Personal," offered conferencegoers a data-driven look at the new personalization paradigm and its implications across the dimensions of personal health, personal tastes, and personal values.
Jack's presentation focused on three key trends – personalization, convergence, and migration—and how they're driving innovation throughout the food industry, from restaurants to retail.
Personalization: Not to be confused with customization, personalization is about leveraging the emergent sphere of individualized health (think home DNA kits) to create personalized nutrition choices tailored to each individual's unique genetics, health and fitness goals, etc.


Convergence: A number of different convergence points are shaping the industry, but one in particular focuses on functionality—namely, the intersection of functional food and functional health and beauty. "Functional" foods like bee pollen, turmeric, quinoa, and other "superfoods" geared toward optimizing performance and nutrition can today be found not just in food and beverage products but, increasingly, in health and beauty products as well.


Migration: The boom in migration of new ethnic populations is changing how we (Americans, that is) think about food, and introducing an unprecedented variety of new concepts, flavors, and ingredients into New American fare.
Another great industry heuristic that Jack shared was what he called the "4-stage cycle" along which new industry trends tend to advance:
Stage 1: Inception – Initial introduction into the marketplace, which almost always begins at newer, niche restaurants.

Stage 2: Adoption – With growing popularity, the trend next advances into specialty grocery stores and food trucks, though remains fairly niche.

Stage 3: Proliferation – When the trend can be found in larger grocers and chain restaurants, it's officially graduated from niche to mainstream.

Stage 4: Ubiquity – When a trend has reached maximum saturation, and has essentially run its course.
So how do these new trends evolve beyond the first stage? According to Li, new food trends are increasingly breaking through as early-stage ingredients accompanying ubiquitous items with which consumers are more comfortable, like fries, burgers, etc. This process of "safe experimentation" is what Jack refers to as "Fusebiquity," or "ubiquity with a dash of inception."
Next up was Jason Smith, a Managing Director with USA Shopper Intelligence, which runs the largest syndicated shopper survey in the world to benchmark retailers, departments, categories, brands, and segments across dozens of different shopper metrics.
Jason's talk focused on "Shopper Led Decision Making," in which he made the important distinction between the "consumer" (the imaginary purchasing persona that drives strategy for most manufacturers) and the "shopper," maintaining that understanding how and why shoppers make decisions is more important than ever as the retail landscape continues to navigate today's unprecedented level of disruption.
He also listed some of the key challenges for CPG manufacturers wanting to do shopper research:

Cost: custom research on shoppers is expensive

Narrow focus: lacks context to rest of store
Typically centered around large retailers

No standardization: each research partner brings a different methodology
Strong push for near-term ROI can limit long-term success
Research tends to get stuck in corporate and doesn't always get leveraged by field teams
Last but not least in the individual presentations was Neil Stern, a senior partner with McMillanDoolittle, where he's developed and implemented retail strategies for an impressive bevy of clients, including Harris Teeter, CVS, McDonald's, and Publix.

Stern's presentation, entitled "How to Maintain Relevancy and Positioning for Growth in a Changing Retail Landscape," focused on how rapid changes to the retail landscape are leading to an explosion of new formats, as alternative channels continue to grab market share from traditional grocers.
Stern noted that the disruption of traditional retail is being driven by three separate, but interrelated trends: demographic, technological, and societal. He also noted that growth in food retail is clustering around the following emerging formats:
Fresh
Limited assortment
Dollar format
Ecommerce (though, somewhat surprisingly, just 2% of food retail sales are online)
Stern noted that retail is essentially moving to the extremes: extreme value, extreme convenience, and extreme experiences. He then offered some interesting examples—both stateside and abroad—for each. My personal favorite was Don Quixote in Japan—a store that breaks all the rules around organization and avoiding clutter, creating a unique shopping experience that's akin to a treasure hunt.
Following the individual presentations, the summit shifted to an executive panel discussion that included the following retail leaders:
Frank Curci – Chief Executive Officer and Chairman, Tops Markets
Mike DeCory – Vice President of Grocery, Dairy, Frozen, Wegmans Food Markets
Jim Dorey – President, Price Rite Marketplace
Ian Prisuta – Chief Strategy Officer, Giant Eagle, Inc.
Kurt Schertle – Chief Operating Officer, Weis Markets
The panel included a wide-ranging discussion around in-store strategy. One of the more interesting topics was around "center store," which has historically served as the key sales and profit driver at grocery retailers, but is now being disrupted by shoppers' evolving preferences toward perishables, bakery items, ready-made foods, etc. This is causing retailers to undergo more center-store "resets" than ever before as they continue to find the right sweet spot for today's shoppers.
Despite the diversity of speakers and subjects included in the Innovation Summit, the common motif throughout was disruption. We are all living through unprecedented changes, and probably don't appreciate the extent these changes are affecting the way we shop for and consume food. But while this disruption presents myriad challenges, it also entails a number of exciting opportunities—both for the industry and those young professionals looking to penetrate it.