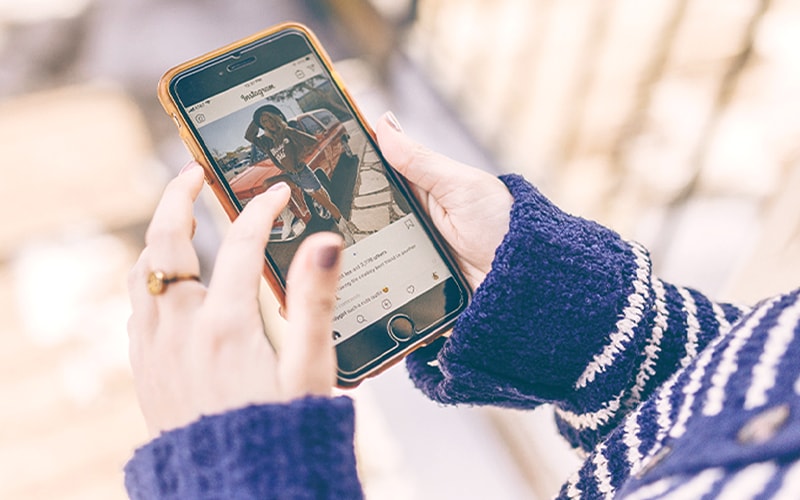 As we move into the new decade, the digital landscape continues to evolve to meet the needs of consumers. It's up to marketers to be innovative and reach people on the channels they're using, and to engage with them in the way they prefer.
Lead generation and traffic are still top-of-mind for marketers, which means the importance of understanding the digital realm cannot be overstated. Here are some of the top advertising trends as we head into 2020.
Shoppable posts for social media
With more than 500 million users on Instagram every day and 74 percent of them having made a purchase on the app, that's a massive audience of engaged users for brands to tap into. While it's no secret that social media is a necessary channel for brands and businesses alike, creating shoppable posts helps users along the buying process.
Social platforms like Facebook and Instagram offer e-commerce features that allow users to buy products without ever leaving the app. We saw strong results for our clients using this functionality in 2019, and think it will only get more effective in 2020.
Still, you'll want a consistent, authentic social presence with an engaged audience before you try to sell your entire product line via Instagram posts. Strategy and execution on social media are an essential foundation if you expect to sell products using shoppable posts.
Native ads
Blending into the media format where they appear, native ads create the look and feel of content by showing up as recommended posts, articles, or blogs. Native ads are designed to integrate into social newsfeeds or websites to avoid being intrusive like a banner ad or pop-up.
Native advertising was the fastest-growing advertising segment, with 35 percent growth between 2017 and 2018. With users wanting control over the content and ads they consume, it's no surprise that the lowkey style of native ads has grown so much and continues to make a stand moving into the new year.
This type of branded content is shaping many brands' communications strategy heading into 2020, as more and more marketers are thinking about adding value, educating, and entertaining their audiences first before pushing sales messages down their throats.
Mobile
If you've doubted the need for mobile-friendly content and ads, now is the time to change your point of view. Consumers spend over five hours a day on their smartphones. That's a lot of quality time to reach and connect with audiences who are ready to engage.
Not only is thinking of mobile for your content necessary, but you should also be thinking of it for every channel and placement. Almost every report on email open rates concludes that mobile is responsible for at least 50 percent of all opens. When planning strategically in 2020, how your content displays and interacts on mobile should be a vital part of the discussion.
Video Content
The popularity of video marketing isn't a new trend, but it's surely not going anywhere. A trend that has quickly become an industry standard is the length of videos. Short videos or bumper ads are frequently used to draw users in quickly and effectively. For example, brands on YouTube often use bumper ads to raise brand awareness in a very creative, six-second time frame.
When more than 50 percent of consumers prefer video content over blogs, social, and emails, video content should be a huge piece of your 2020 content strategy puzzle. It's always important to remember the medium as well; short teaser videos on social media can point people to longer content on your website or YouTube.
Micro-Influencers
Influencers aren't new, and they're at the top of the social media food chain when it comes to marketing. Nowadays, instead of competing with top-tier influencers who have hundreds of thousands of followers on social media, businesses are linking up with "micro-influencers" with more narrow audiences and oftentimes more authenticity.
Influencers with smaller audiences are more affordable to recruit, even accepting product as payment depending on the brand or industry. The ease of working with smaller influencers who have niche audiences that want to hear about their partnerships has become a huge trend that will continue into 2020.
In fact, categorized as accounts with around 30,000 followers, micro-influencers had 60 percent higher engagement than influencers with more followers who have gotten so big that a lot of them have undercut their relatability. If your brand is an appropriate fit for an influencer campaign, it's a trend you'll want to consider.
One thing to be aware of, though, is that with Instagram testing the removal of public likes from their newsfeed, brands need to be extra careful when analyzing influencers' analytics. It's always best (for both parties) to establish relationships with influencers and build long-term partnerships.
Voice Search
Who wants to type when you can ask something out loud? Whether it's on a smartphone or smart home device, people are searching the web with the sound of their voice. What does that mean for marketers? There will be an estimated 21.4 million smart speakers in the U.S. by 2020. That's a lot of voice answers your brand has the potential to be involved in. Depending on your target audience, you may want to include voice search in your strategy for 2020.
It's not necessarily just about getting your audience to find your brand using voice search, but how your brand is reflected within voice answers. About 30% of all searches will be done without a screen by 2020, so implementing voice search into your search engine optimization strategy should not be overlooked.
Interactive Content/AR
There's a lot of content coming at consumers from every angle. To cut through the masses, marketers are looking to interactive content to reach consumers in a new way. Marketers must provide new experiences to consumers that make them want to stay on a page longer and interact with a brand or business.
How is this accomplished? Aside from producing content that is shareable and exciting, brands can go the extra mile with augmented reality (AR). Not to be confused with virtual reality (VR), AR involves overlaying computer-generated information onto existing real-world views.
Augmented reality is about as interactive as content can get, with businesses such as garage door companies providing computer-generated imaging to show what your own garage will look like with a whole catalog of garage door styles to see and choose from. This year, 68.7 million people in the U.S. will use AR at least once a month—that's a huge opportunity for brands to engage their audiences in an extremely creative way.
An impactful marketing strategy can require a different brand of thinking. For a comprehensive look at your marketing goals and the trends that can elevate them in 2020, contact the experts at The Martin Group.