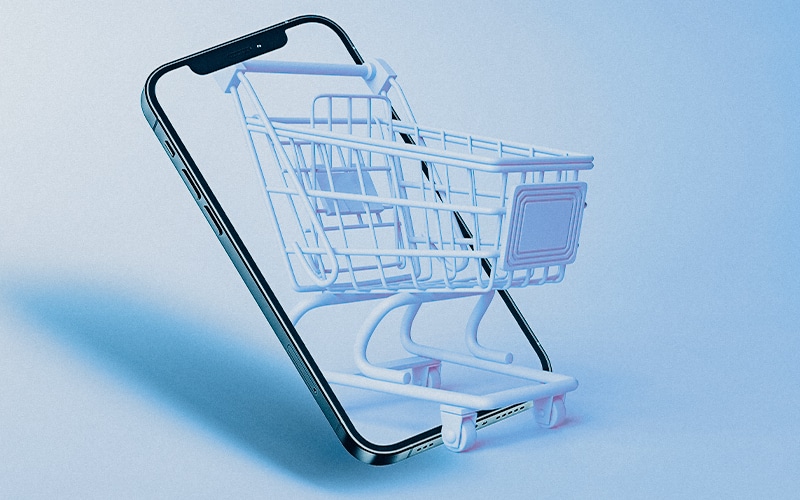 This past year of change and uncertainty from the pandemic has made everyone more aware to the habits we create, particularly something as impactful and regular as shopping for food.
It's no secret that food suppliers have faced a number of shortages since the onset of the pandemic, leaving little to no stock of popular items in many grocery stores. As a result, consumers have taken to purchasing their favorite and necessary items in bulk to ensure they're stocked up for weeks or months on end. This method allows for less frequent trips to the store, less unnecessary contact, and more opportunity to dodge price increases and purchase larger proportions at the same cost.
With less draw to crowded spaces, more than a third of consumers have shown they're less likely to shop in person. That's not to say that in-store shopping is the only way to go. A significant percentage (72%) of consumers are now shopping online at a higher frequency than before the pandemic. Of that, 44% never shopped online prior to the pandemic, creating a relatively new and rapidly expanding industry.
As a result of less foot traffic in stores, smaller and less familiar brands have to find ways to grab the attention of consumers when they are shopping in-store. One way to get your brand name out is by geotargeting consumers while in grocery stores, which involves flashing offers and discount codes to shoppers based on their location.
Consumers are finding that there are more efficient and socially distant ways of obtaining their groceries. This includes services such as Instacart, Hello Fresh, FreshDirect and more that allow consumers to order groceries from participating retailers with the shopping being done by a personal shopper. While not that surprising, Gen Y and Gen Z are two to three times more likely to shop online as opposed to Boomers.
This creates more digital, social and email advertising opportunities to reach consumers while they are shopping online, and delivers a blow to the value of point-of-purchase marketing that has in the past proven extremely valuable to brands looking to capture shoppers on-site.
In a trend that has impacted a number of industries, this also has given a boost to the host of food brands who are now selling direct-to-consumer through e-commerce. Food brands that had e-commerce strategies before the pandemic have benefited greatly, and those who didn't have had to scramble to adapt. It's crucial that if you are focusing on selling online to your consumers that you have a smart, integrated strategy across email, digital and social, and an optimized presence to capture sales when leads to come to your website.
The pandemic has also had a reverse effect on the way consumers shop and consume packaged meals, specifically the Millennial generation and under. Prepared foods have always generally done well, and despite the lull of sales throughout the past year due to many people working and schooling from home with less need to purchase pre-ready meals, 72% of consumers have begun purchasing ready-to-go meals at pre-covid levels or higher as of Summer 2021.
Similar to prepared foods, supermarket lunchtime food bars have taken a hard hit over the past year; the only difference is their comeback has not been as strong. A whopping 30% of avid lunch bar goers have not returned to purchasing from hot/cold bars, in part due to an overarching trend of changes in daily routine. Economic factors, like consumers looking to decrease spending while working from home, have also had a heavy influence. Health and safety concerns and poor selection are also contributing to the decrease in food bar consumption.
The slow but steady trend in flavor profile shifts has also contributed to changing consumer habits. More local and high-quality products, such as plant-based and organic foods, are in demand. The idea of food personalization is gaining more attraction with the younger generations; this is a means to match food and flavors to certain occasions or get more specific in profiling, beyond just the standard basics. In order to keep up, grocery stores – aside from natural food stores like Whole Foods – will need to adjust accordingly.
This means more timely advertising around opportunities like trends, holidays and special events, as well as more granular audience segmentation to ensure your customers are getting content (emails, social advertisements, direct mail) that is customized to their consumption and purchasing preferences. TikTok has been a huge driver of food trends over the last year, so that is a good platform to keep an eye on for potential sales opportunities (from brand cameos like Ocean Spray to hot recipes like cloud bread, birria tacos, and pesto eggs. (Just remember, those trends are fleeting, so act quickly if you want to send an email or launch a social ad trying to capitalize.)
We also know that with more consumers paying attention to the nutritional value and sourcing of their foods that education has never been more important. People want to know where their food comes from, how it's produced, and the nutrients it contains. So food brands need to make sure they're adding more depth into their messaging strategies and communicating more about their products than they ever have before.
As these trends continue to ebb and flow, the question turns to whether or not we will see pre-Covid grocery shopping habits return to pace, or if new trends will emerge.
*All percentages are based off of a study conducted by Affinity Group across 461 frequent grocery shoppers in the North East region in June 2021.