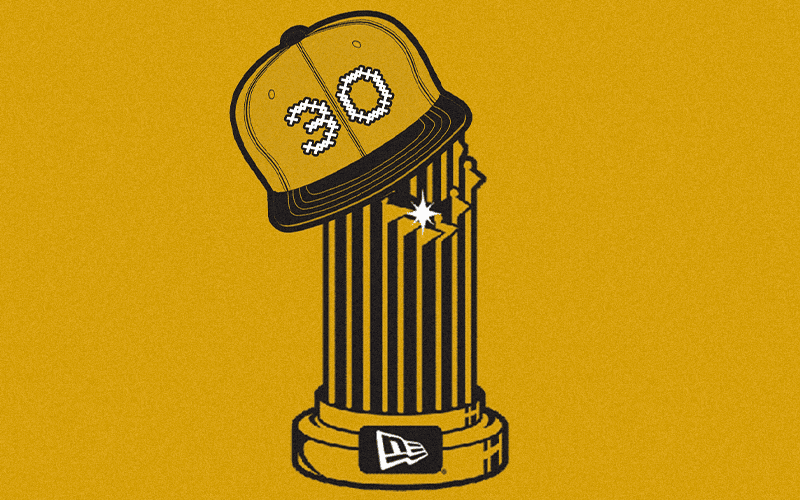 1993 featured a series of firsts in the world of Major League Baseball.
The Colorado Rockies and Florida Marlins (now Miami Marlins) played their first pro games. Chicago Cubs reliever Randy Myers became the first left-handed pitcher to save 53 games in a season. And Cleveland infielder Carlos Baerga became the first player to hit a home run from both sides of the plate in the same inning.
That same season, Buffalo's New Era began its first year as the official supplier of on-field caps across MLB. Three decades later, the company has been there for plenty more firsts, as well as a generation's worth of World Series memories. This year, the company celebrates its 30th season outfitting the stars of October baseball, and time will tell if the latest Fall Classic will add another New Era-clad highlight to join a recent history that's full of them.
This month, The Martin Group staff has selected some of our favorite World Series moments featuring our favorite cap company. Here they are:
Joe Carter walks it off
1993 World Series, Game 6 – Toronto Blue Jays vs. Philadelphia Phillies
Since the inaugural World Series in 1903, there's only been two walk-off home runs to win the title: Bill Mazeroski's Game 7 shot to carry the Pittsburgh Pirates over the New York Yankees in 1960, and Joe Carter's climactic finisher to carry the Jays over the Phillies in 1993. The latter featured lots of New Era caps, tossed amid a wild celebration inside Toronto's SkyDome.
See the highlight here.
Derek Jeter becomes Mr. November
2001 World Series, Game 4 – NY Yankees vs. Arizona Diamondbacks
Before the evening of October 31, 2001, the World Series was an October-only enterprise. But after the events of September 11 a month earlier, the MLB schedule was pushed out a week, sending games into early November. Just after midnight, the Yankees' All-Star shortstop became the month's first legend, planting an errant Byung-Hung Kim pitch into the right field seats to net New York an emotional win.
See the highlight here.
David Freese ties it, then wins it
2011 World Series, Game 6 – St. Louis Cardinals vs. Texas Rangers
Most players dream of having one World Series moment worthy of historical mention. Most don't get two—let alone a pair in the same game. In the 9th inning of a Game 6 tangle with Texas, St. Louis's third baseman rapped a game-tying, two-run triple off the right-field wall, then carried the Cards to Game 7—and the precipice of an eventual title—with a game-winning solo homer in the 11th.
See the highlight here.
Madison Bumgarner closes the deal
2014 World Series, Game 7 – San Francisco Giants vs. Kansas City Royals
In his two 2014 Series starts, the Giants' ace yielded one run over 16 innings, scattered seven hits, and turned in a complete game shutout in Game 5. Two games later—and on two days' rest—Bumgarner threw five scoreless innings in relief to hold off the Royals, earn the World Series MVP, and win San Francisco their third title in five years.
See the highlight here.
The end of three LONG waits
2004 World Series – Boston Red Sox vs. St. Louis Cardinals
2005 World Series – Chicago White Sox vs. Houston Astros
2016 World Series – Chicago Cubs vs. Cleveland Indians
86 years. 88 years. 108 years. Three long-suffering baseball franchises in Boston and Chicago celebrated the end of epic title droughts in emotional fashion. Each championship was a chance to watch a trio of clubs finally change the arc of their narrative and provide a cathartic footnote in their ongoing history—all while donning distinct (and, eventually, champagne-soaked) New Era caps.
See the Red Sox win here, White Sox win here, and Cubs win here.
Want to learn more about our work with New Era and other sports-related clients? Click here.