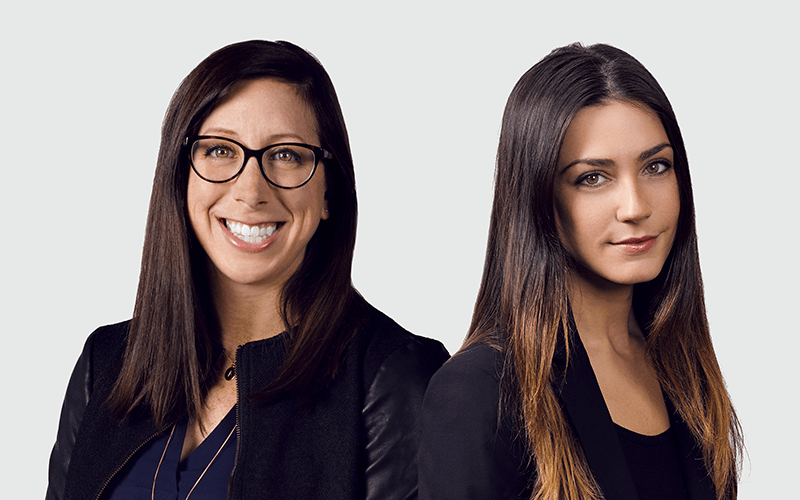 How did you get started in your profession/the industry?
Anna: I actually had a friend who worked at a local Rochester advertising agency who told me the company was hiring. I was right out of college and to be honest, I had no idea what an ad agency was or even how it operated for that matter. Long story short, I got the job and fell in love with agency life! I often credit my very first agency job to teaching me so many facets of the industry. I believe it's because of my experience there that I have continued to grow my career in advertising. 
Marilynn: Right here at TMG, actually! I always knew I wanted a career in a creative industry, but like most college kids, I didn't know exactly what that was. After college and a series of internships in various fields, I moved back to Buffalo and landed an internship with TMG. Tod [Martin] and Lisa Strock were so incredible, providing opportunities to learn about every aspect of agency life, and working with me to truly cultivate that experience into a career, all while building this company from the ground up. I fell in love with this industry–the glamour, the grind, the collaboration, and gratification. But it was thanks to the people I've worked with and learned from that I've chosen to build my career in it. 
What do you like most about The Martin Group?
Anna: From day one, I knew this place was different from any other place I've worked. I have met the most amazingly smart and highly motivated people who I am lucky enough to call friends. The Martin Group has become more than just a 9-5 for me. It's become a place of growth, comradery, and professionalism that allows me to feel at home while pushing myself to continue improving and providing best-in-class work for our clients.
Marilynn: Well, geez, it's hard to follow that one up, Anna! I wholeheartedly agree, though. The people that make up The Martin Group are all so uniquely and individually talented and driven, and I'm consistently amazed at the work we produce for our clients and the expertise and passion my colleagues and friends bring to the table every day. We genuinely respect and care about one another, and that kind of motivation feeds your soul. To be building my career alongside truly the most insanely talented and motivated people—it's really the dream.
What's the best career advice you've received?
Anna: While I've never personally spoken to Henry Ford, his quote has sat with me throughout my professional career "Vision without execution is just hallucination." To me, this means putting in the work. Never stop learning. It's imperative (especially for me being in the digital world) to always keep your ear to the ground and absorb as much as you can. With an ever changing atmosphere, if you stay complacent, you will fall behind.
Marilynn: Advocate for yourself and don't be afraid to ask for what you've earned and what you want. The best advice I've taken away from being part of such a powerful generation of strong, brilliant women and men is that that means the competition is fierce and you have to bring your best and become your best every single day.
If you weren't doing what you're doing now, what would your dream job be?
Anna: Being a yachtie! How can you say no to the sun, ocean, and Mediterranean backdrops? Full disclosure, I'm blaming Bravo for this.
Marilynn: An interior designer, for sure. But if you asked five years ago, it would have been a photojournalist. The ability to alter someone's perception or to bring awareness to a worthy issue through a powerful image is an ultimate superpower.
How do you spend your time outside of work?
Anna: I have two little girls, 3 years and 6 months, so the majority of my time is spent chasing them around the house. When I'm not in full mommy mode, I enjoy being active; mostly long walks or runs. I also love escaping to our family's cottage on Seneca Lake for much needed R&R. I've tried my hand at baking and I haven't burned down my kitchen…yet!
Marilynn: My fiance and I have a two-year old golden retriever, Clooney, and our world currently revolves around him…and wedding planning. It really takes a village! I'm a fitness junkie, so a lot of my time outside of work is getting workouts in. Spinning, running, Pilates, strength training, I love it all. Cooking and baking are also up there–counterintuitive to the fitness, I know. The struggle!
What is the top travel destination on your bucket list?
Anna: Believe it or not, I've been drawn to the beauty of Canada lately. Lake Louise in Banff National Park is at the top of my list these days. Santorini is a very close second. Anyone want to babysit my kiddos?
Marilynn: Morocco has been at the top of my list forever, but probably the next destination on the list is Scotland. I've been watching documentaries and learning a lot about scotch and the industry, and can't wait to go and experience it firsthand. I'm part Scottish, so it would be even more meaningful to discover the culture and that part of my heritage.
What's your favorite restaurant in Buffalo?
Anna: Left Bank. Hands down.
Marilynn: You really can't go wrong with Hutch's (cookie cup FTW!), but Billy Club is right there tied for #1. Their food is fantastic.
What do you drink in the morning?
Anna: Black coffee. Lots of it.
Marilynn: First thing is always warm water with lemon and apple cider vinegar. After that, it's black coffee until the pot is empty.
How many Taylor Swift songs do you actually listen to every single day?
Anna: Honestly, it's all about the albums. When I listen to Tay, I listen to her full albums at a time. Bringing back 1989 right now and, of course, Lover.
Marilynn: I couldn't agree more, TSwift is best consumed by album and 1989 is at the top. I also happened to be living in NYC when that album came out, so it has a special place in my heart.
What music is playing in heavy rotation right now?
Anna: Currently, Lady Gaga Chromatica. Can't go wrong with Gaga.
Marilynn: During the workday, it's Ben Webster radio nonstop. Otherwise, I've been loving [TMG Senior Manager of Content and Social Media] Mike Farrell's COVID Clampdown playlists on Spotify. A great playlist is an artform and Mike's got it down!
OK, two truths and a lie.
Anna: I was a competitive sailor for five years, I can name all of the U.S. presidents in chronological order, and I drove cross country in an RV.
Marilynn: I spent a semester abroad in Italy, I can ride a motorcycle, and I once made Steven Tyler laugh.